Peter Kassig beheading: Parents say they need time to 'mourn, cry and forgive' following their son's murder
Peter Kassig, also known as Abdul-Rhaman, was beheaded by Isis militants in a video released yesterday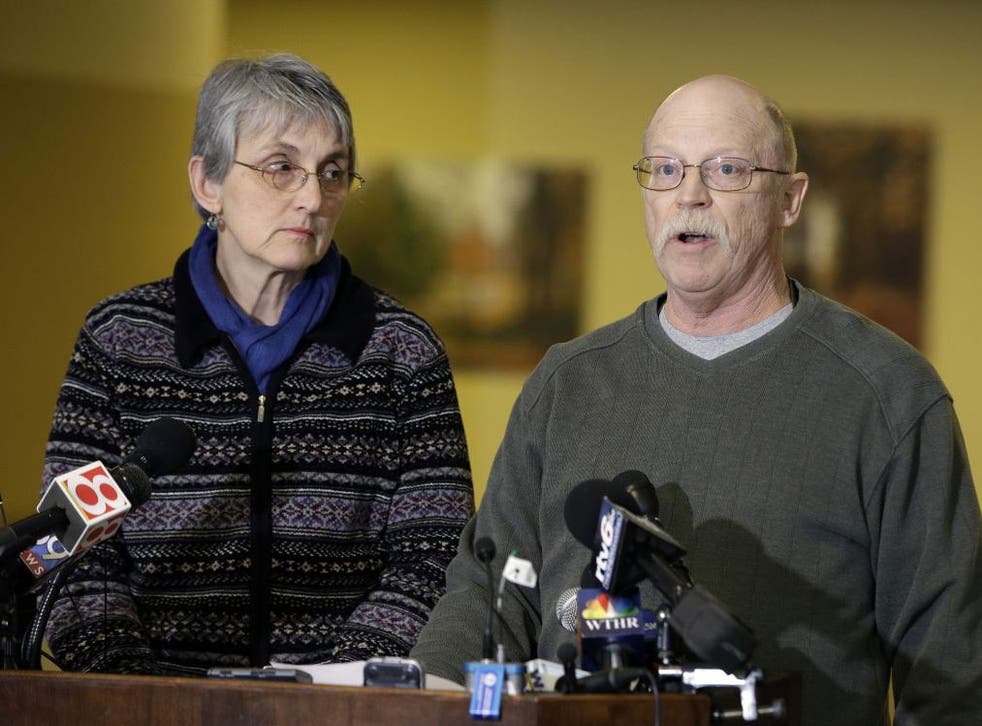 The parents of Peter Kassig, an American aid worker who was beheaded by Isis militants, have said their "hearts are battered" and they need time to "mourn, cry – and yes – forgive".
Kassig, 26, who was born Peter but changed his name to Abdul-Rhaman when he converted to Islam, was abducted by Isis in Syria last year and has since become the fifth Western hostage to be killed in a video by the group. The footage also showed 14 other men being beheaded.
In early October, Isis militants had threatened to kill Kassig, a medic and former US Army Ranger, in the video which showed the beheading of British aid worker Alan Henning.
"Our hearts are battered, but they will mend. The world is broken, but it will be healed in the end. And good will prevail as the One God of many names will prevail," Paula Kassig said at a news conference in an Indianapolis Church.
Kassig's father, Ed Kassig, added, "Please pray for Abdul-Rahman, or Pete if that is how you knew him, at sunset this evening. Pray also for all people held against their will in Syria, Iraq, and around the world.
"Lastly, please allow our family the time and privacy to mourn, cry — and yes, forgive — and begin to heal," he said.
"If a person can be both a realist and an idealist, then that's Peter," she read.
"Peter has earned the right to be both... Peter's life is evidence that he's been right all along; one person can make a difference."
Kassig briefly served in Iraq in 2007 during a stint in the US Army, and returned to the Middle East in 2012 for a trip while studying political science, his family said.
Friends said Kassig was aware of the risks in war-torn Syria, where some 200,000 people have died and millions are displaced.
But touched by the plight of Syrian refugees, Kassig travelled to Lebanon where he volunteered as an emergency medical technician, then founded an aid organisation to provide food and medical supplies to refugees and first aid training to civilians in Syria.
Timeline: The emergence of Isis

Show all 40
Before his death, his parents made repeated appeals to the extremist fighters to spare their son, who converted to Islam in captivity. They said his conversion was a sincere process that began months before he was captured in October 2013.
"I was able to share a little bit of hope and comfort with some people. They were able to teach me something about themselves that I wouldn't have known otherwise and we each were given an opportunity to look at the conflict in a different way," Kassig said in the audio clip.
"There's very few individuals you meet that are so selfless and that truly want to help people and that put everyone else before them," former roommate Michael Downey told NBC.
Confirming the death of the humanitarian worker, US President Barack Obama condemned the murderers and labelled the killing "pure evil".
Additional reporting by Reuters
Register for free to continue reading
Registration is a free and easy way to support our truly independent journalism
By registering, you will also enjoy limited access to Premium articles, exclusive newsletters, commenting, and virtual events with our leading journalists
Already have an account? sign in
Register for free to continue reading
Registration is a free and easy way to support our truly independent journalism
By registering, you will also enjoy limited access to Premium articles, exclusive newsletters, commenting, and virtual events with our leading journalists
Already have an account? sign in
Join our new commenting forum
Join thought-provoking conversations, follow other Independent readers and see their replies