Police fear mother 'heading to Syria' to join Isis with her four children
Lure of life under Islamic State will continue 'for a long time', expert warns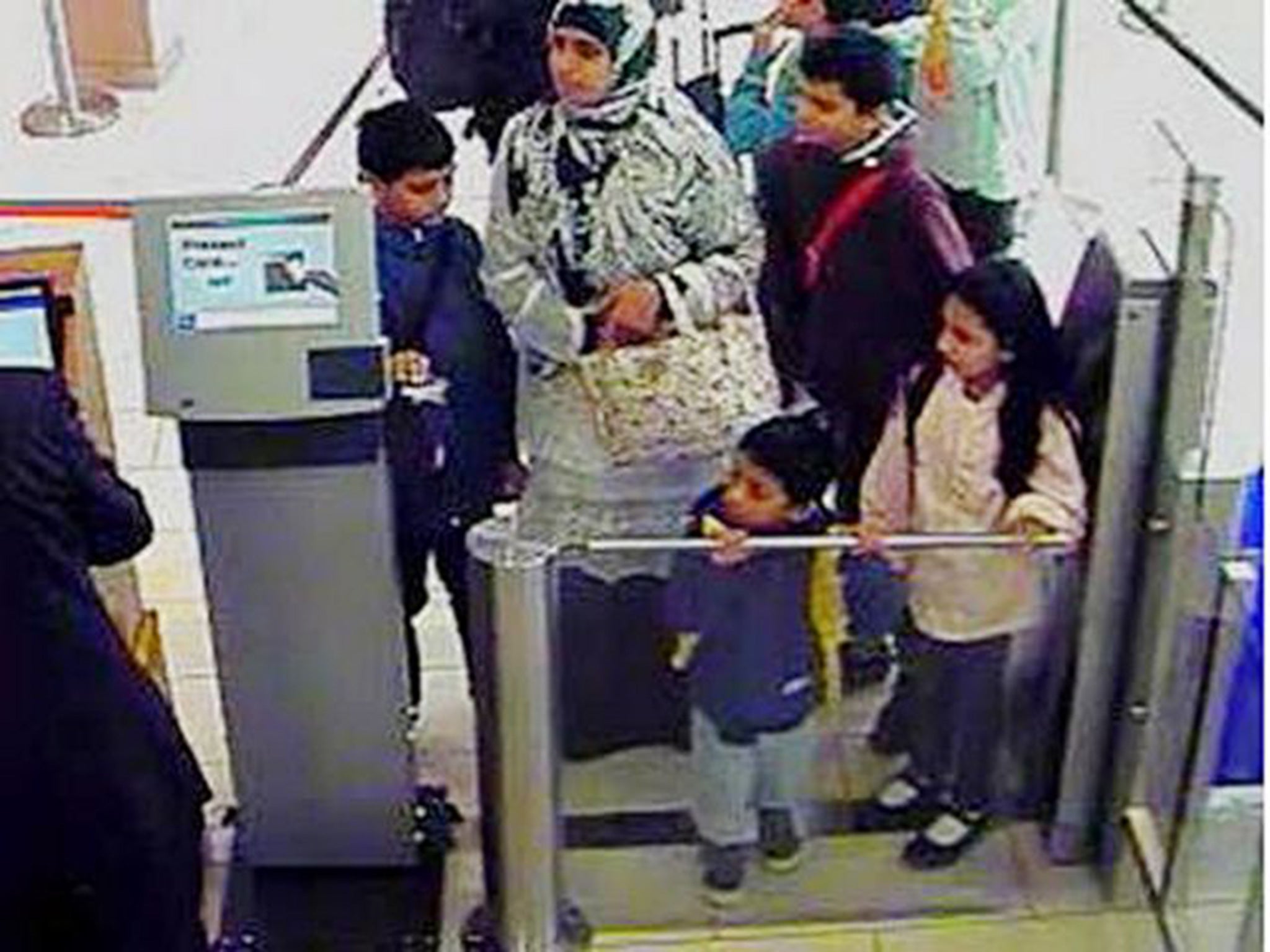 Police are concerned that a mother and her four young children who flew from London to Amsterdam last week are intending to travel to Syria.
Meanwhile, a counter-terrorism expert has said that such cases will "continue for a long time" unless Islamic State (ISIS) is shown to be a failure. It was reported that Zahera Tariq, 33, and her four children, Muhammad, 12, Amaar, 11, Safiyyah, nine, and Aadid, four, were missing from their home in Walthamstow, east London.
CCTV images showed the family at London City Airport before they boarded a flight to Amsterdam on Tuesday. Police and family members are worried that the family is considering travelling on to Syria.
"Whilst we do have some concerns that Zahera may be thinking of travelling to Syria, there is no current information to suggest that she's already travelled there," said Commander Richard Walton from the Metropolitan Police's Counter Terrorism Command.
The lure of ISIS in Syria has been an increasing problem over the past year, with the Met reporting that 43 women and girls are feared to have travelled to the Middle Eastern country from 1 July 2014 to 30 June 2015.
In June, three sisters from Bradford and their nine children, all aged between three and 15 at the time, were thought to have travelled to Syria, and earlier this year, three schoolgirls from east London also left the UK to join ISIS in the war-torn country.
"I think this is something that is likely to continue for a long time. What they are attracted to is this mythical idea of an Islamic state," said Dr Afzal Ashraf, a counter-terrorism expert, who has worked in the field since 1998, and is a consultant fellow at the Royal United Services Institute (RUSI).
"Most of these people have been taught by their preachers or their imams that Islam is a political system; and that you can only really observe the full teachings in an Islamic political society." Young girls and families were attracted to what they believed was an "ideal Islamic society", Dr Ashraf told the Independent.
Although mothers with children were not a direct terrorism concern, there was a risk that the youngsters could return to the UK in the future to commit terrorism offences, said Dr Ashraf. But the bigger concern, he said, was the psychological impact on the children, who would be exposed to "unnecessary levels of violence" in Syria.
"You can have all sorts of interventions that make it difficult for them to go out, but that doesn't stop the attraction. The sort of intervention we need … shows Daesh [ISIS] to be a failure. And that you can only do through military intervention, because Daesh has come about and defined itself in territorial terms," he said.
Dr Ashraf's concerns were echoed by Raffaello Pantucci, RUSI's director of international security studies. Women and girls travelling to Syria, he said, was "clearly a new and very worrying problem".
"This problem is going to continue as long as the group Isis [ISIS] exists. We need to find a way of engaging and getting rid of the group."
While IS needed to be demystified, engagement would "be the immediate solution of dealing with these problems in the longer term", said Mr Pantucci.
"A bigger political decision needs to be made that clearly hasn't been made," he added.
Join our commenting forum
Join thought-provoking conversations, follow other Independent readers and see their replies