Vladimir Putin claims US 'leaked' to Turkey the flight path of downed Russian jet
'Why did we give this information to the Americans if they did not pass it along to the rest of the coalition?'
Rose Troup Buchanan
Friday 27 November 2015 08:53 Comments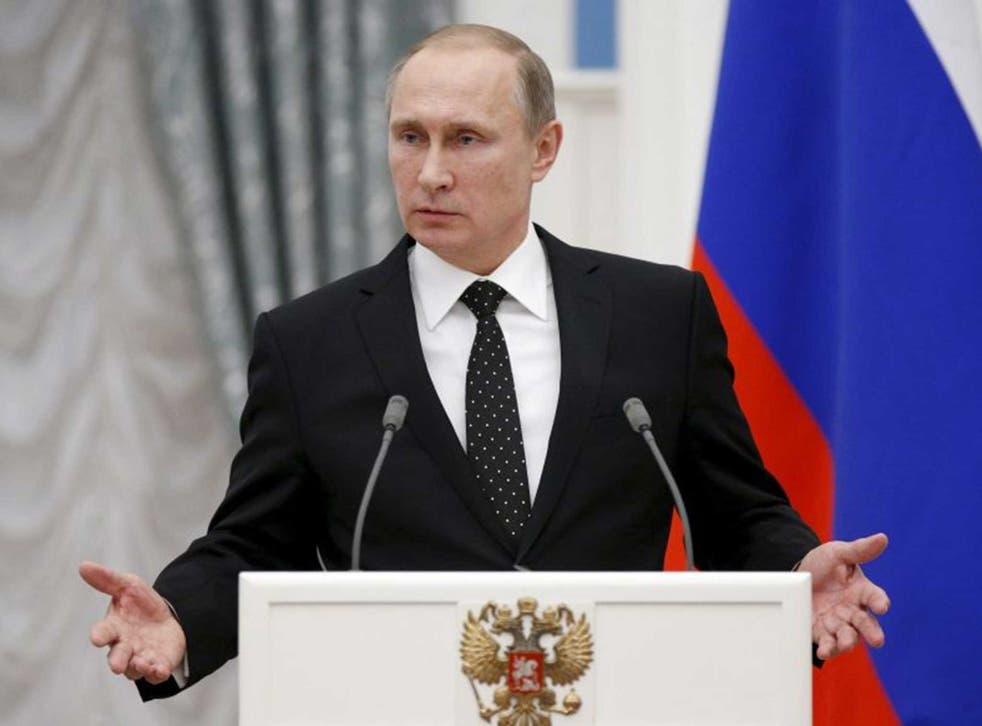 Vladimir Putin has accused the US of "leaking" the flight path of a downed Russian jet to Turkish authorities.
The Russian leader said America – as leaders of the coalition against Isis – had a responsibility to ensure warplanes were not targeted by members.
One of the Russian pilots was killed by Syrian rebels after the SU-24 bomber was shot down. Turkish forces claimed it had violated the country's airspace, despite as many as 10 warnings, on 24 November. The other man was later rescued by Syrian special forces.
Russian authorities have dismissed claims warnings were issued before Turkish F-16s targeted the aircraft as "rubbish".
"The American side, which leads the coalition that Turkey belongs to, knew about the location and time of our planes' flights, and we were hit exactly there and at that time," Mr Putin claimed during a joint press conference with French president Francois Hollande.
"Why did we give this information to the Americans if they did not pass it along to the rest of the coalition?"
Despite this, the Russian leader, who is sending long-range S-400 missiles near the Turkish border following the incident, said he was prepared to work with the US-led coalition against Isis but added his forces would "proceed from the assumption" a similar incident would not reoccur.
"Otherwise we don't need any such co-operation with any country."
Turkey-Russia tensions build
Russia and Turkey have traded verbal blows since the aircraft's crash but on Friday the Turkish PM Ahmet Davutoglu – writing in The Times­ – appeared to strike a reconciliatory note.
"While measures to defend our country will remain in place, Turkey will work with Russia to calm tensions," Mr Davutoglu wrote, emphasising the two countries "must not be distracted" from defeating Isis.
Russian plane shot down by Turkish jets

Show all 5
Although Turkish president Recep Tayyip Erdogan continues to refuse to apologise for the downing of the jet, he struck a more measured tone yesterday when he suggested his forces may "have warned it differently" had they known the plane was Russian.
Register for free to continue reading
Registration is a free and easy way to support our truly independent journalism
By registering, you will also enjoy limited access to Premium articles, exclusive newsletters, commenting, and virtual events with our leading journalists
Already have an account? sign in
Join our new commenting forum
Join thought-provoking conversations, follow other Independent readers and see their replies