Saudi ends blockade but Qatar gives up little
While the deal brings an end to a years-long bitter dispute, former foes are still divided on a number of issues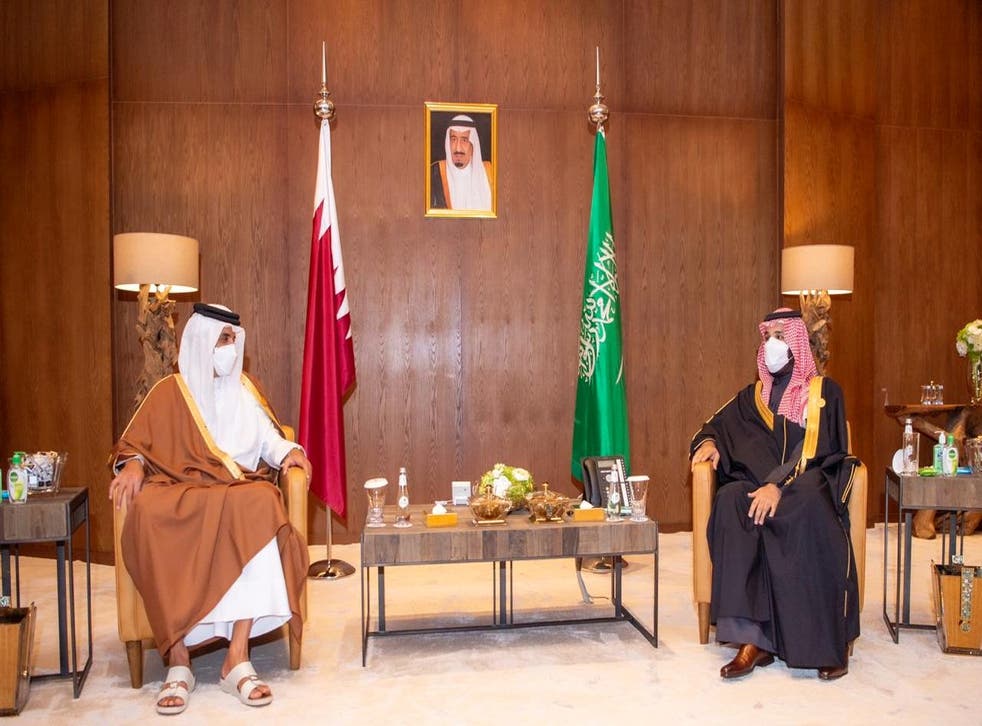 Saudi Arabia and its Arab allies have signed a "unity and stability" declaration with Qatar that is set to end a years-long boycott of the Gulf state, in a move seen as a victory for Doha.
Qatar's ruling emir was greeted with a warm hug by rival Saudi Crown Prince Mohammed Bin Salman after he touched down in the Kingdom for the first time in three and a half years to attend the annual Gulf Cooperation Council meeting.
It followed announcements by US and Kuwaiti officials that Saudi Arabia, the United Arab Emirates, Egypt and Bahrain would end a blockade on Qatar and restart transport and diplomatic ties severed in 2017 over Doha's support for groups like the Muslim Brotherhood, and its close ties with Iran.
At the time Doha was handed a 13-point ultimatum including closing its flagship broadcaster Al-Jazeera, expelling Turkish troops on its soil and dramatically scaling back cooperation with Iran.
Four years later, Qatar has apparently not fulfilled any of those demands. Instead, analysts told The Independent the Gulf states agreed to vaguer joint security declaration to end the embargo.
The contents of the communique, which was signed in a mirrored building in Saudi's historical desert city of AlUla, have yet to be disclosed.
But Saudi's foreign minister, Faisal bin Farhan al-Saud, said it and its allies agreed to restore full ties with Doha, including resumption of flights.
A US official said they agreed to do this in exchange for Doha suspending lawsuits related to the boycott.
Jared Kushner, senior adviser to the US president Donald Trump, who reportedly worked into the early hours of Monday morning to seal the deal, attended the summit.
"These efforts ... led to the AlUla agreement which will be signed at this blessed summit and which confirms Gulf, Arab and Islamic solidarity and stability," Prince Mohammed, the kingdom's de facto ruler, said as he opened the summit.
The Emirati minister of state for foreign affairs, Anwar Gargash, tweeted at the end of the session: "a new bright page begins" after earlier writing that "we have more work to do".
The Egyptians, who arguably have the frostiest ties with Qatar, released a statement via local media saying that it was keen to "promote joint Arab action" after the signing ceremony. But its foreign minister Sameh Shoukry, who was sent as Egypt's representative, left for Cairo immediately after signing the document without publicly commenting.
Kuwait's Emir Sheikh Nawaf al-Ahmad al-Jabar al-Sabah, who has long worked towards a rapprochement, hailed the statement as a "historic achievement" towards Gulf reconciliation.
"We seek to support the Gulf and joint Arab work," he stressed.
The apparent breakthrough in the Gulf rift is the latest in a series of Middle East deals sought by Washington to close ranks against Iran, following agreements between Israel and Arab states. It also suggests Saudi Arabia wants to put the feud with Qatar behind it before Joe Biden takes office, potentially removing a stumbling block to warm ties with the incoming president who is expected to take a firmer stance toward the kingdom.
All the states involved in Tuesday's agreement are close US allies. Qatar hosts the region's largest US military base, while Bahrain is home to the US Navy's Fifth Fleet, and Saudi Arabia and the UAE host US troops.
The specifics of the deal were not immediately made public. According to Ali Shihabi, a Saudi analyst and businessman with close ties to Riyadh, in lieu of the 13 demands, the Gulf nations agreed to a vaguer declaration "to stop all efforts to undermine [the] security of each other", including media and funding of opposition groups.
The bitter spat has long driven the Gulf region apart, in recent years forming a warring axis that has set the Gulf and Arab countries against each other in conflicts including Libya and Yemen.
The crisis is anchored in decades of disputes, but reached a crescendo in 2017 when comments purportedly made by Qatar's ruling emir Sheikh Tamim bin Hamad al-Thani appeared on its state news agency website expressing sympathy for Hezbollah militants in Lebanon and Hamas in Gaza, while attacking Mr Trump. Qatar blamed a cyber attack for the messages.
Shortly afterwards there were reports some of the Gulf countries had even mulled military action until the then newly elected President Trump implored them to hold off. Mr Trump was blamed for being partly responsible for the heightened rift after a fiery speech in June 2017 accusing Qatar of being a "high level funder" of terror.
The blockade battered the tiny Emirate, but not badly enough to prompt a capitulation.
Instead Qatar, which had been reliant on the land border with Saudi for goods, turned to Turkey, Iran, Oman and Kuwait for food supplies and new shipping routes. At one point it flew in thousands of cows via Qatar Airways so it could produce its own milk.
And so rather than crippling the state, the blockade improved Qatari resilience and independence, and pushed it closer to regional foes Iran and Turkey.
"The growth rates have been slow [in Qatar] but Saudi has been worse," said Samuel Ramani, researcher at Oxford University and a fellow at the Gulf International Forum in Washington. "They have diversified their supply chains for agricultural and industrial goods. The true result of the blockade for Qatar was forging a multi-vector set of partners."
Emirati analysts say Qatar's ability to be unaffected by the blockade and its move to become "more aggressive" in its criticism of the rest of the Gulf, was ultimately why the detente has been agreed.
"There was a realisation that boycotts eventually don't change policies," said Abdulkhaleq Abdulla, an Emirati political scientist, adding that Qatar had instead drawn closer to the UAE's regional enemies.
"The cost of continuing this quarrel was becoming too much of a burden," he told The Independent.
He added Qatar had agreed to tone down Al-Jazeera and its support for the Brotherhood, as well as to "reconsider" its ties with Iran – but the promises were vague.
And so, the resolution of the crisis is very much in Qatar's favour, according to Andreas Krieg, a Gulf security specialist at King's College in London who said that none of the GCC demands on Doha had been addressed let alone met.
"If you don't fill [the declaration] with content, it allows the Qataris, Saudis and Emiratis continue to do what they're doing and get away with it," he said.
On Tuesday, Mohammed bin Salman was photographed taking the Qatari Emir Sheikh Tamim bin Hamad Al Thani around the AlUla site. Notably absent were representatives of the other countries that signed the declaration as well as King Salman who was supposed to be chairing the summit.
The agreement strengthens the Crown Prince's hold on power. Qataris initially dismissed the crown prince as an upstart and chose to place bets on other royals.
During meetings between Gulf monarchs they ignored MBS, which rankled him, say insiders. Qataris were stunned when he managed to outflank all other powers in the kingdom, with the US cheering him on.
The biggest concession that Qatar granted Saudi was merely recognising Prince Mohammed as the new hegemon of the region – in the form of a hug.
"One of the major demands and concessions was the Emir coming to Saudi," said Mr Krieg. "His coming to Saudi and greeting MBS the way he did was a concession. I didn't see this happening any time soon. These are images that the Crown Prince can use domestically."
Still, the issues that divide the countries continue to fester. "There is ideological, ontological conflict between MBS, MBZ and the Qatari. They have entirely different visions for the future of the region and that cannot be reconciled."
Register for free to continue reading
Registration is a free and easy way to support our truly independent journalism
By registering, you will also enjoy limited access to Premium articles, exclusive newsletters, commenting, and virtual events with our leading journalists
Already have an account? sign in
Register for free to continue reading
Registration is a free and easy way to support our truly independent journalism
By registering, you will also enjoy limited access to Premium articles, exclusive newsletters, commenting, and virtual events with our leading journalists
Already have an account? sign in
Join our new commenting forum
Join thought-provoking conversations, follow other Independent readers and see their replies