Refugee crisis: Desperate Iraqi Yazidis join exodus to Europe
Singled out by Isis, believers say they can not stay in Iraq
Cathy Otten
Sunday 13 September 2015 01:15 Comments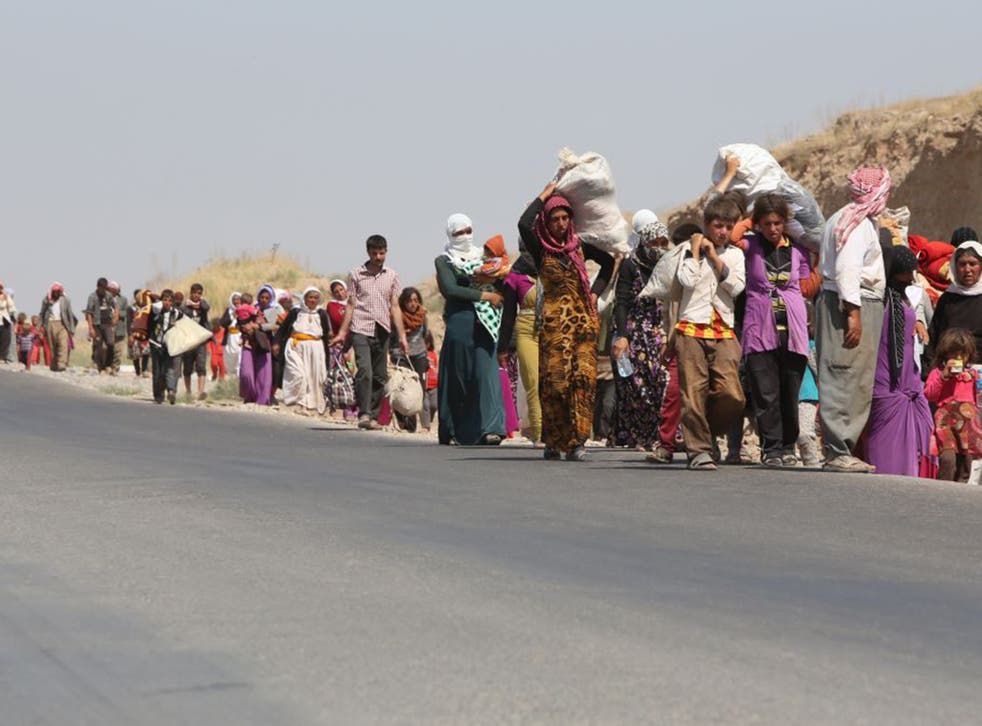 Khatab's eyes darted around the torch-lit room as he speaks. His family, part of Iraq's Yazidi minority, sits around him inside the shell of a half-built home as darkness falls.
"Look, we have nothing," says the nervous-looking 15-year-old, pointing to the plastic-covered holes in the walls where windows should be. Two weeks ago the teenager attempted to reach Europe, walking for 35 hours towards the Turkish-Bulgarian border before he was arrested. "He is still shaking now", his father says.
Khatab was detained in Turkey for three days before being released and returning to Iraq; only to try again the day before he spoke to The Independent on Sunday. That time he was blocked by fighting between the Turkish army and militants of the Kurdistan Workers' Party (PKK) near the Iraq-Turkey border.
In Turkey, Khatab was afraid. "I thought the Turkish police were going to beat me and kill me like Isis," he says. Two of Khatab's brothers were killed by Isis last summer as the family tried to escape their town near the Sinjar mountains ahead of the jihadis' advance. Isis calls the Yazidis, whose religion is linked to Zoroastrianism, infidels and has singled them out for mass murder and enslavement.
The details of his sons' deaths are too painful for Khatab's father, Haji Talo, to explain. Mr Talo is trying to apply for a special immigration visa to the US because, he explains, he worked as a translator for the US army 10 years ago – but the process is painfully slow. In the meantime, the family are left with no choice but to send Khatab out again to try his luck on the hazardous route to Europe. "I am worried about him, but it is the only chance we have," Mr Talo says.
Most of the estimated half a million Yazidis in Iraq are now living in camps and unfinished homes in the Kurdistan region, and nearly all are desperate to flee Iraq, where they no longer feel safe.
"They are not even scared of dying because they know they have no future here," says "Haso", who asked to remain anonymous because of his work smuggling Yazidis to Europe. Money is obviously a motivation for him, but he claims helping the Yazidis to get safely out of Iraq is also a humanitarian act. He says 80 per cent of Yazidis want to leave, "but not all of them have enough money".
Haso's network of smugglers is one of many taking Yazidi refugees to Germany, where there is already an established Yazidi community. The journey takes them via Turkey, Bulgaria, Serbia, Hungary and Austria, on foot and in vans, for about £5,200 per person. The price depends on the route and timing, and often fluctuates. The smuggler says his network had taken about 600 Yazidis to Europe in the past year, and thousands of others are thought to have made the journey.
Iraq crisis: Yazidi nightmare on Mount Sinjar

Show all 15
There are more than three million Iraqis displaced by war across the country and the current exodus is not confined to Yazidis. In cafés, restaurants and on street corners, Iraqis from myriad backgrounds cite security fears, economic woes, failing governance and poor infrastructure as reasons for their departure.
But the persecution of the Yazidis by Isis is particularly acute. The UN said crimes committed by Isis against the Yazidis "strongly suggest" a genocide may have taken place. One after-effect of the destruction of Yazidi towns and villages, the killings and systematic use of rape against members of the religion, is a sense of distrust towards all Muslims in Iraq.
More than 9,000 Iraqi refugees arrived in Greece between January and August, nine times the figure for last year, a representative of the International Organisation for Migration (IOM) said, adding that these were official figures and the real numbers could be higher.
In the city of Dohuk another smuggler, who asked to go by the name "Govan", says the number of Yazidis leaving has increased. "They are selling everything they can – gold, cars – to try to get out," says the 40-year-old, who also works as a taxi driver. Two of his children have already made the journey to Europe.
He explains that he sent Yazidis to Turkey in groups, where they were handed over to Turkish and Bulgarian smugglers for the rest of the journey. He receives payment from the family when the refugee arrives successfully, usually around £130-£195 per person.
Giving a glimpse of the life that awaits those making the perilous journey, Govan showed The IoS a picture of a recent Yazidi client, smiling and wearing a white apron in what the smuggler said was the kitchen of a restaurant in Cologne.
Haso said he also wants to leave for Europe. "From my birth in 1970 until now I have found nothing good in Iraq. We know there will be more violence and the economic situation is bad. I want to find a future for my children."
As a Yazidi he says he feels like a second-class citizen in Iraq. "We suffer worse treatment for not being Muslim. In the government offices, my documents will be later than a Muslim guy's. I opened a shop and Muslims don't want to shop there because they say we are unbelievers."
George Ashwor, 18, has already made the perilous journey to Germany. A Yazidi from Khanasoor, he escaped Isis with his family as the militants attacked the base of Mount Sinjar in August last year, and spoke to The IoS from the school he is staying in near Dusseldorf.
He described his journey, which cost £5,530 in smugglers' fees. In July, along with a group of 84 other refugees, mostly Syrian Kurds and Yazidis, he walked for 13 hours and spent the rest of the journey squeezed into cars and vans.
"We were so tired, and the worst thing was they put us and about 50 people in one van. We were in the container of an ice cream truck for seven to 12 hours at a time. It was so hot and difficult to breathe."
For now he is happy to be in Germany, where his dreams of studying are looking ever closer. "I hope they will give me asylum. I will be so grateful," he says.
Register for free to continue reading
Registration is a free and easy way to support our truly independent journalism
By registering, you will also enjoy limited access to Premium articles, exclusive newsletters, commenting, and virtual events with our leading journalists
Already have an account? sign in
Join our new commenting forum
Join thought-provoking conversations, follow other Independent readers and see their replies