Refugee crisis: Smugglers offer 'seasonal discounts' to Syrian refugees as oceans turn wild
Sea crossings traditionally dwindle in the winter months, when stormy weather whips up the waves in the Mediterranean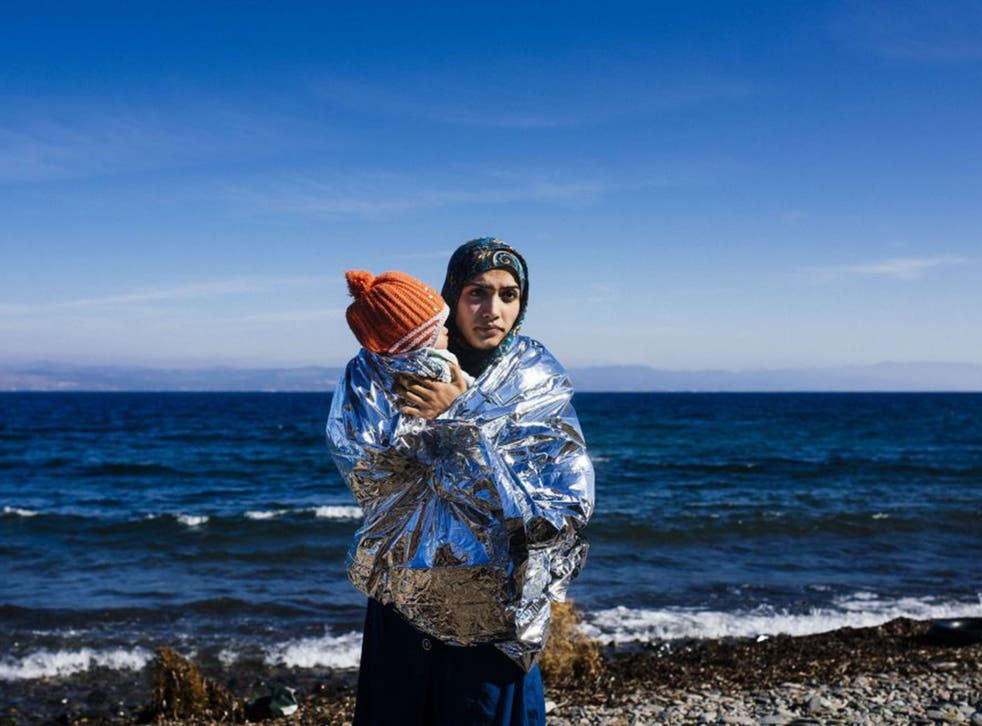 Izmir's smugglers are getting worried. But it's not the European Union's plans to shut down their lucrative business that concerns them – it's the arrival of the autumn winds.
Sea crossings traditionally dwindle in the winter months, when stormy weather whips up the waves in the Mediterranean. But several Izmir-based smugglers believe they have found a way to keep demand high: by offering seasonal discounts.
In a café in Izmir's Basmane neighbourhood, a hub for would-be migrants, Abu Fuad, a Syrian smuggler, outlined his strategy: "In the summer, we charged $1,200 (£780) or $1,300 per person.
"In the winter, it will be $1,000 or $900 – cheaper but more dangerous," he said.
He added that his network used the same flimsy rubber dinghies throughout the year.
Smugglers usually raise their prices in winter as demand declines. But Abu Fuad, as well as two of his colleagues, hoped that the cheaper cost would entice poorer refugees to attempt the riskier crossing. Several brokers plying their trade in front of Basmane station last week were already offering to transport refugees to Greece for the lower price.
"They say the price is $900 per person and that we'll be in Greece after six hours. That's far cheaper and far longer than we've been told," said Isa, 25, from Aleppo, Syria, who was visibly worried.
"I don't trust any of them, but if we don't find anything better we'll have to take the offer."
The harsher weather has already claimed its first victims. Turkish media reported that 12 refugees died on Friday when their boat capsized near Canakkale, on the southern coast of the Dardanelles.
Earlier in the day, the Greek coastguard reported that one woman and three children had drowned in a separate incident.
On Thursday night, EU leaders agreed on a draft deal that would offer Turkey financial aid to improve conditions for refugees, visa-free travel to Europe for Turks, and would unfreeze negotiations on Turkey's EU membership in exchange for Ankara's co-operation in stemming the refugee flow.
The German Chancellor, Angela Merkel, will travel to Turkey on Sunday for talks with the President, Recep Tayyip Erdogan, and the Prime Minister Ahmet Davutoglu. Ms Merkel has suggested that the EU is considering a €3bn (£2.2bn) financial package.
On the Aegean coast, meanwhile, there is little evidence of the flow ending. On Wednesday, as many as 85 boats landed on the island of Lesbos, according to the UN Refugee Agency (UNHCR).
In Izmir, too, business is as brisk as ever: refugees fill the cafés and hotels, swap Turkish lire for euros and deposit their fares in so-called "insurance offices" that release the money to the smugglers once they have safely reached Greece. Along the main boulevard, clothing shops and even pizza restaurants sell cheap life-jackets and children's floaties.
The smugglers, too, do their business in plain sight. Under the gaze of a dozen armed police officers, brokers approach Arabic-speaking travellers stepping off buses at Basmane Square, promising a safe and speedy passage to Greece. A few hours' drive north, boats set off in broad daylight.
"The police are taken care of," said Abu Fuad, waving at a nearby policeman who turned away with a sour expression.
Refugees, however, say the behaviour of the police towards them is not as lenient. Ahmad, a refugee from Yarmouk in Syria, who dreams of completing his physics degree at Oxford University, has twice tried to cross to Greece in the past month.
"Both times I was stopped by the coastguard," he said. "And both times I had to pay the police €350 (£260) to be released with my family." Ahmad was getting impatient. For 10 days, he had been waiting for the smuggler to call with the go-ahead for his third attempt. "Ten days ago, the sea was still calm. But it'll be winter soon," he said. "We have to hurry."
Cooler, windy weather has already swept across the Balkans into Istanbul. To what extent it will affect the sea crossings to Greece remains to be seen.
Refugee crisis - in pictures

Show all 27
"Historically, sea crossings tend to decrease in the winter months, but the current situation is so dynamic that it's difficult to make predictions," said Abby Dwommoh, a spokeswoman for the International Organisation for Migration (IOM) in Turkey.
As refugees have rushed to the Turkish coast in a last-ditch attempt to reach Europe before winter, the death toll has surged. In 2014, the Turkish coastguard recorded 69 deaths in the Aegean, but in the past month alone 71 refugees died, making September the deadliest month in two years, according to the IOM.
Greek authorities reported more than 100 refugees dead or missing in the last two weeks of September, as several boats capsized in high winds.
Abu Fuad, who claimed none of his customers had died, blamed the deaths on "irresponsible" smugglers operating in Bodrum. "They put 50, 60 people on tiny boats," he said. One of his brokers chimed in: "We only put 40 people on!" "Fifteen," Abu Fuad corrected him, with a stern look. Later, however, he admitted that his Turkish boss had ordered him to fill his eight-metre dinghies with 40 to 50 people.
"The Turks don't see us as human. They see us as money. This is not a man," he says pointing at his broker. "This is $1,200." For that reason, Abu Fuad also plans to leave for Europe next year, using what he called "the VIP method": a forged passport and a plane ticket.
Abu Jihad, another Izmir-based smuggler, already had his ticket to Europe and was winding down his operation. He had heard his colleagues discuss possible winter strategies, from dropping the price to switching to larger boats.
"The small boats are too dangerous now. Some guys are working on getting big ships like last winter," he said.
However, Ms Dwommoh of the IOM believed that a return of last winter's "ghost ships", when smugglers sent thousands of refugees to Italy on old cargo ships, was unlikely. "The border agencies have done a lot to crack down on that," she said. "But due to the high seas it's possible that we'll see an increase in activity at the land borders instead."
Mahmoud, a Syrian-Palestinian smuggler in Izmir, expected his network's boat crossings to reduce by around 90 per cent.
"In the summer, we had 300 to 400 people a day. Soon, it will be only 30 or 40," he said. But with Europe caught in the largest mass migration since the Second World War, it is unlikely that sea crossings will grind to a sudden halt.
According to the UNHCR, more than 475,000 have entered Greece by sea this year, including more than 153,000 in September alone. In all of 2014, the number stood at only 43,500.
Mahmoud believes that even as the weather worsens, some refugees may try their luck – with potentially deadly consequences.
"The weather will be bad, but people will always go. If governments really wanted to do something about this, they would send big ships to take Syrians to Europe," he said. "I wouldn't have a job, but it would be better this way."
Register for free to continue reading
Registration is a free and easy way to support our truly independent journalism
By registering, you will also enjoy limited access to Premium articles, exclusive newsletters, commenting, and virtual events with our leading journalists
Already have an account? sign in
Join our new commenting forum
Join thought-provoking conversations, follow other Independent readers and see their replies