Robert Fisk in Abu Dhabi: The Emirates' out-of-sight migrant workers helping to build the dream projects of its rulers
Over two million labourers have come from the poorest countries in South Asia. While activists decry the conditions in which they're forced to live, others claim the arrangement is clear from the outset. In the second part of his special report, Robert Fisk visits the workers' camp at Saadiyat Island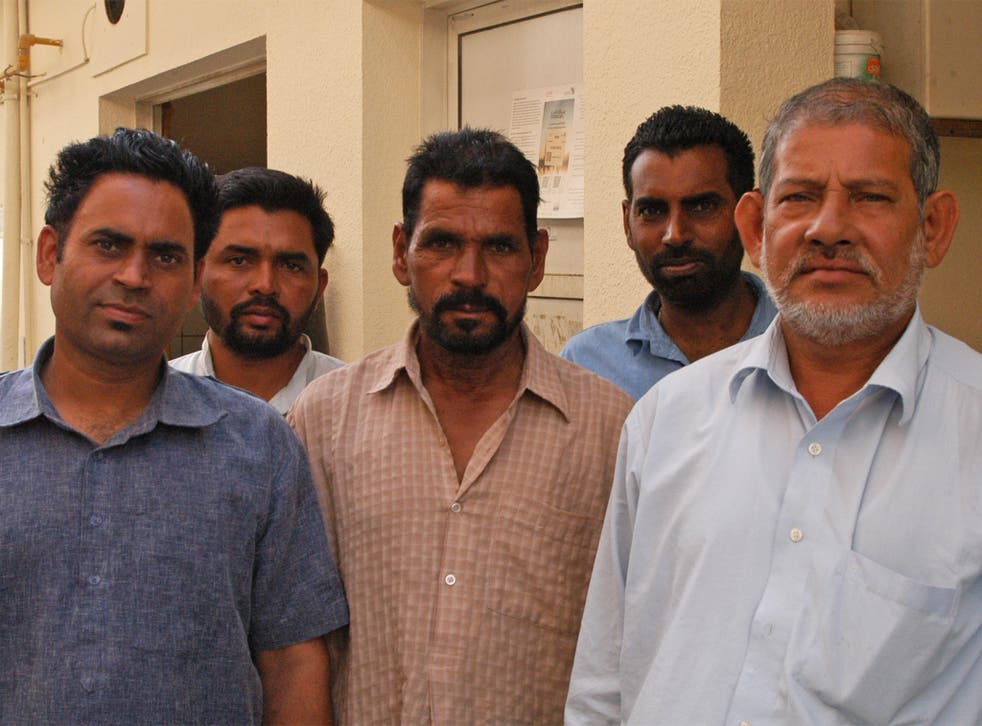 It's not a labour camp. No such words would soil the lips of the men from the Abu Dhabi Tourism Development and Investment Company. No, it's the "Saadiyat Accommodation Village". For here, 7,500 men from the poorest countries of southern Asia – from Bangladesh, India, Pakistan, Sri Lanka and the Philippines – live and sleep in apparently Utopian comfort when they are not labouring under the Gulf sun on the cultural dream projects of Abu Dhabi's rulers: the Louvre Museum and the Guggenheim, and the vast emporium built to hold the art treasures of Sheikh Khalifa bin Zayed al-Nahyan at the Zayed National Museum.
When the Mona Lisa goes on display in the Abu Dhabi Louvre – as she assuredly will – her smile will grow even more enigmatic.
From amusement or cynicism? I know that I couldn't help smiling to myself on my tour of the "Accommodation Village". "And here are the sports fields, very popular in the evenings," my guide purred, as the pick-pack-pock-puck of Pakistani cricket bats came through the hot dusk. The great dining hall, open four times a day, was filled with Pashtuns and Punjabis and men from Kerala and Dhaka, long Pakistani "kurta" shirts mixed with Waziristan headdresses. And who could complain at the food? The men queued in five lines – each geographically apportioned for "South India" food, "North India" food, Bengali food, Arabic food, Philippine food. They can sit in television rooms to watch programmes in Urdu, Pushtu, Hindi, Bengali and English.
Oh yes, and there's health insurance, a laundry service, a chess corner, a tea shop, a table-tennis room, a fresh fruit and grocery store, a mobile phone shop, an outside cash dispenser and money-transfer system through which workers can send home 100 per cent of their earnings (wages are issued electronically), basketball, volleyball fields and an outdoor cinema.
I choose which dormitory I want to visit. There are spotlessly clean rooms with six beds, four beds, two beds, one bed – the size of your room depends where you are in the pecking order of contractors' expertise – and air conditioning, free internet and Skype.
Is this is a Potemkin village? It rather reminded me of Andrew Undershaft's munitions workers' accommodation in George Bernard Shaw's Major Barbara, whose healthcare projects, schools and churches persuade Undershaft's sceptical Salvation Army future son-in-law to give up his anti-war buffoonery and make weapons instead. But at Saadiyat Island, Abu Dhabi is producing luxury hotels and culture – the brightly lit campus of New York University glimmers through the dust-choked night – and its rulers acknowledge that their camp here, which will eventually hold 20,000 labourers, is an attempt to clean up a very dodgy reputation for past mistreatment and exploitation.
The Abu Dhabi authorities have their own files of newspaper stories detailing beatings, strikes in 2013, and dozens of deportations. Human Rights Watch (HRW) has been snapping at the Saadiyat camp for months, demanding that the Louvre and Guggenheim ensure workers' rights. The Guggenheim's image was being "soiled", according to a British artist, adding that Human Rights Watch claimed the Guggenheim was being built with "forced labour". Both institutions have said they are satisfied with present conditions at the Saadiyat camp.
However, a close look at the Saadiyat investment company's latest guide to the camp – in which it rather huffily rejects HRW's complaints as "unfounded… outdated and based on unknown methodologies (sic)" – proves that it acknowledges troubles in the past. It talks of how the United Arab Emirates, of which Abu Dhabi is the capital, has "demonstrated marked improvement (sic) in the treatment of foreign workers" and introduced "a spate of new regulations" to safeguard foreign labour. Abu Dhabi itself has "assumed a regional leadership role in addressing foreign worker issues".
Privately, the Abu Dhabi company officials admit that much of the abuse is caused by recruitment companies in the labourers' home countries, which charge up to £1,700 to send them to the UAE, sums which can take two years to pay off. Meanwhile, workers find themselves in a form of bonded labour which is easy to identify as enslavement.
To end "illegal recruitment" – the authorities' own description – Abu Dhabi is trying to introduce a scheme of "approved" recruitment agencies in Pakistan, India and other countries. But labourers can spend four years in the Emirates without once seeing their families – there are no visas for wives or children to visit them. And it's the contractors who pay the workers – not the UAE. The Emirates may not be passing the buck for all the bad publicity. But they try to make moral amends. Hence Abu Dhabi promotes its own introduction of a compulsory insurance policy for workers once they arrive in the Gulf. But there are more than four million foreign workers in the seven wealthy Emirates – well over two million of them working amid Abu Dhabi's 450,000 or more citizens – and if Saadiyat is now promoted as a workers' seventh heaven, there are a few circles of near-hell to be discovered by driving east to Abu Dhabi's brash and larger neighbour, Dubai.
If Abu Dhabi has a more conservative, more serious, wealthier and more evangelistic pursuit of moral reputation and future investment, Dubai is the fantasy land of the Emirates. Driving past the city with its familiar towers of Babylon – the al-Bourj tower, the world's tallest building with its peak often clouded out, the great money palaces and skyscrapers – I cannot shake off the feeling that the skyline is a children's cartoon film. It's the kind of animated movie you see on morning television, distracting – perhaps even humorous in an architectural sense, since the height of the al-Bourj tower has neither economic nor aesthetic purpose – but ultimately a work of fiction, a city built by the poor for the wealthy, as are indeed all the Emirate capitals.
And it doesn't take long to find the poor. I contacted a Pakistani driver who knew his way around the three massive labour camps in Dubai, at Senaful, al-Quoz and Jebel Ali. Along the highways out of the city, there are miles of freshly planted trees – it must cost tens of thousands of dollars to water them in the sand – and they are a screen, to prevent visitors or Emirati citizens themselves from having to cast their eyes on the builders of this empire. We stopped the car in a bus park and walked through the trees, and there before us lay concrete camps that stretched into the white hazed horizon. These are no Saadiyat islands. They are three or four-storey concrete blocks that look more like penitentiaries than villages, a bleak and grassless wasteland in which tens of thousands of workers sleep together, sometimes 14 to a room.
There are no books, no sports fields, no entertainment, sometimes no air conditioning. There are locks on the gates and each block has a "guard" – as they are called by the contracting companies – and the workers who spoke to me were nervous, anxious not to give their family names, but remarkably friendly given their conditions. Indians and Pakistanis – often enemies at home – were the best of friends in these grim locations and many Pakistanis, it turned out, came from the same villages. I met four men from Gujarat who knew each other at home and whose children played together. It was clear that male members of entire families were recruited together. And thus I met Muhaisnah, Ahmad, Hamad, Irtaza, Hafez, Ranjit, Satnam, Balkas… But their wages were pitiful. Redhu from Kerala, for example, was a night storekeeper, in Dubai for four years but earning £140 a month. Road workers got £200. The shortest period any man had stayed in the emirates was 18 months. I found one man who had laboured here for seven years during which he had only been able to return to see his wife and two children once. He put his forefingers to the sides of his eyes: "I cry."
Some of the on-site contractor managers – they have business cards in English which actually state their employment as "Camp Boss" – are kind and clearly like the workers in their charge. I met a Palestinian from Nablus working for a shipping company. His men earn more than others in Senaful. If a cleaner receives £336, a rigger can earn £378, a welder almost £500. The largest community of workers were Hindus, the second Muslims, the third Buddhists.
"Whenever there are violent events elsewhere in the world, we make sure everyone remains friends," the Palestinian said. "There is no smoking in the camps – for fire-safety reasons – and no drink. But we do have some alcoholism." Workers go outside and drink locally brewed whisky – they buy it for £4 – and stagger back to the camp gates at night. "I have told everyone to treat them kindly," the Palestinian says. "My orders are that they are to be taken by the hand and led to their beds and allowed to sleep it off."
The loneliness of such lives does not bear too much examination. To exist amid concrete walls without your family before the dawn buses carry you off to work under the white sun must take a special stamina, year after year, to endure. And yet. There is always an "and yet" in measuring the poor. For these men are not Nubian slaves whipped to some modern Giza to build pyramids for the dead. I've visited the slums of Karachi and the villages outside Peshawar and if I had a choice, I might – in sheer physical terms – prefer the corridors and air conditioning of these prison-like blocks to the filth of villages where unemployment is as endemic as illness and disease.
But then again, that's easy for us to say. I called up an Abu Dhabi man who was a senior adviser to the late Sheikh Zayed and asked him the obvious question. Was it moral than this monstrous army of the poor should build palaces for the wealthiest in the world – with no stake in the citizenship of these fabled kingdoms – and then return to the poverty of homes while younger and equally poor men take their place under the Gulf sun? True, the Canadians used the poor of China and Japan to build their trans-Canadian railroad in the 19th century. The English used the Irish to lay the rail tracks and dig the Tube tunnels of London. But this is the 21st century.
"Look at it from their point of view," the former adviser said. "Look at the poverty of the very countries they come from. Whole regions in the area around us have thrived because of us. Go to Kerala, go to areas of Pakistan and you will see villages that are richer because of us. We know their situation and we do our best to protect their rights and interests, to make them feel at home. They have a contract and this country needs to develop – and they understand from the beginning that they will not become citizens. Our country feels it must protect these people's human rights because that is how we should behave – not because of international law. But it's unfair to expect a small country like ours to be superhuman in everything we do."
Yet the almost 500,000 citizens of Abu Dhabi, with an investment authority worth up to £642bn, do want to be superhuman. That's the whole point. They want their glittering land, along with Dubai, to last for hundreds of years after the oil and gas has ceased to come from the sands beneath their feet. This means that their cities of glass must survive on investment and education and further development – and that new generations of the poor will have to service their needs for centuries to come.