Syria air strikes: Russia accused of ethnic cleansing of Turkmen
Far from targeting Isis, Russia's air force is trying to drive the Turkmen minority from north-west Syria in order to carve out safe territory for its ally Bashar al-Assad, the ethnic group's leader tells Laura Pitel in Istanbul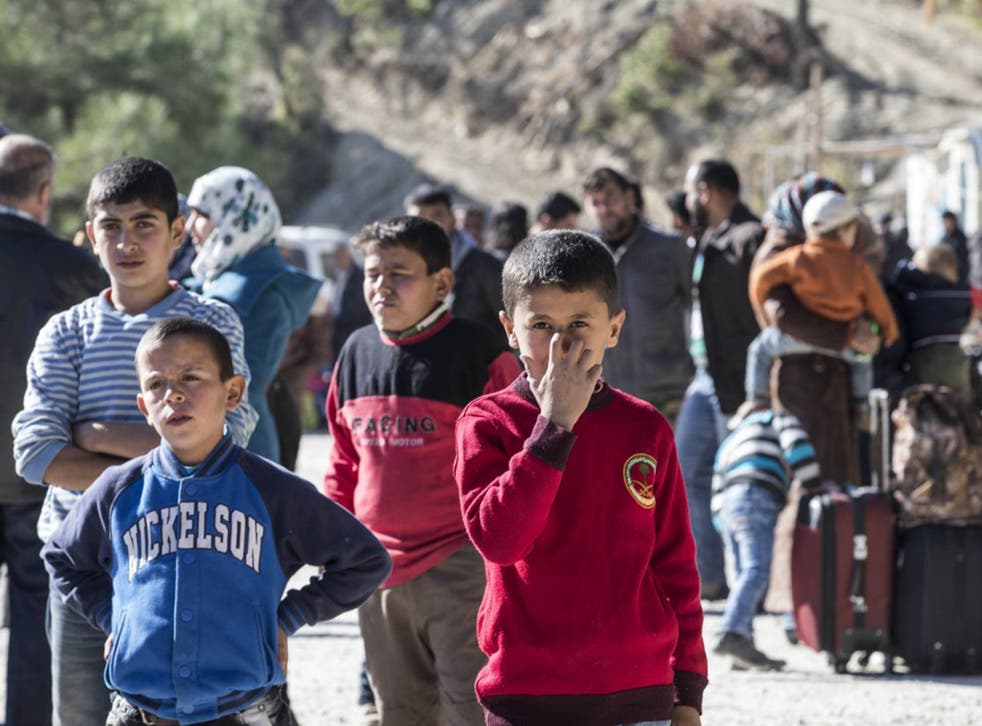 Moscow is waging a relentless campaign of aerial bombardment intended specifically to "drive out" the Turkmen minority from north-western Syria, the community's political leader has warned.
Abdurrahman Mustafa, who as president of the Syrian Turkmen Assembly is the figurehead for the ethnic minority, accused the Russian air force of trying purge the area in order to carve out a safe enclave for its ally, Syrian President Bashar al-Assad, amid growing global pressure for an end to the conflict.
In an interview with The Independent, Mr Mustafa said thousands of Turkmen civilians had been forced from their homes in the region known as Bayirbucak. "There are not many left," he said. "It is nearly impossible to survive amid this bombing."
The Turkmen of Syria found themselves at the centre of world attention after Turkey shot down a Russian SU-24 jet last week, igniting a major row and plunging the prospects of a co-ordinated global push against Isis into doubt.
The Russian plane was operating in the north of Latakia province when it was shot down in an area with a large concentration of Turkmen.
Syrian government forces and their allies from the Lebanese militia Hezbollah have been fighting rebel groups in the region. They include Turkmen brigades backed by Ankara, which is fiercely opposed to Mr Assad. Syrian Turkmen share ethnic and familiar ties with Turkey, as well as a common language and a mutual suspicious of Kurdish factions.
Mr Mustafa, whose assembly forms part of the Western-backed Syrian National Coalition opposition group, accused Russia of seeking to force Turkmen permanently from the coastal region. He said the push was part of an effort to strengthen the Syrian army's hold on the area, which is the familial seat of Mr Assad and a stronghold of his Alawite sect. Some believe that Syria could eventually be carved up, despite opposition to such a solution from the US and most opposition groups.
"If there is going to be a partition in Syria, and Assad is going to build his own state in Latakia, Bayirbucak is a strategic point and the Turkmen will be have to be driven out," Mr Mustafa said.
He said Russian jets had attacked civilian targets in the area, including a camp for displaced civilians and an ambulance, and issued a plea for more support: "The world has to protect us," he said.
Russia has insisted that its air strikes are targeting only Isis positions and groups it views as terrorists. The US says that Moscow has focused its energies on attacking rebel groups in order to bolster the Syrian government.
Moscow appears to have sought revenge for the downing of its plane by redoubling its efforts against opposition groups in the north of Syria and allies of Turkey. One of Turkey's biggest aid groups, IHH, accused Russia of bombing a bakery it ran in the northern province of Idlib. The facility is said to have supplied daily bread to 40,000 Syrians.
In pictures: Russian air strikes in Syria

Show all 19
Meanwhile, the Syrian Observatory for Human Rights, an opposition monitoring group, said that the total number of civilians killed by Russian air strikes since September had risen to 485, including 117 children.
Mr Mustafa rejected Russia's claims that it was targeting only terrorists. While Turkmen fighters are viewed as among more moderate, they are said to have worked alongside groups such as Jabhat al-Nusra, al-Qaeda's affiliate in Syria. This was denied by Mr Mustafa. "They are not in our area. We are in different places," he said.
However, in an example of the difficulties faced by Western leaders in working solely with moderate partners, his claim appeared to be contradicted by the group. Video footage posted by Jabhat al-Nusra purportedly showed its fighters battling on Mount Zawiya, a mountaintop recently secured by the Turkmen brigade the Second Coastal Division. Fierce fighting has continued in the area over the past week, with several key hilltops changing hands repeatedly and casualties on both sides.
Syria has accused Turkey of firing shells across the border at Syrian army positions in Latakia province. It also said that Turkey had upped its supplies of weapons and ammunition to fighters in the area to prevent the border region falling into the hands of pro-government forces.
Mr Mustafa did not deny that Turkmen forces received military support from Ankara. Asked about claims that Turkish state intelligence last year sent trucks of weapons to Turkmen fighters, he said only: "I can say that Turkey has always supported us."
He defended Turkey's decision to shoot down the Russian plane but would not be drawn on who killed one of its pilots. A Turkmen commander initially claimed that rebel fighters killed both men before it emerged that one had been rescued. Mr Mustafa would not condemn the killing, saying: "He was killing us, the pilot. He didn't come here to travel."
The diplomatic standoff continued as the Russian President Vladimir Putin snubbed his Turkish counterpart, Recep Tayyip Erdogan, at the climate conference in Paris. Mr Putin's spokesperson said no meeting with Mr Erdogan was planned and ruled out a telephone conversation between the two men. It came amid a report by the Kuwaiti newspaper Al Rai that Russia is planning to open a second air base inside Syria, a move that would further alarm Turkey.
Additional reporting: Nadia Beard in Moscow
Register for free to continue reading
Registration is a free and easy way to support our truly independent journalism
By registering, you will also enjoy limited access to Premium articles, exclusive newsletters, commenting, and virtual events with our leading journalists
Already have an account? sign in
Register for free to continue reading
Registration is a free and easy way to support our truly independent journalism
By registering, you will also enjoy limited access to Premium articles, exclusive newsletters, commenting, and virtual events with our leading journalists
Already have an account? sign in
Join our new commenting forum
Join thought-provoking conversations, follow other Independent readers and see their replies