Russia in Syria: Moscow air strikes 'have killed thousands of civilians' already, warns UK Defence Secretary
Michael Fallon says Russia's ongoing operations raise risk of accidental confrontation with Western forces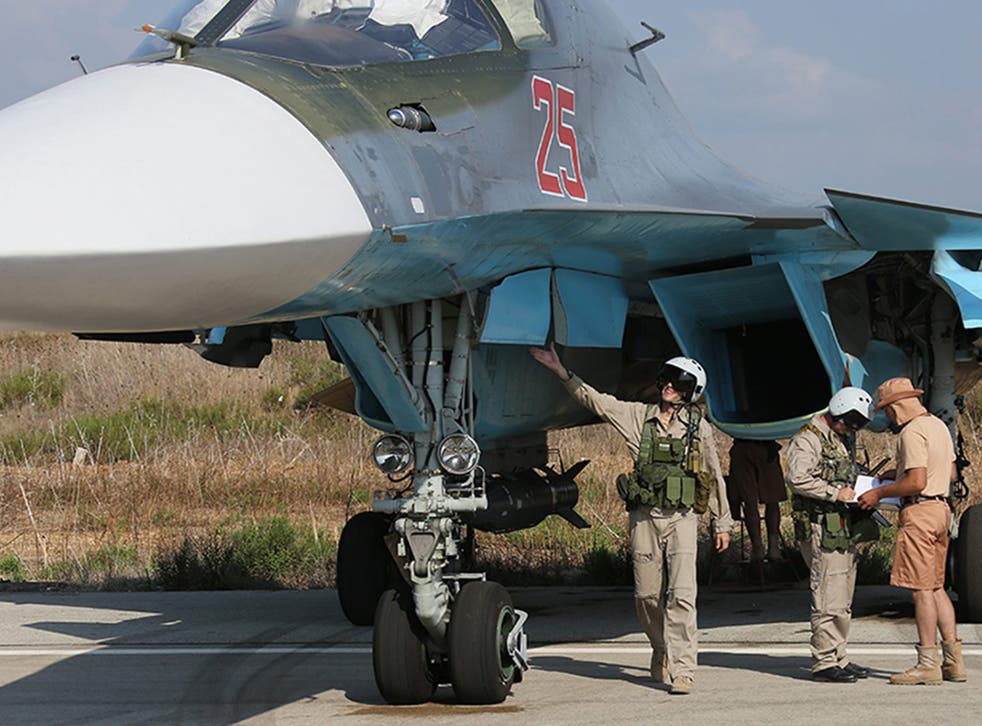 Russian airstrikes in Syria may have killed "several hundred" civilians already and raise the risk of accidental confrontation with Western forces, the Defence Secretary has said.
But Michael Fallon said Russia's intervention should not "divert" Britain from combatting Isis and restated his intention to extend the RAF's bombing campaign to Syria.
In a sharp condemnation of Vladimir Putin's intervention in Syria, Mr Fallon told the BBC's Andrew Marr programme that Russia was prolonging the war by targeting all opponents of President Assad.
"What [Russia] is doing is propping up the Assad regime, making the resolution of all this more difficult. They are prolonging the conflict and civilians are being killed," he said.
"The RAF strikes are done to very strict rules of engagement. They've been striking in Iraq for a year where so far there have been no civilian casualties. The Russians have been at it in Syria for a couple of weeks and independent reports estimate that they've killed several hundred people already."
Asked whether we was worried that Russia's military presence in Syria raised the risk of accidental confrontation if British planes were deployed he said: "Well I am worried, yes."
"When you have this activity – you've seen on the Turkish border, which is a Nato border, you've seen incursions into Turkish airspace. Obviously there is the danger of accidents, of incidents taking place that inflame the tension."
But he added: "I don't think we should let Russia divert us for a moment from our focus against Isil."
Labour leader Jeremy Corbyn has indicated he will not support an expansion of military action against Isis, but the Government could win the backing of a number of Labour MPs for its strategy.
In pictures: Russian air strikes in Syria

Show all 19
Former SNP leader Alex Salmond warned the Government it could face defeat over a new Syria vote, accusing ministers of putting forward "no credible argument" for British intervention.
"No-one, absolutely no-one, believes that diverting a few ageing Tornadoes from the strikes in Iraq to Syria is going to make any material difference to the military situation in Syria at the present moment," Mr Salmond, who is also an MP, told Sky News' Murnaghan programme.
"It might add to human suffering because, obviously, mistakes would be made as they always are in bombing campaigns, but militarily it will make no significant difference whatsoever."
Monitoring groups in Syria, including Human Rights Watch, have called for an investigation of Russian airstrikes which they say have killed civilians and may have violated international law.
European powers are increasingly concerned that the deepening conflict could lead to the displacement of thousands more Syrians.
The Government has faced renewed criticism over its response to the refugee crisis from 84 bishops, who accused David Cameron of ignoring offers of church support to accommodate refugees.
The bishops have made public a letter sent to the Prime Minister in early September in which they call for an increase in the number of refugees the UK is prepared to take over five years from 20,000 to 50,000. The bishops offered to bring together "churches, congregations and individuals" to respond to the crisis.
However, Paul Butler, the bishop of Durham, said they had not received "a substantive reply" and said the Government's refugee strategy appeared "increasingly inadequate".
It follows criticisms last week from senior judges, who branded the UK's response "slow and narrow".
Mr Fallon rejected the bishops' assessment, claiming the UK was doing more than any European country to support Syrian refugees in the country itself. He said 20,000 refugees was "a number we think we can reasonably accommodate, make sure they feel welcome, that they are given housing and the chance of getting a job."
"The real issue is out in Syria, getting other countries in Europe to contribute more to the feeding of refugees in the camps," he said.
Register for free to continue reading
Registration is a free and easy way to support our truly independent journalism
By registering, you will also enjoy limited access to Premium articles, exclusive newsletters, commenting, and virtual events with our leading journalists
Already have an account? sign in
Register for free to continue reading
Registration is a free and easy way to support our truly independent journalism
By registering, you will also enjoy limited access to Premium articles, exclusive newsletters, commenting, and virtual events with our leading journalists
Already have an account? sign in
Join our new commenting forum
Join thought-provoking conversations, follow other Independent readers and see their replies