Russia launches first air strikes in Syria as non-Isis rebels claim they are being targeted
The Federation Council approved military intervention on Wednesday morning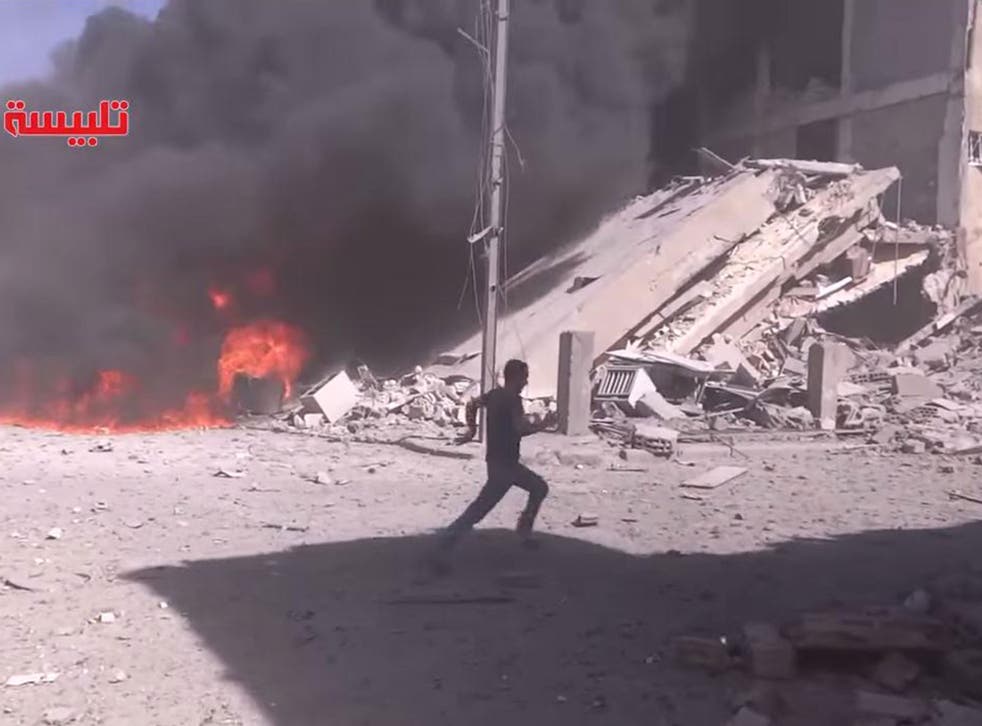 The US believes Russia has launched its first airstrikes in Syria just hours after the country's Parliament approved Vladimir Putin's request for military intervention.
No further information was given but activists in Homs and Hama provinces have posted images and video online claiming to show Russian planes bombing groups of non-Isis rebels who are fighting Bashar al-Assad's forces.
The death toll could not be verified but dozens of fatalities were reported, including civilians, and footage showed injured children being treated in Talbiseh, a Free Syrian Army (FSA) stronghold.
An audio recording was also published by Qasion News, claiming to show communication between Russian pilots flying over Syria.
As the footage spread on social media, American officials told journalists they believed Russia had started carrying out airstrikes near Homs.
An anonymous US official told Reuters that Moscow gave Washington a one-hour notice of its operations but could give no further details.
Eliot Higgins, the founder of citizen journalism website Bellingcat and a specialist on the conflict in Syria, said it was not possible to know whether Russians or Syrians were piloting the aircraft seen during bombings.
"The dozens of videos of the dead and injured coming from Tabliseh are definitely legitimate, the question is whether or not it can be proven Russian bombers were responsible as the local media centres are claiming," he told The Independent.
Other footage appearing to show claiming to show the aftermath of airstrikes by Russian planes was posted online by the Homs Media Centre and the Hama branch of rebel alliance the Syrian Revolutionary Command Council.
The group conducted an inteview with an FSA commander who claimed that Russian jets bombed his fighters in Hama using Su-24s.
The Syrian government had asked Russia for support in the country's civil war before the Federation Council approved intervention on Wednesday.
A post on President Assad's official Twitter account said he had invited Russian forces to fight "terrorism", although the word is used by the regime to describe anyone opposing it, including non-Islamist rebels.
In pictures: Syria air strikes (2014)

Show all 20
Meanwhile, the US and coalition aircraft were conducting air strikes in Syria and Iraq on Wednesday, although a spokesperson did not specify where.
Russia has already been providing weapons and training for Syrian regime forces, and navy transport vessels have been shuttling troops, weapons and supplies to an air base near the coastal city of Latakia for several week.
Satellite images released last week showed 28 jets, including Su-30 multirole fighters, Su-25 ground attack jets, Su-24 bombers and possibly Ka-52 helicopter gunships at the base.
Sergei Ivanov, chief of Putin's administration, said that the Federation Council voted unanimously in favour of military intervention but insisted Moscow is not sending ground troops to Syria.
He said it will only use its air force "in order to support the Syrian government forces in their fight against the Islamic State" group.
But areas reportedly hit by Russian planes today included Latamneh and Tal Wasit, both in Hama governate, and Zaafrana, Homs.
All are held by the Free Syrian Army, secular rebels, or non-Isis Islamists including Jaysh al-Fath (the Army of Conquest).
In the Syrian civil war's ever-changing web of alliances, the coalition, including Jabhat al-Nusra and Ahrar ash-Sham, sometimes co-operates with Free Syrian Army in its battles against Isis and government forces.
Senior Tories have backed Russia's intervention in Syria, saying working with Assad is the "lesser evil" in the fight against Isis.
Bob Stewart, a member of parliament's defence select committee, said "in order to defeat the great Satan you might have to put up with a lesser devil as well".
Meanwhile, James Gray, the Conservative MP for North Wiltshire and fellow defence select committee member, also welcomed the decision.
"My enemy's enemy is my friend, to some degree," he said. "You can't fight both Assad and IS at the same time."
The intervention announcement came as France's national prosecutor confirmed it had opened a case investigating alleged crimes against humanity and other atrocities committed by the Syrian regime.
Join our new commenting forum
Join thought-provoking conversations, follow other Independent readers and see their replies