Russia holds first ever military parade in Syria
Navy Day marked with show of military might in St Petersburg, Crimea and Tartous in Syria, where Moscow has just cemented its military presence in deal with Syrian government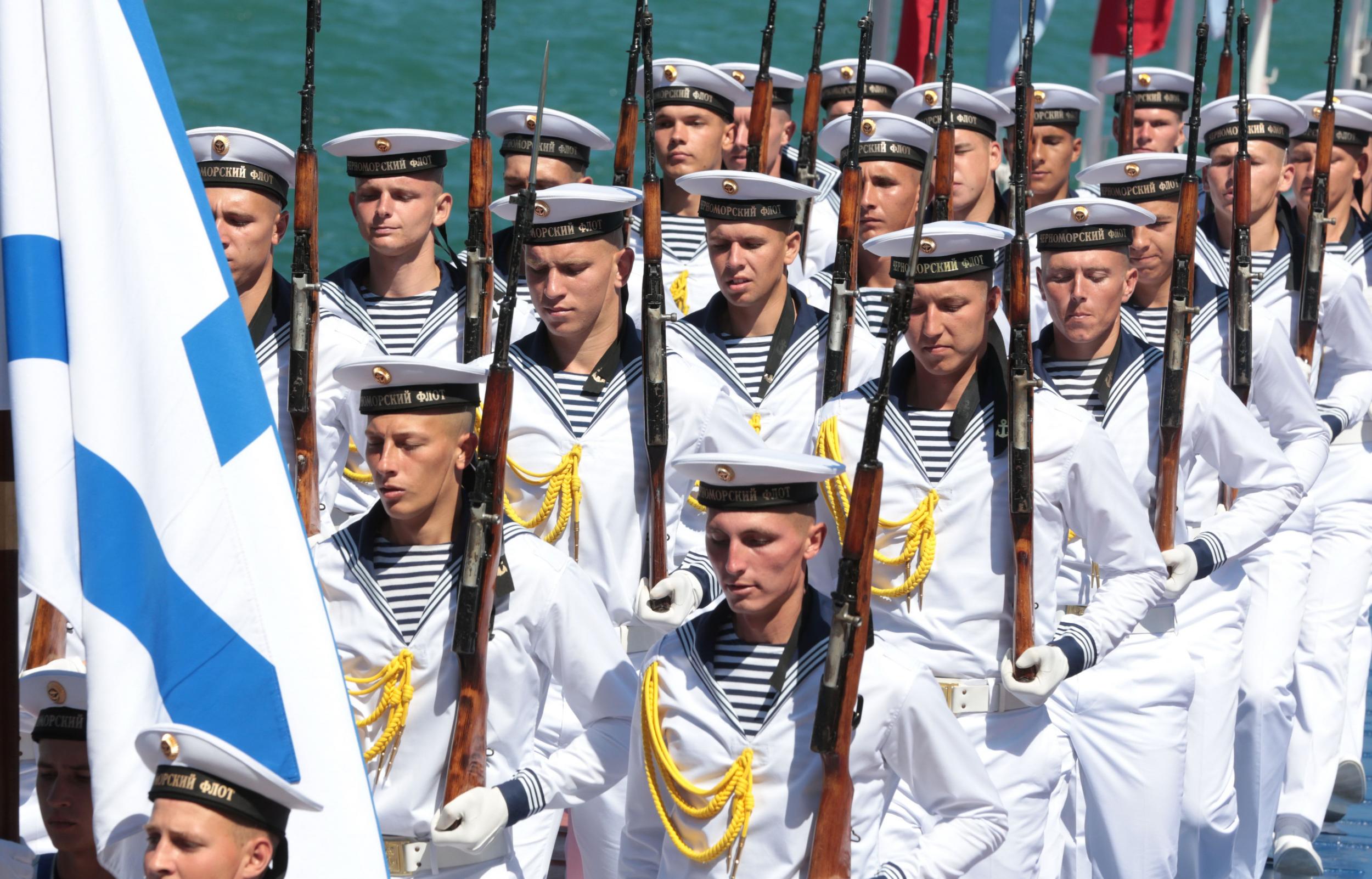 Russia's armed forces have celebrated Navy Day with processions and parades across the world - including its first ever celebration in Syria.
Navy Day is a national holiday for Russians on which huge parades are held in St Petersburg - Moscow's second largest city and the home of the Navy - on the last Sunday of July.
There are usually smaller processions at Russian naval bases across the vast country as well as around the world, including Crimea, annexed in 2014, and for the first time this year, the regime-held Syrian city of Tartous.
The Russian and Russian navy flags were raised in the city on Sunday as six warships and a Black Sea Fleet submarine took part in the celebrations, Russia state news agency Interfax reported, accompanied by jets from the nearby Hmeymim air base.
A deal with the Syrian government struck in January of this year will in effect solidify Moscow's presence at the the Hmeymim air base with a lease over the next 49 years and options to renew the presence of troops there for 25-year-long periods.
It is now Moscow's only permanent Mediterranean base after President Vladimir Putin signed it into law last week.
In Pictures: The crisis unfolding in Syria
Show all 30
Russia has proven to be Syrian President Bashar al-Assad's most powerful ally in his now more than six-year-old war against various rebel factions; Russian bombing against Isis and moderate Sunni rebel groups has been widely credited with turning the tide of the war in Mr Assad's favour.
The scale of this year's parades was unprecedented. Observers believe Sunday's huge celebrations were designed to show both Russia's military prowess and Moscow's ambition to reposition itself as a global power in the face of a more isolationist US.
In St Petersburg, more than 5,000 sailors took part in a parade featuring more 50 ships and submarines and flyovers by 40 jets. Two Chinese warships also took part in the St Petersburg celebrations - a sign of the increasingly close ties between Moscow and Beijing.
The procession was overseen by Mr Putin, who said in a speech that "Russia's history is inseparable from the victories of its courageous and fearless Navy," and announced the addition of 30 new vessels to the Russian fleet over the course of 2017.
Mr Assad did not attend the Tartous processions.
Join our commenting forum
Join thought-provoking conversations, follow other Independent readers and see their replies