Russia to withdraw armed forces from Syria starting with aircraft carrier group
Decrease of military deployment agreed as part of December's shaky ceasefire, brokered by Russia and Turkey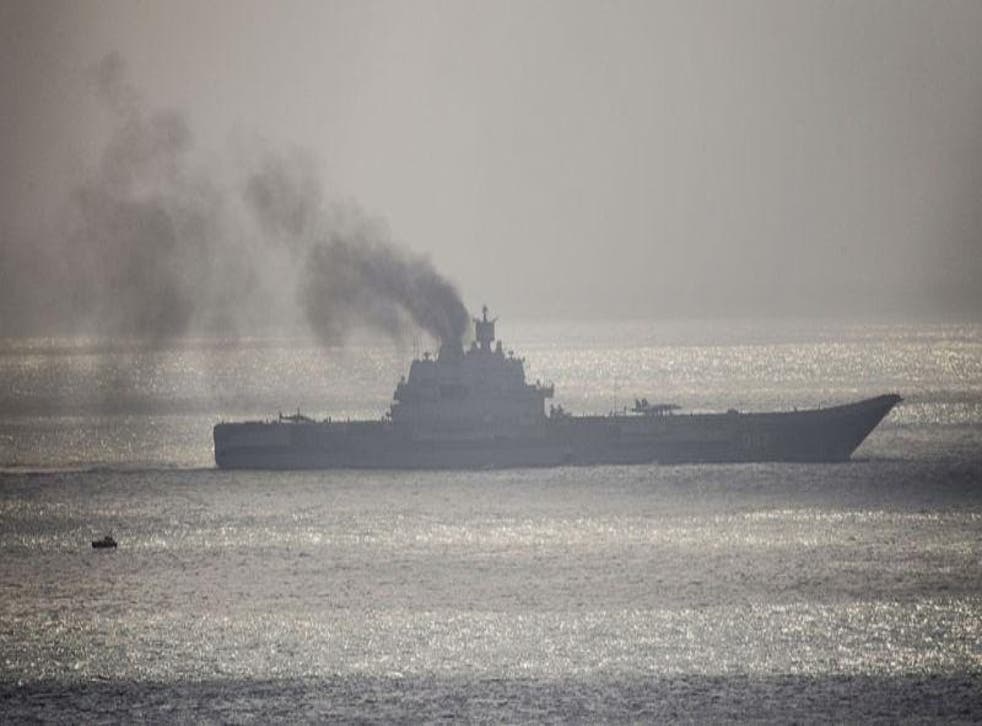 Russia has begun to withdraw its military forces from Syria, the chief of staff of the Russian armed forces has said.
Valery Gerasimov said Russia's only aircraft carrier, the Admiral Kuznetsov, and smaller accompanying warships would be the first to return from the Syrian port town of Tartous to Murmansk.
"In accordance with the decision of the Supreme Commander of the Armed Forces of the Russian Federation, [President] Vladimir Putin, the Russian Defence Ministry is beginning to reduce its armed forces deployment in Syria," TASS news agency quoted Mr Gerasimov as saying on Friday.
Mr Putin said Russia had agreed to reduce its military deployment in Syria under the terms of a 30 December ceasefire deal between Syrian opposition groups and the Syrian government.
Russian military power was instrumental in helping Syrian President Bashar al-Assad regain control of Aleppo, which was captured from rebel forces last month.
Mr Putin sent the country's largest surface deployment since the end of the Cold War to Syria in November in order to bolster the assault on last rebel-held urban stronghold, a show of strength dismissed by Nato sources as "posturing".
Aleppo before the Syrian Civil War

Show all 12
Airstrikes from the Admiral Kuznetsov on rebel targets in northern Syrian marked the first time the carrier had been used in combat, despite having been in the Soviet Union's navy since the 1980s.
During its short deployment an Su-33 and an MiG-29 fighter jet were lost, both of which crashed while trying to land after sorties due to problems with the carrier's landing system.
The current ceasefire in the Syrian conflict was brokered by Russia and Turkey, which supports Syria's Sunni rebels. It is nominally in place across areas of the country not controlled by Isis or Kurdish groups, but both the government and opposition have blamed each other for several violations.
Vladimir Putin announces ceasefire agreement in Syria
Damascus blames rebels in the valley of Wadi Barada for cutting off the water supply to millions in the capital, which the UN warned on Thursday could constitute a war crime. The rebels, in turn, say air raids and ground assaults on the area by the Syrian army and allied Lebanese Hezbollah have not ceased, despite the truce.
Peace negotiations are supposed to be held in Astana, Kazakhstan's capital, later this month, although several rebel signatories have since frozen the process.
It is widely thought that Aleppo's fall has strengthened Mr Assad's position enough to allow Russia to begin a military exit, although some analysts point out Moscow's revitalised influence in the region is not likely to wane.
Moscow continues to maintain two army bases in government-held Syria.
Register for free to continue reading
Registration is a free and easy way to support our truly independent journalism
By registering, you will also enjoy limited access to Premium articles, exclusive newsletters, commenting, and virtual events with our leading journalists
Already have an account? sign in
Register for free to continue reading
Registration is a free and easy way to support our truly independent journalism
By registering, you will also enjoy limited access to Premium articles, exclusive newsletters, commenting, and virtual events with our leading journalists
Already have an account? sign in
Join our new commenting forum
Join thought-provoking conversations, follow other Independent readers and see their replies