Russian air strikes in Syria are killing civilians to shore up Assad, UK Defence Secretary claims
Michael Fallon said intelligence suggested that only one in 20 Russian attacks are hitting Isis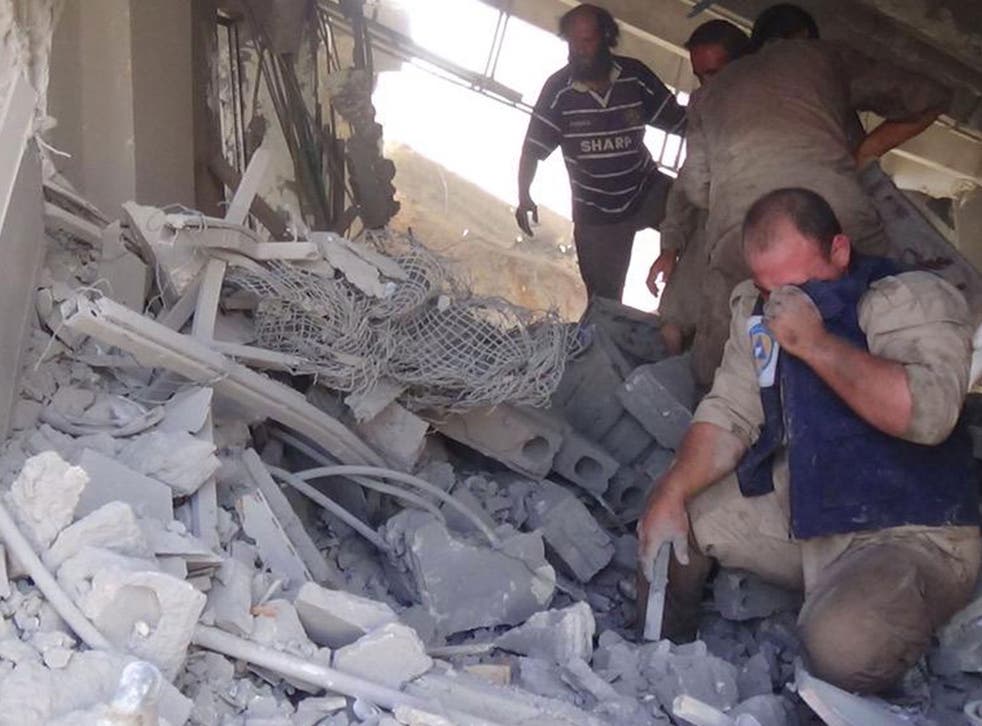 The vast majority of Russian air strikes are not targeting Isis in Syria and are instead aimed at "shoring up" President Bashar al-Assad, the UK Defence Secretary has claimed.
Michael Fallon said Ministry of Defence intelligence suggested that only one in 20 of the attacks so far hit Isis targets and that civilians and rebels battling both Islamists and the regime had been killed.
"We're analysing where the strikes are going every morning. The vast majority are not against IS (Islamic State) at all," he said in an interview with the Sun.
"Our evidence indicates they are dropping unguided munitions in civilian areas, killing civilians, and they are dropping them against the Free Syrian forces fighting Assad.
"He's shoring up Assad and perpetuating the suffering."
Mr Fallon's criticism came after the US, UK and other countries in the international coalition bombing Isis in Syria and Iraq urged Vladimir Putin to "immediately cease attacks on the Syrian opposition and civilians".
A joint statement accused the Kremlin's actions of escalating the four-year Syrian conflict and fuelling more extremism and radicalisation.
Mr Fallon is among the MPs supporting to expansion of British involvement to include air strikes in Syria and dismissed suggestions that Russia's intervention had left Europe and the US looking weak.
"I don't accept (Mr Putin) has outmanoeuvred us," the Conservative minister said. "He has complicated the situation in Syria. But we're not powerless…we can't leave it to French and Australian, American aircraft to keep our own British streets safe."
A former senior military adviser claimed the UK's policy in Syria has been hampered by "wishful thinking" about what would happen to President Assad's regime.
In an interview on Newsnight, Lt Gen Sir Simon Mayall painted a picture of a UK being in a strategic muddle over Syria and described Russia's intervention as "hugely significant".
He criticised Britain's response to Isis' bloody advance through Iraq and Syria last year as "inadequate".
"If we genuinely want to stop this and reverse it, we are going to have to do more than have high-flown rhetoric because this is a really seriously dangerous situation on the ground." Sir Simon said. "Our response frankly is inadequate for the scale of the problem that we've got."
Russia's intervention has also raised fears of a proxy war with Western nations in the international coalition, after it reportedly bombed rebels armed and trained by the US.
Barack Obama vowed not to let that happen but did little to soothe tensions with his first major public statement on the situation.
"This is not a smart strategic move on Russia's part," the US President said. "It's only strengthening Isil (Isis), and that's not good for anybody."
Mr Obama repeated concerns that Russia could be acting on the Syrian regime's definition of "terrorists", which encompasses all groups opposing it regardless of their ideology.
His Russian counterpart and officials in Moscow have maintained that extremists are being targeted and dismissed reports of civilian casualties as "information warfare".
Additional reporting by PA
Join our new commenting forum
Join thought-provoking conversations, follow other Independent readers and see their replies