Russian embassy mocks Britain over its silence on Syria ceasefire deal
Twitter poll suggests Britain's lack of comment on Syria deal is due to one of three reasons: 'Jealousy', 'FCO on holiday' or 'Can't believe'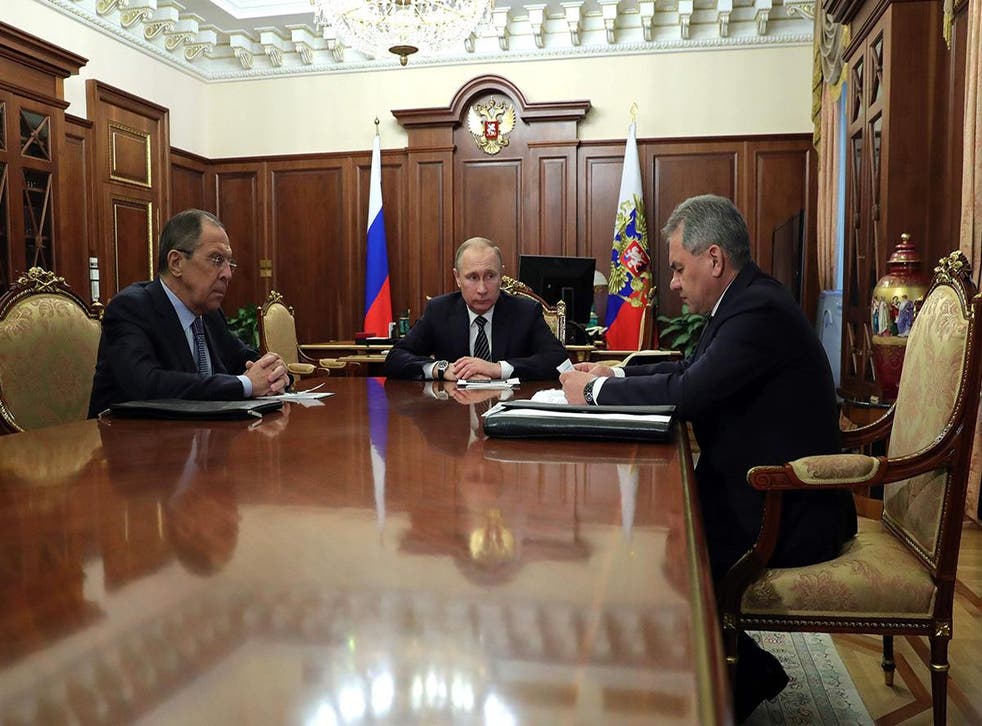 The Russian embassy has mocked Britain over its silence the Syria ceasefire deal, by suggesting it is either jealous, "on holiday" or in a state of disbelief.
In a poll on Twitter, the embassy asked why there had been no public reaction from the UK to the truce between Russia, Turkey and Iran, which took effect at midnight local time on Thursday.
The poll asks: "No UK reaction to historic Russia-Turkey-Iran brokered all-Syria truce. Why?"
It then gives Twitter users three options for an answer: "Jealousy", "FCO on holiday" or "Can't believe".
The poll currently shows "jealously" as the most popular choice with 50 per cent of the vote, with "FCO on holiday" in second place with 28 per cent and "Can't believe" in third with 21 per cent.
The tweet mocking the British government comes a week after the former British Ambassador to Syria accused the Foreign Office of lying over the country's civil war, and saying British policy there has "made the situation worse".
Peter Ford said the Whitehall department led by Boris Johnson and Philip Hammond before him had "gotten Syria wrong every step of the way", and was falsely claiming Syrian President ashar al-Assad could not control the country when he is "well on the way to doing so".
The new Syria ceasefire agreement between government forces and rebels in the country was brokered by Turkey and Russia on Wednesday, and has so far held since it despite isolated clashes and minor violations.
As well as having the backing of Russia, Syria's chief ally, and Turkey, which has been supporting the rebels, the agreement has also been praised by Iran, another of the Syrian regime's strongest backers.
Russian President Vladimir Putin said that if the ceasefire holds, the truce between the Syrian government and the country's mainstream rebel forces will be followed by peace talks in Kazakhstan next month.
The US has been sidelined in recent negotiations and is not due to attend the next round of peace talks in Kazakhstan, although Russia's foreign minister Sergey Lavrov has said President-elect Donald Trump's administration would be welcome to join the peace process once he takes office.
Aleppo before the Syrian Civil War

Show all 12
Several previous ceasefires in the Syrian civil war have collapsed.
The country's civil war, which began when a peaceful uprising descended into violence in 2011, has resulted in more than 300,000 deaths and displaced half the country's population.
It has also produced more than four million refugees, many of whom have fled fled into Europe, fuelling anti-immigration sentiment and fears over terrorism that are reshaping the continent's political landscape.
Join our new commenting forum
Join thought-provoking conversations, follow other Independent readers and see their replies