Russian pilot 'killed' and another feared to be in rebel hands after plane is downed over Syria by Turkey
Unconfirmed video and photos posted online claim to show dead body of one pilot in rebel hands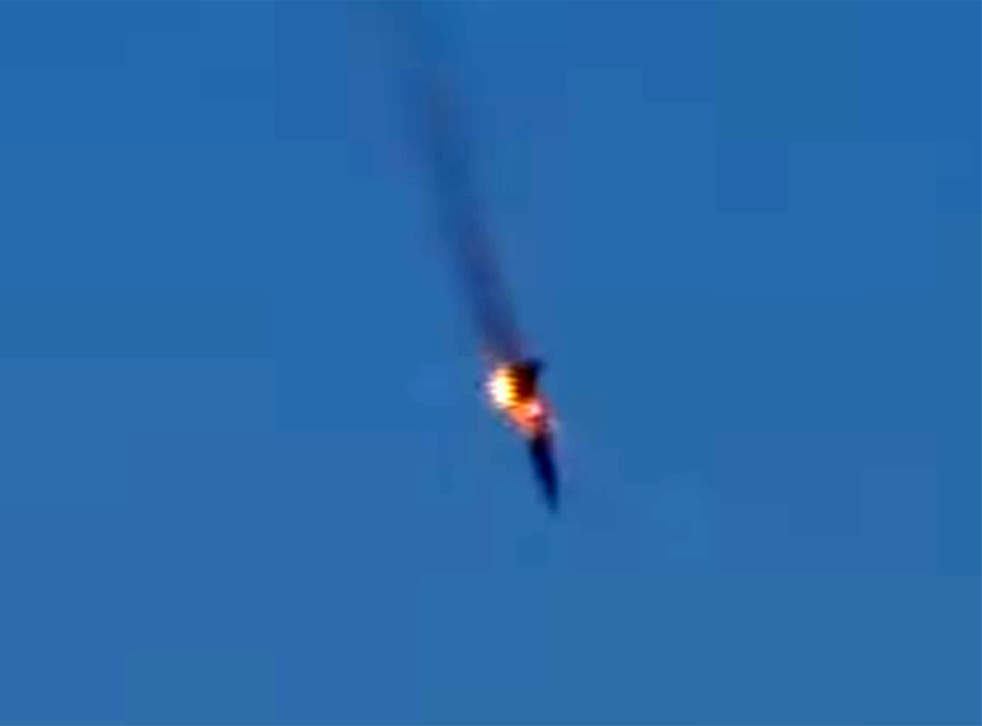 Syrian rebel officials claim to have photos and video showing that one of two Russian pilots from a jet downed by the Turkish military has died.
Speaking to Reuters, the group said footage showing a dead man in apparent Russian air force gear was genuine, and captured on Tuesday in the northern countryside of Latakia province.
The video, which has not been independently verified, appeared to show Syrian rebel fighters standing around the body and chanting "Allahu Akbar".
Another rebel official was quoted in the Associated Press as saying that the captured Russian pilot was found dead upon landing.
A major rescue operation was launched to bring back the two Russian pilots, whose jet was shot down after Turkey claimed it entered that country's air space.
Russia and Turkey both dispatched helicopters to search for the downed pilots, who were seen in amateur video footage parachuting to safety.
But the airmen were also being hunted by local rebel forces, whose territories in Latakia have been repeatedly targeted by Russian and Syrian regime bombing raids in recent weeks.
Earlier, CNN Turk cited local sources as saying one of the pilots has already fallen into Turkmen hands and the other was being sought.
Moscow said it had received no further contact from the pilots since their plane went down, and has sent a fleet of military helicopters to the site of the crash near the Turkish border.
Grainy footage posted online by the Hurriyet Daily News outlet purported to show Russian helicopters scouring a wooded, mountainous region near the Turkish-Syrian border.
Turkey F16s shoot down fighter jet
Separately, a video claiming to show a live pilot being captured by gunmen was proven to be at least two years old.
Footage from private Turkish broadcaster Haberturk TV showed the warplane going down in flames in a woodland area, a long plume of smoke trailing behind it.
Russian plane shot down by Turkish jets

Show all 5
Russia and Turkey have issued conflicting statements on whether the downed jet entered Turkish air space, as well as on how it was brought down.
A Kremlin spokesman said it was a "very serious incident" but that it was too early to draw conclusions.
It was the first time a NATO member's armed forces have downed a Russian or Soviet military aircraft since the 1950s and Russian and Turkish assets fell on fears of an escalation between the former Cold War enemies.
Join our new commenting forum
Join thought-provoking conversations, follow other Independent readers and see their replies