Sajida al-Rishawi: Jordan 'executes female Isis suicide bomber' – hours after pilot Muath al-Kasaesbeh is burned alive
Jordan officials said they had also hanged former aide to a late al-Qadea leader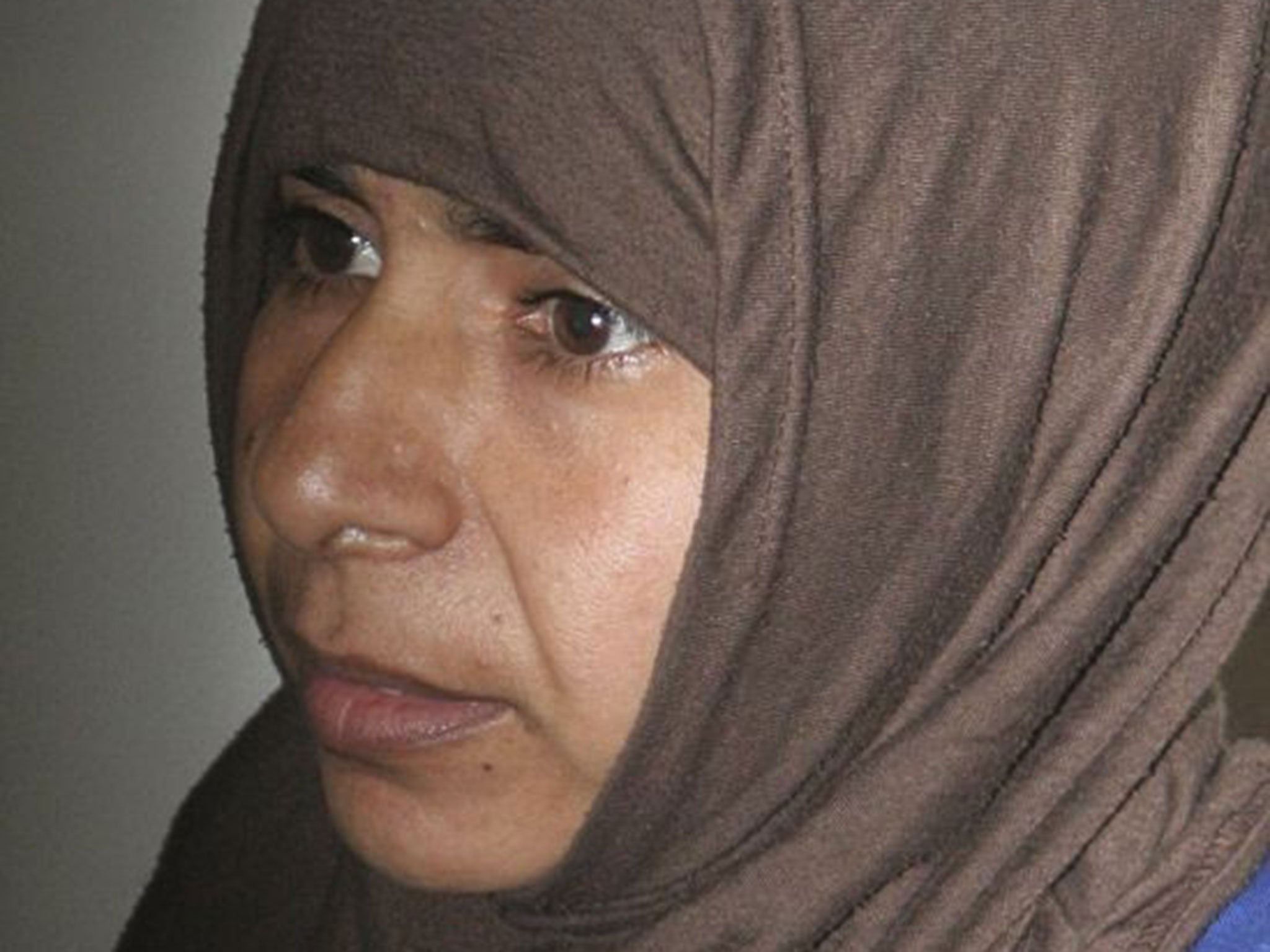 Jordan has have executed two militants – one of them a female prisoner sought by Isis - the day after video footage emerged of Islamic State militants burning a captured Jordanian pilot to death.
In the aftermath of the broadcast of video footage showing Muath al-Kasaesbeh being set on fire as he stood in a cage, Jordan promised a swift and "earth-shaking" response and said it would move to execute several militants it was holding.
There were fears that Jordan's reaction and any further moves to exact revenge on Isis could give the group a pretext to target the country, which is part of the US-led coalition fighting it in Syria and Iraq, with more attacks and executions.
Early on Wednesday morning local time, Jordanian state television reported that two prisoners had been executed before dawn. One of them was Sajida al-Rishawi, the Iraqi woman militant who was sentenced to death for her role in a 2005 suicide bombing in Amman that killed 60 people.
The other executed prisoner was Ziad Karbouli, a former aide to the deceased leader of al-Qaeda in Iraq, Abu Musab al-Zarqawi.
The executions of three other convicted terrorists were also scheduled for Wednesday.
Jordan had sought to swap al-Rishawi for the captured pilot if it received proof that he was still alive. Isis demanded her release in exchange for the life of Japanese hostage Kenji Goto, Reuters reported. However, Mr Goto, a veteran war reporter, was later beheaded by the group, with images of his death released in a video on Saturday.
Timeline: The emergence of Isis
Show all 40
After footage of the killing of 26-year-old Mr Kasaesbeh emerged, Jordan promised a swift response.
"The revenge will be as big as the calamity that has hit Jordan," army spokesman Colonel Mamdouh al Ameri said in a televised statement confirming the death of the pilot, who had been seized in December.
The news agency said that the fate of Mr Kasaesbeh, a member of a large tribe that forms the backbone of support for the country's Hashemite monarchy, has gripped Jordan for weeks and some Jordanians have criticised King Abdullah for embroiling them in the US-led war that they said would provoke a backlash by militants.
The escalation of developments came as the king cut short a visit to the United States to return home following word of Mr Kasaesbeh's death. In a televised statement, he said the pilot's killing was an act of "cowardly terror" by a deviant group that had no relation to Islam.
In the pilot's hometown of Karak in southern Jordan, people demanded revenge. "I want to see Sajida's body burnt and all the other terrorists in Jordanian prisons. Only then will my thirst for revenge be satisfied," said Abdullah al-Majali, a government employee among dozens of demonstrators in the centre of Karak.
Relatives of the pilot also gathered in Karak and urged calm after anti-government protests broke out in the town. They said it was up to the government to take revenge for them.
A Jordanian politician in Amman wept on television as he described watching Mr Kasaesbeh's death, saying even people exposed to violence could not bear witnessing the pain of a man burning to death.

Mohammed al-Rousan vowed his country would fight Isis before becoming enraged on Lebanese television station al-Mayadeen.

"Let's use the same methods as them!" he shouted. "Let's kill their children! Let's kill their women!"
Jordanian state television said on Tuesday that Mr Kasaesbeh had been killed a month ago, on 3 January, and a source close to the Jordanian government said Amman had been picking up intelligence for weeks that the pilot was killed some time ago.
Given that Jordan's own intelligence indicated the pilot was dead, the government decided it could not possibly release the woman absent convincing proof the pilot was still alive, the source said, and such proof never arrived, Reuters said.
The White House said the intelligence community was studying when the video was recorded and that US President Barack Obama had ordered his team to devote all resources to locate other hostages held by Isis.
Mr Obama rearranged his schedule on Tuesday to make sure he saw King Abdullah before the Jordanian leader flew back to Amman.
"Today, the coalition fights for everyone who has suffered from [Isis] inhumanity," Mr Obama said in a statement, adding that the group's "hateful ideology" would be banished to the recesses of history.
Join our commenting forum
Join thought-provoking conversations, follow other Independent readers and see their replies