Saudi Crown Prince 'invited to Israel' as Jerusalem protests smoulder in West Bank
Israeli intelligence minister issues open invitation to Mohammed bin Salman despite fact countries have no formal diplomatic ties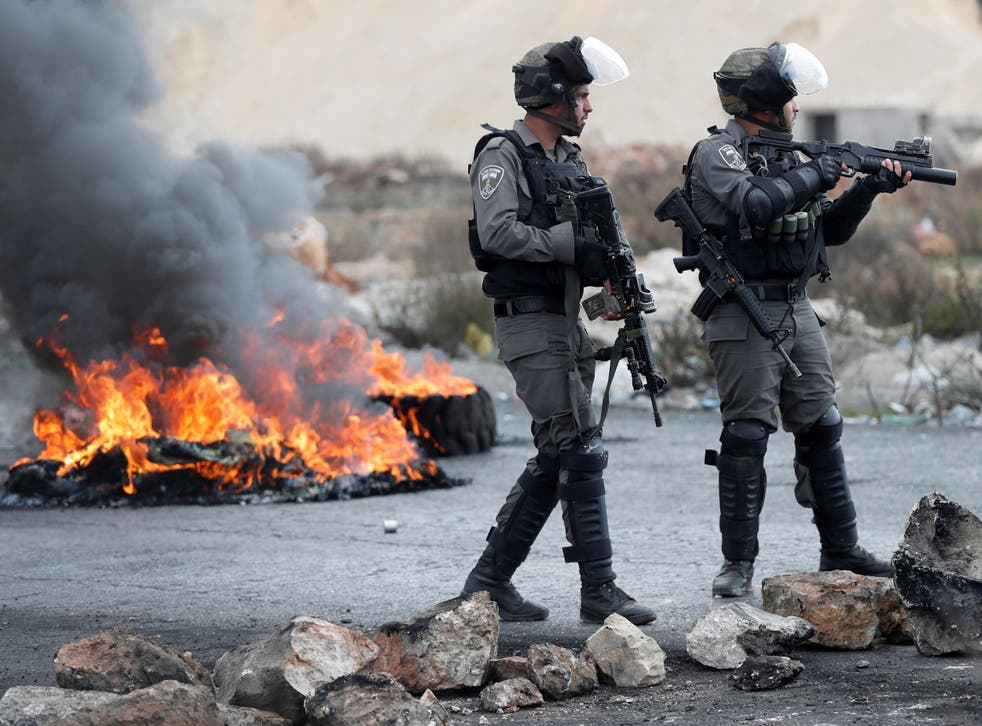 Israel's intelligence minister has extended an invitation to Saudi Arabia's powerful Crown Prince, Mohammed bin Salman, to visit the country as fallout from the US's decision to recognise Jerusalem as the capital of the Jewish state continues to reverberate around the world.
Yisrael Katz made the remark in an interview with Saudi-owned Arabic news website Elaph, his spokesperson said on Thursday – but the call was not included in the published interview for "unknown reasons".
"He said that he asks [King Salman] to invite [Prime Minister Benjamin] Netanyahu officially to Riyadh, and he asks MBS, Mohammed bin Salman, the son, to come and visit Israel," representative Arye Shalicar said.
Palestinian official on Jerusalem: Trump 'is declaring war against 1.5 billion Muslims [and] hundreds of millions of Christians'
Mr Katz extended the invitation because "he wants regional peace", his office added.
Saudi Arabia and Israel do not have diplomatic relations. United by their common foe of Iran, however, in recent months the relationship appears to be warming.
Riyadh has also been a key broker in the Trump administration's efforts to restart peace talks between Israel and the Palestinians.
Last month, former Israeli defence minister Yaacov Nagal claimed that the Kingdom is willing to accept almost any kind of Israeli-Palestinian peace deal and had stopped "giving a damn" about the Palestinian cause – as long as it can present a united front against Iran.
Protests erupt after Trump recognises Jerusalem as Israel's capital

Show all 22
Any possible progress in the Arab-Israeli conflict appears to be off the table, however, following the US President's decision to recognise the contested city of Jerusalem as Israel's capital.
On Friday, in the second "Day of Rage" called for by various Palestinian factions, including Gaza's militant Hamas, protesters clashed with Israeli forces throughout the Palestinian territories, resulting in two deaths.
Near Ramallah, a Palestinian was shot and injured after he attacked an officer with a knife. Palestinian and Israeli media published pictures of the assailant being carried to hospital on a stretcher in which he is clearly wearing a suicide vest.
It has not been confirmed by the authorities whether the explosives were real.
Throughout the West Bank and Gaza, Palestinians threw rocks and petrol bombs at Israeli troops. Soldiers responded with teargas and rubber bullets.
The Gaza Health Ministry said that five Palestinians were in a moderately serious condition after being injured by live fire.
There have been violent incidents across the territories, which have resulted in the deaths of a total of six Palestinians since Donald Trump's 6 December announcement that the US would recognise Jerusalem as Israel's capital.
Israel annexed East Jerusalem in the 1967 Six Day War, an action that was never internationally recognised. Control of it remains one of the core stumbling blocks to an Israeli-Palestinian peace deal.
Like many presidential hopefuls before him, on the campaign trail Mr Trump promised to recognise Jerusalem as Israel's capital and to relocate the US embassy there from Tel Aviv.
Over the last year, the new administration has delayed a decision on the issue.
Theresa May says she will talk to Donald Trump about Jerusalem
Mr Trump's announcement last week, however, upends decades of US policy: The previous US position had been to clarify the status of Jerusalem in a final peace agreement as per the terms of the 1993 Oslo Accords.
It has earned the US condemnation from the Muslim world and Western allies – including a rare rebuke from King Salman of Saudi Arabia, who reiterated earlier this week that the Palestinians have a right to East Jerusalem as their capital.
The Palestinians themselves have declared that they reject the US's role in the peace process, as Washington's new stance means it can no longer act as an "unbiased" sponsor.
In recent months, there has been mounting pressure on the Palestinian leadership from both Riyadh and Washington to accept the terms of a less than favourable peace deal. The blueprint is understood to contain steps leading to a two-state solution, but without the right to return for Palestinian refugees or full sovereignty.
An impasse in talks thanks to the Palestinian rejection of the US would complicate Washington's efforts to get Saudi Arabia and other Arab states to unite with the US and Israel against Iran.
Many states were already reluctant to get to close to the Israelis without progress on the Palestinian issue, and will need far more convincing now.
Mr Trump has said his decision to recognise Jerusalem as Israeli merely reflects the reality that Jerusalem already serves as Israel's capital, and all other issues surrounding control of the city are up to the two parties to decide.
Join our new commenting forum
Join thought-provoking conversations, follow other Independent readers and see their replies