Saudi Arabia man arrested for giving out free hugs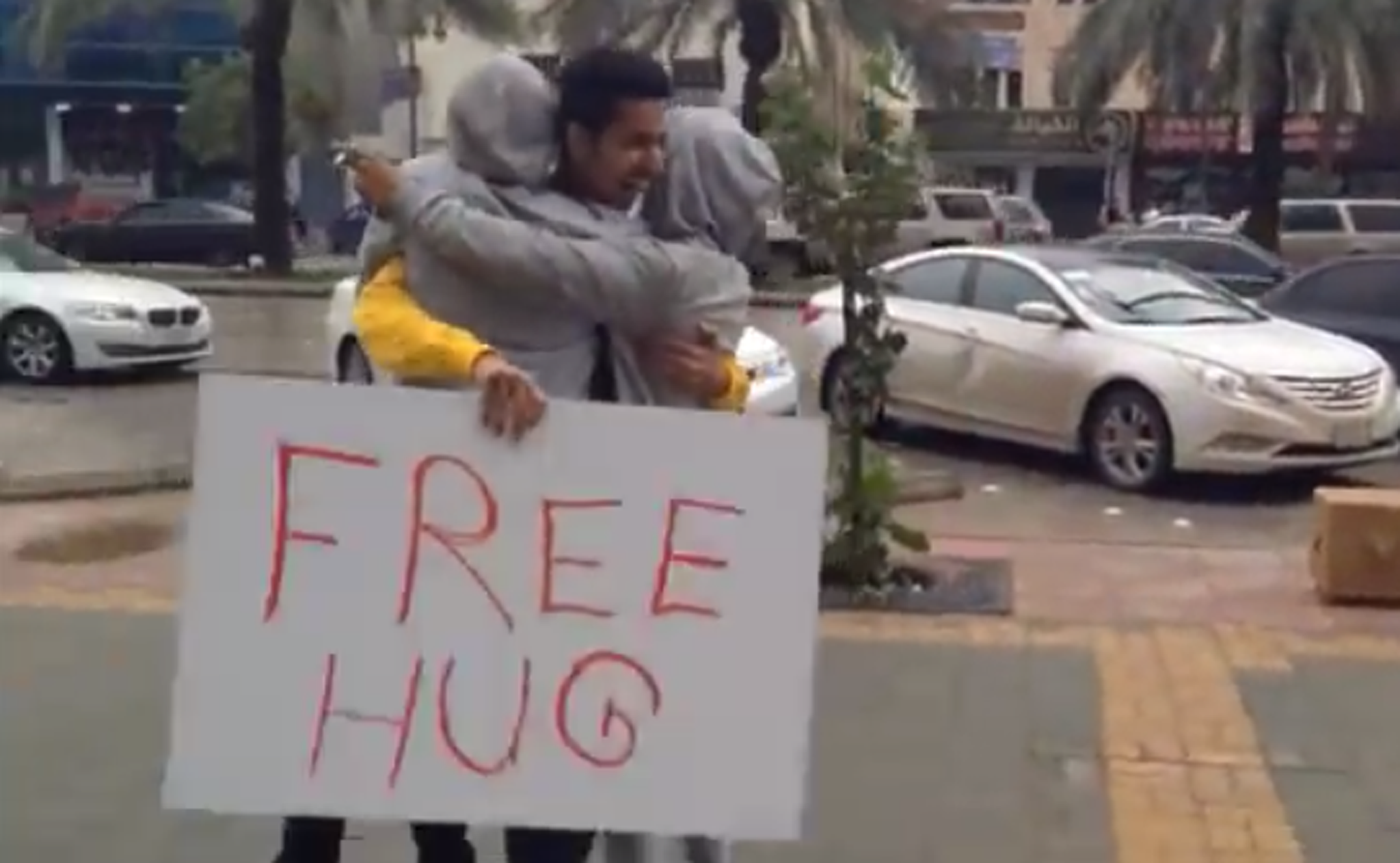 A man who decided to offer 'free hugs' in Saudi Arabia's capital Riyadh has been arrested by the state's religious police.
Abdulrahman al-Khayyal went out onto the streets along with a friend carrying a placard saying 'free hugs', apparently inspired by a viral video of a campaign posted on YouTube earlier this week.
In that video Bandr al-Swed was filmed hugging young men, in a three minute clip that racked up over a million views in three days.
Inspired by the cuddling campaign, 21-year-old Al-Khayyal announced on Twitter that he was going to offer free hugs in Tahliya, one of the main shopping streets.
However the two men were arrested and their 'free hugs' banners seized, CNN Arabic reported.
Members of the Commission for the Promotion of Virtue and Prevention of Vice arrested the two men in Riyadh for violating local laws and engaging in "exotic practices", Al Hayat newspaper said. They were then made to sign a pledge that they would not go out again.
Despite this, al-Khayyal told The Independent that he would continue to give out free hugs and he was proud of what he had done. He said he considered it an act of charity.
The religious police in Saudi Arabia are tasked with enforcing the government's Sharia law.
They are also known as the Mutaween and empowered to stop unrelated men and women socialising with each other, as well as any homosexual activity and prostitution. They enforce strict Islamic dress codes and dietary rules.
They have come under heavy criticism in the past, most notably in March 2002, when they prevented schoolgirls from escaping a burning school in Mecca because they were not wearing headscarves and abayas (black robes) and accompanied by a male guardian. Fifteen girls died and 50 were injured as a result.
Join our commenting forum
Join thought-provoking conversations, follow other Independent readers and see their replies