Angry Saudi intellectuals brand closure of cafe and cultural space as 'censorship'
Artistic hangout Rawi Cafe shut down pending investigation over book selling and lending licences by Kingdom's Ministry for Culture and Information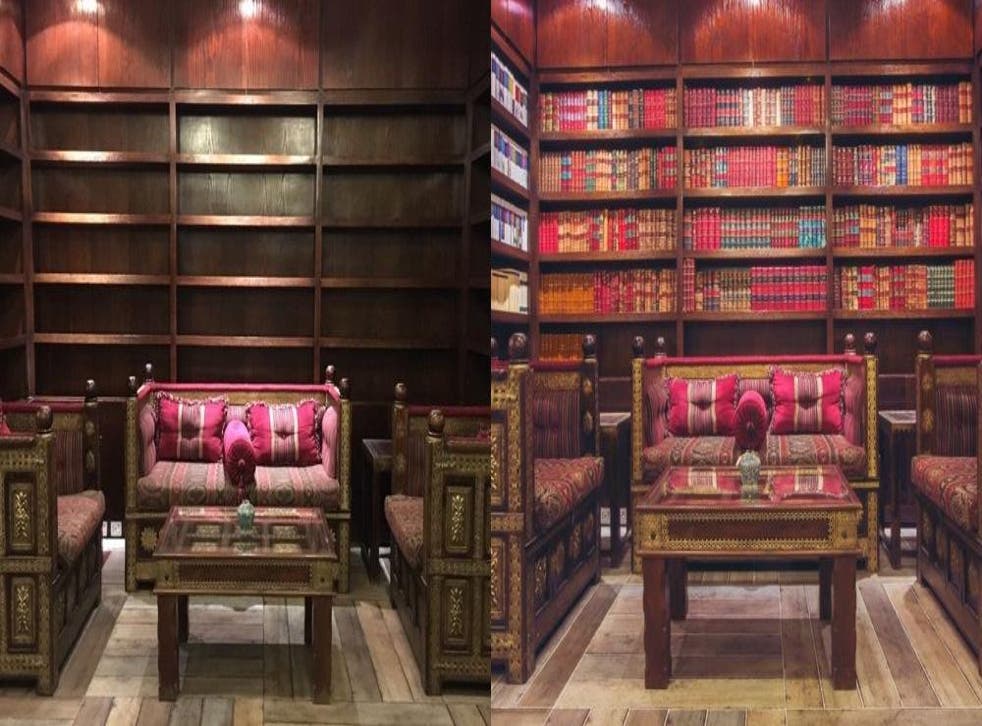 Students and book lovers in Riyadh have expressed their dismay that a popular artistic spot in the city has been shut down and all its books removed pending an investigation by the Saudi authorities.
Rawi Cafe located on the campus of South Imam University posted pictures of its previously dark, wooden, library-like interior stripped of all its books to social media last week, alerting customers that the business had been shut down by the Ministry for Culture and Information.
Rawi had previously been popular with students, researchers, and others in Riyadh's intellectual community.
In a statement given to local media a Ministry spokesperson said that they had previously warned the cafe's owner that it needed a licence to display books on its shelves, which had not been checked by the Kingdom's religious authorities.
"The Ministry of Culture and Information confirms that it is keen to support the dissemination of culture and intellectuals, and all projects and cultural initiatives, provided it complies with the rules and regulations, and that is done through regular procedures and frameworks," he added.
Owner Khaled Qadimi has queried the Ministry's decision, saying that as a coffee and teahouse, where books are not borrowed in a library setting or sold, he does not need such a licence, adding that all of the books available to read at Rawi had been purchased legally at book fairs in Riyadh.
The cafe said it was in talks with the authorities to keep the cafe open, but the prospect of reopening soon is slim. If it does get the go ahead, Mr Qadimi hopes to expand, creating a family and women-friendly space as well.
Under the Kingdom's strict gender segregation laws, women are not allowed to spend large amounts of time with men to whom they are not related. Most public spaces and buildings have separate entrances and seating plans to avoid unlawful mixing – which can draw criminal charges which are typically much harsher for women.
Academics and cultural commentators have condemned Rawi's closure as "censorship", pointing out that even if the authorities are worried about the content of the cafe's books for religious reasons, such material is freely purchased or downloaded online, rendering the decision "outdated".
"It boggles the mind that representatives of the Ministry, when it comes to censoring reading material that may not be appropriate for Saudi society, apply 1986 rules in 2016... It makes the cutting out of pages and crudely covering images of women with a magic marker in magazines an anachronism. It's a silly waste of time," assistant professor Sabria Jawhar at King Saud bin Abdulaziz University wrote.
The Independent has contacted both Rawi Cafe and the Ministry for Culture and Information for comment.
Register for free to continue reading
Registration is a free and easy way to support our truly independent journalism
By registering, you will also enjoy limited access to Premium articles, exclusive newsletters, commenting, and virtual events with our leading journalists
Already have an account? sign in
Register for free to continue reading
Registration is a free and easy way to support our truly independent journalism
By registering, you will also enjoy limited access to Premium articles, exclusive newsletters, commenting, and virtual events with our leading journalists
Already have an account? sign in
Join our new commenting forum
Join thought-provoking conversations, follow other Independent readers and see their replies