Saudi Arabia's 'outdated' brutality 'sparked by fear of online dissent,' claims blogger's wife
The kingdom is condemned for 'outlandish punishments' as jailed blogger Raif Badawi publicly receives the first 50 of 1,000 lashes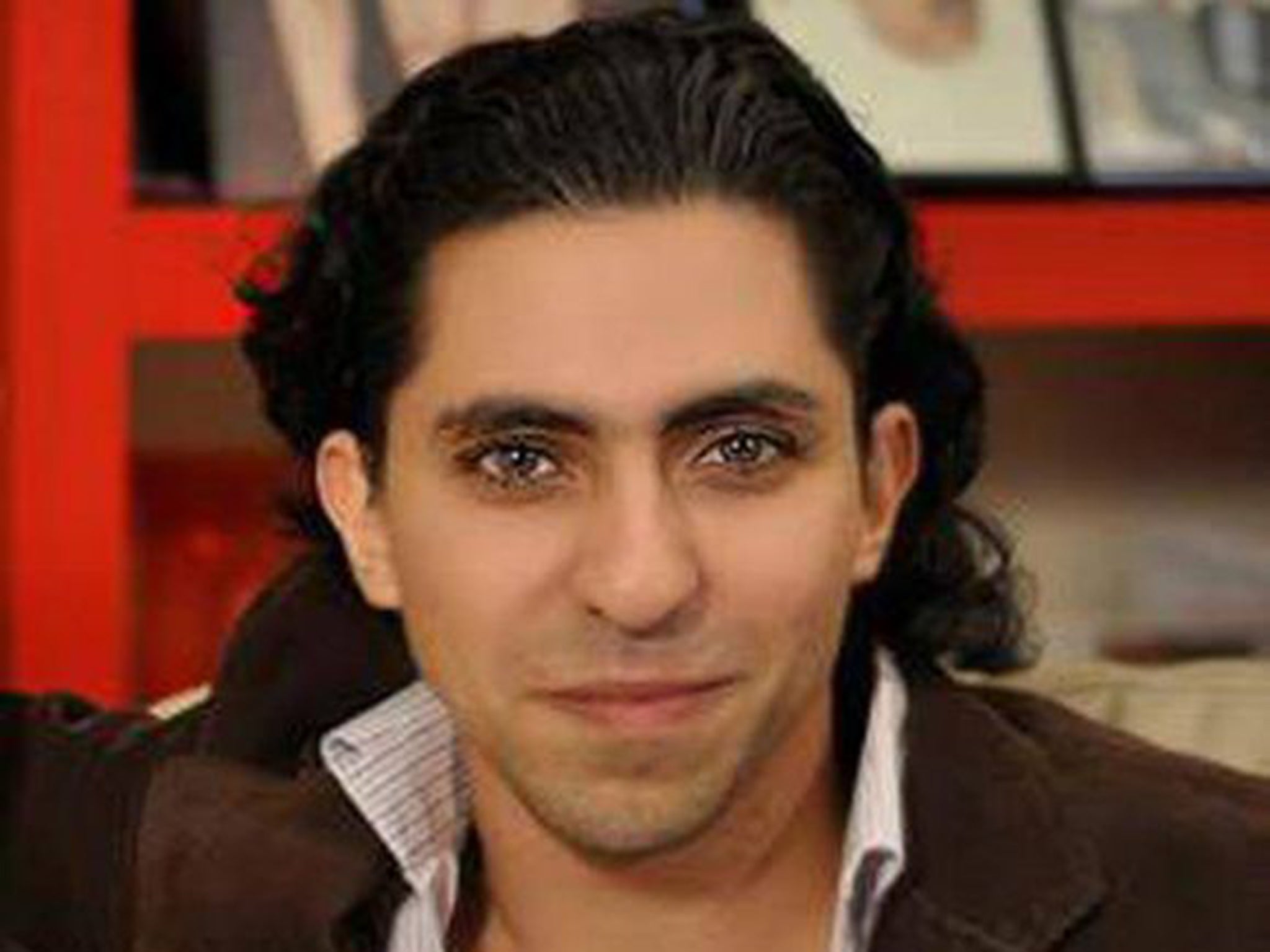 Saudi Arabia's "outdated" government is cracking down on online dissent because it fears its power, a Saudi activist has said in the wake of the public flogging of blogger and activist Raif Badawi.
Mr Badawi, 30, a father of three, was convicted of cybercrime and insulting Islam after co-founding the now banned website Free Saudi Liberals. He was arrested in 2012 and sentenced to 1,000 lashes, 10 years' imprisonment and a fine of one million riyals (£175,000). On Friday he received the first 50 lashes in what will be a weekly ritual for the next 20 weeks.
Mr Badawi's wife, Ensaf Haider, currently in Canada, told The Independent on Sunday yesterday: "I never imagined Saudi Arabia would reach this level of cruelty. The kingdom and its rules forced these people to go to the internet and voice their dissent and their objections and then they were prosecuted."
The flogging of Mr Badawi is the latest incident of Saudi Arabia cracking down on high-profile cyber activists, many of whom are now too afraid to speak out in public.
Hala Al-Dosari, a US-based Saudi writer and activist, said the "outdated" government is trying to "deter crimes by inciting terror in people". Saudi Arabia, she added, was afraid of online dissent because it had worked to change the positions of some governments in the region.
In pictures: Raif Badawi release protests
Show all 15
"They don't want people to pick up momentum. They don't want people to start questioning religion, the legitimacy of the Saudi ruling family or the distribution of wealth.
"Online activism has raised the awareness of human rights of people." She said it had also "put so many activists and people who are expressing their opinions at risk".
In December 2014, it was announced that two women, Loujain al-Hathloul, 25, and Maysa al-Amoudi, 33, would be tried in a terrorism court for driving, an illegal activity for women in Saudi Arabia. Together the women have more than 300,000 Twitter followers and were high-profile in the Oct 26 movement, a group of activists who have been promoting the cause of women drivers on social media. YouTube videos of women driving garner tens of thousands of views.
Mr Badawi has more than 30,000 followers on Twitter, and one female activist in Saudi Arabia, who said it was too risky to identify herself, said that the punishments in both cases were linked because "they are both extremely high profile".
Yahya Assiri, head of NGO Advocating For Human Rights in Saudi Arabia, said that while the government wished to stop dissident voices online, it was impossible. "With the absolute monarchy... the internet is the only window for the society to express their opinion. [Activists] will strongly resist against closing this."
He said the new generation in Saudi Arabia believed the flogging was"savagery to silence everyone".
Meanwhile, cyber suppression carries on. According to Christian Today, Mutaween religious police, employed by the Committee for the Promotion of Virtue and the Prevention of Vice, shut down more than 10,000 Twitter accounts in the past year, citing religious and ethical violations.
And the Saudi government continues to mete out brutal punishment. Mr Badawi was shackled when he left a bus before being taken to the public square in front of the al-Jafali mosque in the Red Sea city of Jeddah after prayers on Friday, according to an eyewitness account confirmed to Amnesty International. The public flogging lasted 15 minutes.
Adam Coogle, a Middle East researcher at Human Rights Watch, told The IoS that "the country's vague cybercrime law gives prosecutors and judges a tool to silence [activists]".
"Saudi Arabia's campaign to silence domestic criticism or dissent has moved from mere intimidation of activists to brutal physical punishments and decade-long prison sentences. With these outlandish punishments, the Saudi government is telling citizens it will go to almost any length to prevent them from practising their right to free expression."
Although the oil-rich country is a close ally of the US, the flogging evoked condemnation from the White House as well as from Canada and Germany. On Thursday, Jen Psaki, a State Department spokeswoman, said: "The United States government calls on Saudi authorities to cancel this brutal punishment and to review Badawi's case and sentence."
Join our commenting forum
Join thought-provoking conversations, follow other Independent readers and see their replies