Saudi Arabia 'has ties to terror across Middle East and West', Iran says
Foreign minister Javad Zarif says Saudis are 'actively engaged' in promoting terror groups
Caroline Mortimer
Wednesday 14 June 2017 12:40 Comments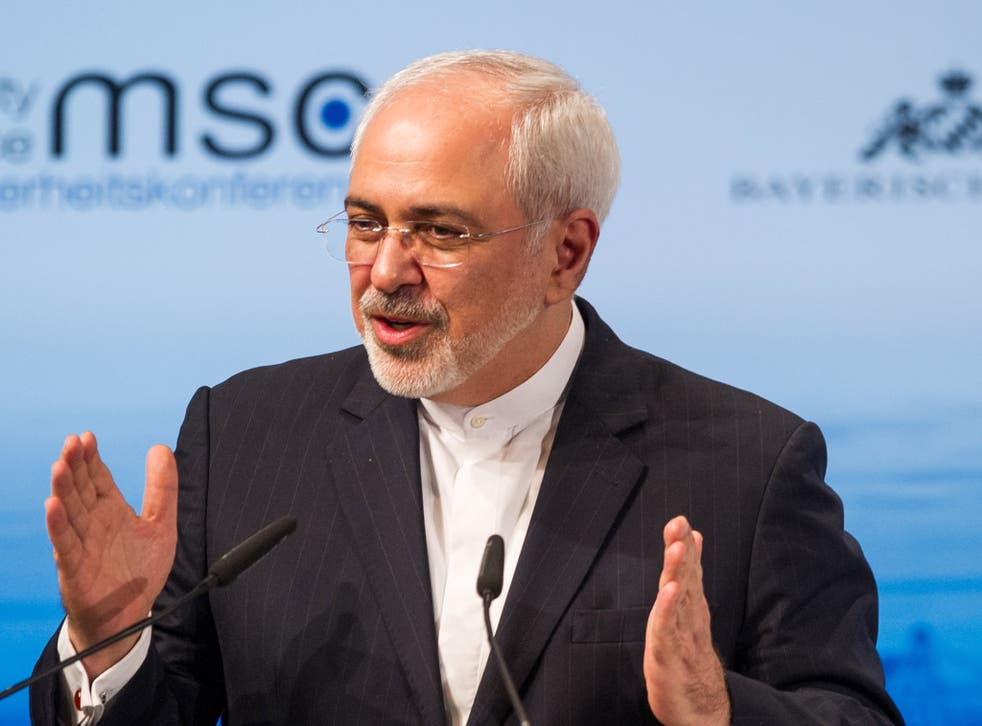 The Iranian foreign minister Mohammad Javad Zarif has accused Saudi Arabia of supporting militants inside Iran, days after Isis claimed responsibility for a terror attack which killed 17 in the capital Tehran.
Speaking to reporters at a conference in Oslo, Mr Zarif said Iran had intelligence that the Saudis were "actively engaged" in promoting terrorist groups in the Sunni-majority border province of Baluchestan.
The majority of the country is Shia, while Saudi Arabia is dominated by the conservative Wahhabi branch of Sunni Islam.
As the two great powers in the region and in part due to these religious differences, the countries have fought proxy wars throughout the Middle East.
In 2015, Riyadh intervened in the Yemeni civil war to oust Houthi rebels who had taken over the seat of government while backed by Iran.
The resulting conflict has cost at least 10,000 lives according to recent estimates by the UN, with millions more at risk of famine and thousands hit by a cholera epidemic.
Iran and Saudi Arabia accuse each other of subverting regional security and support opposite sides in conflicts including those in Syria, Yemen and Iraq.
"On the Western side, the same type of activity is being undertaken, again abusing the diplomatic hospitality of our other neighbour," Mr Zarif said, without elaborating.
Iran also accused the US of being responsible for Islamist militancy in the region.
World news in pictures

Show all 50
The situation has been exacerbated by the decision of Saudi Arabia, the United Arab Emirates, Egypt, Bahrain and Yemen to cut off diplomatic relations with Qatar over its perceived links to terrorism.
Qatar, which is on a peninsula off Saudi Arabia, has had its air, sea and land connections severely restricted and its citizens have been expelled from its five Arab neighbours.
Doha and Riyadh have been long standing rivals – despite its small size Qatar has vast oil reserves and is among the wealthiest countries in the world per capita.
Qatar backed the Arab Spring with its main media outlet, Al Jazeera, and is accused of supporting the Muslim Brotherhood in Egypt.
Mr Zarif called for the establishment of a regional forum to help solve regional problems.
He said: "It is absolutely imperative... to establish a permanent mechanism for consultation, conversation and conflict resolution in our region, using some variation of the Helsinki approach," said the foreign minister, in reference to the 1975 Helsinki Accords.
"I think it worked at the height of the Cold War here in Europe, it should work (for the Middle East too)."
Asked about President Donald Trump's comments on Iran, which he described in a recent tweet as a state sponsoring terrorism, Mr Zarif referred to the fact that most of the 9/11 attackers were Saudi nationals, not Iranians.
"President Trump is trying to change the nationality post-mortem of 15 of the 19 9/11 suicide bombers, or of every other suicide bomber that attacked US soil or any Western country over the past 20 years," he said.
"They did not come from Iran. None. Why is he trying to change history? We are not intimidated by these moves."
Additional reporting by Reuters
Register for free to continue reading
Registration is a free and easy way to support our truly independent journalism
By registering, you will also enjoy limited access to Premium articles, exclusive newsletters, commenting, and virtual events with our leading journalists
Already have an account? sign in
Join our new commenting forum
Join thought-provoking conversations, follow other Independent readers and see their replies