Saudia Arabia beheadings: One chart that reveals the disturbing rise in executions this year
The Kingdom beheaded five men in public on Monday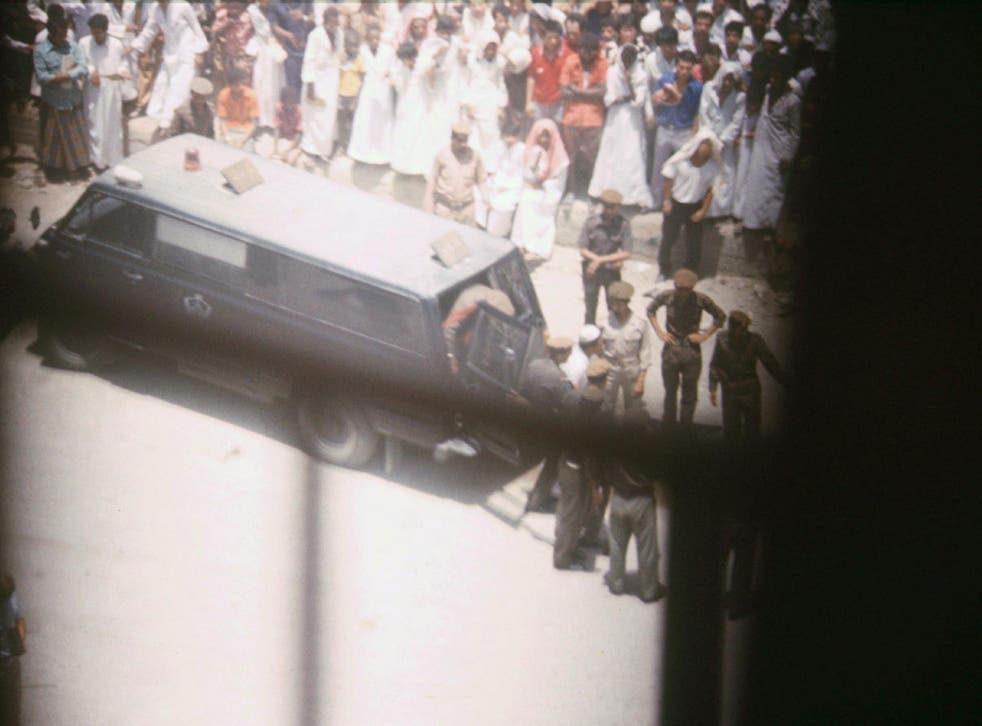 Human rights campaigners condemned Saudi Arabia for publicly beheading five migrants on Monday, as the Kingdom continues to carry out executions at the highest rate seen in recent years.
The executed men were identified as Khaled Fetini and Ibrahim Nasserm, from Yemen, Hassan Omar, from Chad, Salem Idriss from Eritrea and Abdel Wahhab Abdel Maeen from Sudan.
Their deaths were confirmed by the Saudi Interior Minister in a statement released by the Saudi Press Agency on Monday, who said the group were convicted of killing an Indian guard and stealing money.
They were executed just a month after Amnesty International condemned the "macabre spike" in state-sanctioned killings.
Where most executions were carried out in 2014

Show all 10
Adam Coogle, a Middle East researcher for Human Rights Watch, said 153 executions were carried out in the Kingdom within the last nine months, usually for drug crimes or murder.
"Amnesty is absolutely correct in describing the spike as 'macabre'," he told The Independent. "Yesterday, Saudi carried out its 80th execution in 2015 by my count.
"From January to the end of July 2014 there were 15 executions, but they finished the year 2014 with 88, which shows clearly that the spike began last year and has continued."
The figures show executions are being carried out at the highest rate in recent years, but the reason for this is unclear. There has been some speculation that it may be a reflection on the change of leadership, after King Salman succeeded his late brother King Abdullah in January.
But Mr Coogle said the rapid increase preceded King Salman's accession in Saudi Arabia.
"Personally, I would hesitate to relate the spike to the change of leadership," he said. "He certainly hasn't done anything to stop it but the high rate really began last August. It could be an issue with a backlog of prisoners or it could just be that they are sentencing more people to death. The dearth of information coming from Saudi Arabia means it's very difficult to know."
The number of migrants killed made up almost half of those executed by the Saudi Government last year and this year, figures Mr Coogle described as "really disproportionate".
"There are many issues for non-Saudis in terms of their treatment via the criminal justice system, such as translation problems and the fact that they don't have powerful, tribal alliances that can affect the outcome of the case," he said.
"I would see the increase in executions in a regional context; Pakistan and Jordan brought back the death penalty last year and governments are trying to deter crime and show they can preserve the stability of society. There seems to be this unfortunate drift towards the death penalty."
However, Mr Coogle said reports claiming the bodies had been suspended from helicopters were unlikely. "In general those convicted under this category of Islamic law would be subject to beheading and then public display of decapitated bodies, but corpses dangled from helicopters sounds pretty outlandish to me."
"The major point is that although executions are not prohibited under international human rights law, they are strongly discouraged and they should be reserved only for the most serious crimes. Non-violent crimes should not be considered a capital crime."
Amnesty 's UK's head of policy and government affairs Allan Hogarth accused the Saudi government of indulging in a "judicial killing spree", describing the number of executions being carried out as "frightening".
"There were some tentative hopes of human rights reform when King Salman came to the throne earlier this year, but these have now been completely crushed," he said.
Register for free to continue reading
Registration is a free and easy way to support our truly independent journalism
By registering, you will also enjoy limited access to Premium articles, exclusive newsletters, commenting, and virtual events with our leading journalists
Already have an account? sign in
Register for free to continue reading
Registration is a free and easy way to support our truly independent journalism
By registering, you will also enjoy limited access to Premium articles, exclusive newsletters, commenting, and virtual events with our leading journalists
Already have an account? sign in
Join our new commenting forum
Join thought-provoking conversations, follow other Independent readers and see their replies