Secret 1970 document shows first Israeli settlements in West Bank were built under false pretences
Officials planned to build homes after claiming the land was needed for military use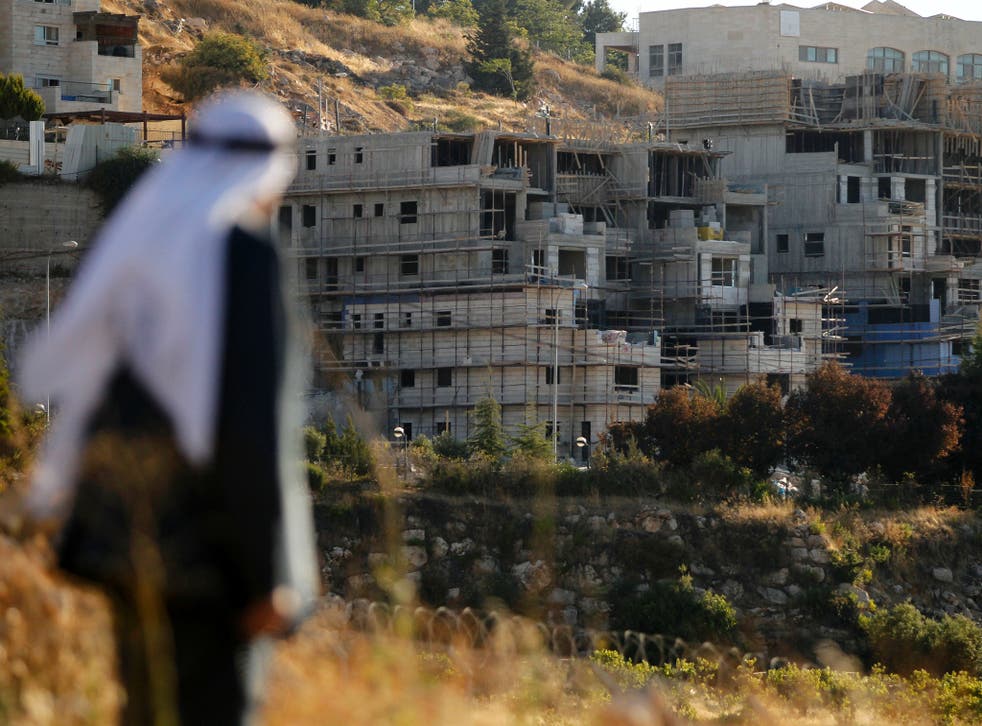 A secret document from 1970 has revealed that one of the first Israeli settlements in the West Bank was built under false pretences to circumvent international law.
Minutes of a meeting at the office of former Israeli defence minister Moshe Dayan show politicians, civil servants and military leaders discussing plans for Kiryat Arba, on the outskirts of Hebron. The document, seen by Haaretz, described how 250 homes for Jewish families would be built on land confiscated by military order for "security purposes", and claimed to be for military use.
Days after Base 14 had "completed its activities", the document continued, "the commander of the Hebron district will summon the mayor of Hebron, and in the course of raising other issues, will inform him that we've started to build houses on the military base in preparation for winter."
The homes were said to be earmarked for the first settlers who arrived in Hebron, moving into the city's Park Hotel on Passover in 1968, allowing them a permanent home without openly violating international law by building on occupied land for civilian purposes.
Building started swiftly after Mr Dayan's meeting and residents moved in in 1971, with Kiryat Arba expanding to a current population of almost 8,000 people.
Its residents have been targeted in several stabbing attacks since a new wave of violence started in last year, with a Palestinian teenager stabbing a 13-year-old girl to death in her family home on 30 June.
Hebron, one of the most volatile cities in the West Bank, is divided between the Palestinian Authority and Israeli control and is a flashpoint for violence between Palestinians, settlers and the military.
The Cave of the Patriarchs holy site, or Ibrahimi Mosque, has been the focus of attacks on both Jews and Muslims including a shooting massacre by an Israeli-American settler that left 29 Palestinians dead in 1994.
Israel approves spending millions in West Bank settlement security
The process used to build Kiryat Arba was repeated several times elsewhere in the West Bank until being outlawed by the High Court of Justice in 1979.
B'Tselem, an Israeli human rights group, said dozens of land requisition orders were issued by the Israeli Defence Forces (IDF) in the period, claiming they were "required for essential and urgent military needs".
Settlement construction has continued in the West Bank and East Jerusalem, despite being considered illegal under international law and condemned by the United Nations and International Court of Justice. They are regarded as a key barrier to dwindling hopes for a two-state solution and full Palestinian Authority control of the occupied territories.
Newly announced plans for more than 1,000 new units provoked fresh alarm this week.
Tobias Ellwood, the Middle East minister, expressed concern over 770 settler homes proposed between Jerusalem and Bethlehem. "As we have previously made clear, all settlement activity is illegal under international law, and damages prospects for a two-state solution," he said.
The Israeli–Palestinian conflict intensifies

Show all 10
"The UK is particularly concerned about the impact such settlements may have on Palestinian Christian minorities in the area, who are already affected by renewed construction of the Separation Barrier on Palestinian land in the Cremisan Valley."
The American government also voiced its opposition, saying it was "deeply concerned" about an additional 323 homes scheduled to be built in East Jerusalem. John Kirby, a spokesperson for the US State Department, called the action "provocative and counterproductive", adding: "We strongly oppose settlement activity, which is corrosive to the cause of peace."
He also listed plans for 531 new settler homes in Ma'ale Adumim, 19 in Har Homa, 120 in Ramot, and 30 in Pisgat Ze'ev and to legalise an outpost near Ramallah.
The Israeli foreign ministry rejected the criticism as "factually baseless", while Prime Minister Benjamin Netanyahu attacked David Cameron for his comments on the issue earlier this year.
The Israeli Embassy has not responded to The Independent's request for comment.
Register for free to continue reading
Registration is a free and easy way to support our truly independent journalism
By registering, you will also enjoy limited access to Premium articles, exclusive newsletters, commenting, and virtual events with our leading journalists
Already have an account? sign in
Register for free to continue reading
Registration is a free and easy way to support our truly independent journalism
By registering, you will also enjoy limited access to Premium articles, exclusive newsletters, commenting, and virtual events with our leading journalists
Already have an account? sign in
Join our new commenting forum
Join thought-provoking conversations, follow other Independent readers and see their replies