Sinjar offensive: Discovery of network of tunnels reveals how Isis prepared for looming Kurdish onslaught
Judit Neurink ventured into the newly liberated Iraqi city – and found an extraordinary underground complex designed to protect the jihadis from air strikes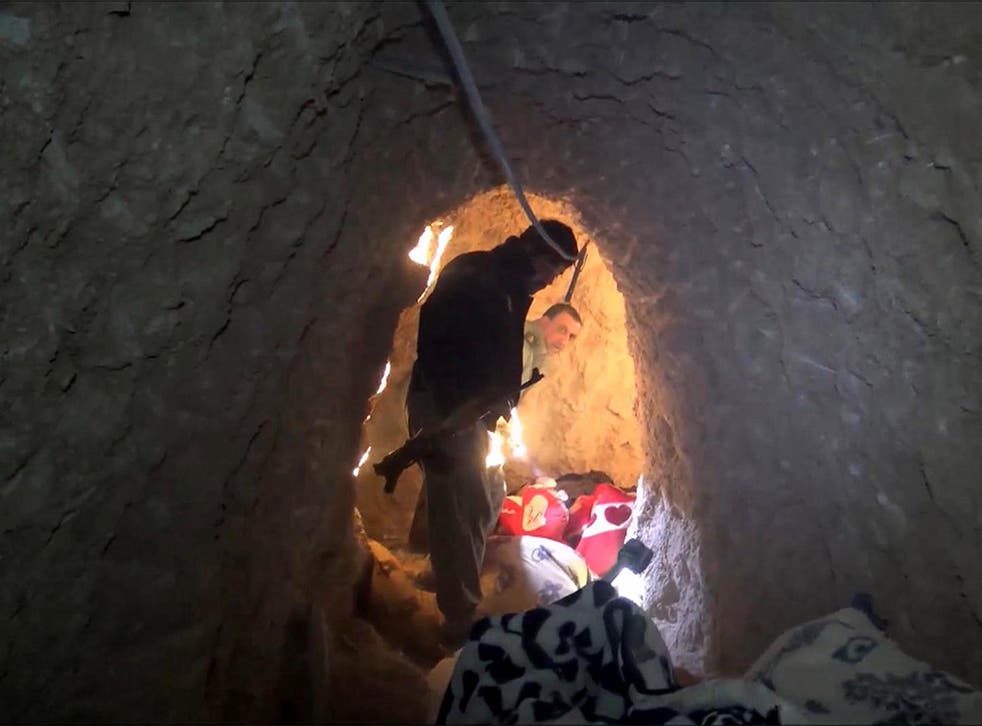 On the surface there is chaos, destruction and the rubble left behind by the pounding that the Iraqi city of Sinjar received – first as it was seized by Isis in August last year, then as Kurdish forces drove the jihadists back out and recaptured it earlier this month.
A few disconsolate Yazidis have slowly begun to return, to find out what remains of their homes and their possessions, and to rescue anything remaining that they can find.
But below ground, hidden from sight among the shattered buildings and beneath the cratered streets, a different Sinjar has begun to emerge – an extraordinary network of tunnels, with sleeping quarters, wired with electricity and fortified with sandbags, where Isis fighters lived and prepared defences against the looming Kurdish onslaught.
"We found between 30 and 40 tunnels inside Sinjar," said Shamo Eado, a commander from Sinjar with the Iraqi Kurdish fighters known as Peshmerga. "It was like a network inside the city.
"Daesh [the Arabic nickname for Isis] dug these trenches to hide from air strikes and have free movement underground as well as to store weapons and explosives," he said. "This was their military arsenal."
The narrow tunnels, carved into the rock apparently with pneumatic drills, are just tall enough for a man to stand in. Inside, sandbags line sections of the walls, electrical wires power fans and lights and metal braces reinforce the ceilings. One section of the tunnel resembles a bunker. Dusty copies of the Koran sit on shelves above piles of blankets and pillows, with painkillers and antibiotics stored on the floor.
There is no such order above ground. Barakat, 53, was surveying what was left of the shopping mall that his company had begun to build when Isis swept into town, killing hundreds and kidnapping some 6,000 Yazidi women, men and children. Most of the 3,200 women were sold as slaves. Along with many of the city's 90,000 inhabitants, he fled north to the relative safety of Iraqi Kurdistan.
Last December, Kurdish troops and militias, assisted by US-led coalition air power, recaptured part of the province and started the long battle for the city itself – which climaxed in an onslaught this month that drove out Isis.
Barakat, who asked that his family name be withheld because of fears for his safety, was like most others who have returned so far: he has no intention of remaining in the ruined town. "We might stay a couple of days to collect our stuff," he said. Most homes not burned or destroyed have been looted at least once by Isis and others. Clothes, toys and other detritus litter the grass next to Barakat's building, dumped by looters. "I went to see my house," said one man. "It was burned down, people had stolen everything they needed."
The destruction is most prominent in the centre, where street battles raged and air strikes eventually evicted the Isis fighters. Two men hurry over the rubble, each carrying at least a dozen plastic bags containing colourful cushions.
Pick-up trucks laden with fridges and furniture drive out of the town in a steady flow. "They all say they are the owners," said Captain Ahmed Osman, commander of a Kurdish battalion that fought its way into the city. As he talks, a tractor and trailer loaded with mattresses passes. "They are stealing, but we cannot do anything," he says. "There is no proof."
The city is now under the control of the Kurdish military, and officials come and go with their guards in fleets of SUVs, often accompanied by Kurdish television crews covering the aftermath of their proud victory against Isis.
Even now, the front line is only a mile outside the town. Missiles fired from there still hit the city and there is a sense of insecurity. Occasional loud bangs indicate that another mine has been blown up by the team in charge of clearing the many explosives that Isis planted before it left the city. Some have been discovered within the tunnel network.
Abu Dalal is another former resident making a lightning visit to rescue what he can from his substantial family house. Together with three other families he has hired a lorry to collect what they can. "Daesh took most of the electrical appliances. We came to take what is left, before others do," he says.
His family are Sunni Kurds who, like their Yazidi neighbours, fled when Isis came and are now living in the Kurdish city of Zakho. "We will not be back any time soon, because of the state of the city and the lack of security," he says.
Yazidis, singled out by Isis as heretics, have even less reason to remain. Many of their Sunni Arab neighbours stayed and helped Isis kill, kidnap and evict Yazidis. Many still have family members missing, or held as slaves by Isis. They now distrust all Arabs – not least those who have returned to villages near Sinjar.
Abu Hadi, one of the few Yazidis who says he will take the risk, says: "My neighbour was Muslim. He would have killed me, had I stayed. Now he's gone," he says, staring at the wall that separates his one-storey house from that of his neighbour. "Daesh took everything. We don't have money to rebuild. I had 500 sheep, but they got lost when we fled to the mountain. I had to get my nine children to safety first."
World news in pictures

Show all 50
Would he resettle here? His friend Said Hassan answers for him. "We need guarantees. We need an international protection force to keep us safe."
Because the Kurds last year did not protect them from the onslaught of Isis, but fled ahead of them, many Yazidis no longer trust them enough to feel safe under their military protection. They say they would only trust in an international force of some kind.
"Without safety, water and electricity, people will not stay. If that force does not come, they will eventually all leave the country," he says.
The Kurdish forces expect to make far grimmer discoveries below ground than the tunnels. Already they say they have located two mass graves around Sinjar, with more than 100 bodies of elderly women, children and men.
Commander Eado says that as his troops clear Sinjar of explosives, he expects to find more tunnels and evidence of atrocities. "It's just a matter of time," he says.
Additional reporting by AP
Join our new commenting forum
Join thought-provoking conversations, follow other Independent readers and see their replies