So is Iran open for business? US Secretary of State John Kerry says no - but not everyone is prepared to tow Washington's line
Trade delegations have gone to Tehran from France, China, India, Turkey, Georgia, Kazakhstan, Italy, Austria, Sweden and even Ireland
Kim Sengupta
Wednesday 05 February 2014 20:37 Comments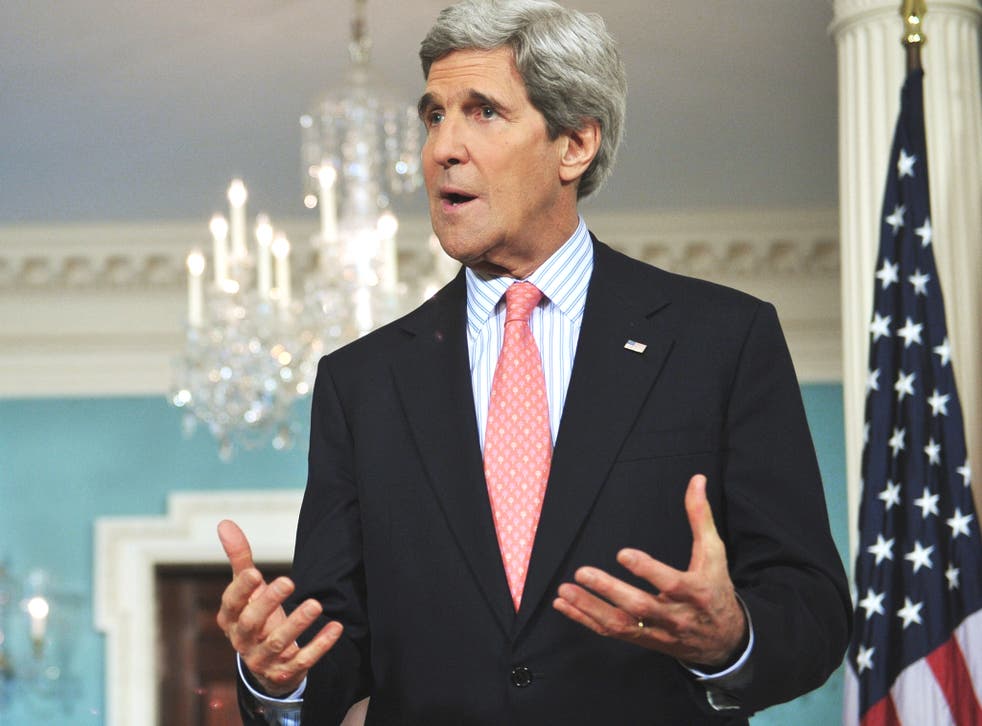 Iran is not open for business; that was John Kerry's blunt message to Laurent Fabius earlier this week. Washington has brought in the heavy artillery in an attempt to ensure that sanctions relief offered to Tehran in return for co-operation on its nuclear programme does not lead to a stampede by potential outside investors to take advantage.
The same message had been broadcast to the international business community by David Cohen, the US under-secretary for Terrorism and Financial intelligence in the Turkish capital Ankara last week. At the same time, Peter Harrell, Deputy Assistant Secretary for Counter Threat Finance and Sanctions, was in London telling British and French executives that any newly allowed trade with Iran must be concluded within a window of six months. Meanwhile, Treasury Secretary Jacob Lew was taking a similar line at the World Economic Forum in Davos; separately, a meeting on the theme was also being held with a number of companies in Paris. There are significant domestic as well as international concerns in the US; there are complaints in Congress, especially from those of the Israeli lobby, that Tehran is getting too easy a ride and President Barack Obama does not want another confrontation.
Kerry's intervention with France's foreign minister came as a delegation including Total, Peugeot Citroën, Lafarge, GDF Suez, Alstom and even a representative from Auxerre football club was preparing to set off for Iran this week – underlining how not everyone is prepared to tow the Washington line.
Under the interim agreement signed last month Tehran would get limited sanctions relaxation in a number of fields, including motor and aircraft parts manufacturing, petrochemicals and humanitarian goods, with the deal reassessed after six months by Western states.
Iran has launched its own trade offensive on the back of this, and a part of that, too, took place in Davos where President Hassan Rouhani and his officials stressed their country's co-operation on the nuclear issue as well as the investment opportunities.
Oil minister Bijan Zanghaneh met energy executives including those from Chevron and Shell. He plans to hold a conference in London this year where some of those attending will be the same executives who were being warned about the pitfalls of Iranian investment by Mr Harrell last week. London, meanwhile, is also going to be the venue for a test case on the whole issue of the legality of sanctions on enterprises.
In Iran, businessmen say the Russians and the Chinese are vying to offer barter deals for oil before European companies arrive with the technology the Iranians want. American companies, meanwhile, are complaining they may lose out because of the US administration's punitive stance. The Homa Hotel in Tehran, which aims for a corporate clientele, reported a rise in European guests by 30 per cent from last year. Trade delegations had gone to Iran from China, India, Turkey, Georgia, Kazakhstan, Italy, Austria, Sweden and even Ireland. "We are quite encouraged by the interest, we hope it will continue to rise," stated Mehrdad Jalalipour, director of Iran's Trade Promotions Organisation.
But the prize, high-profile visitor has been Recip Tayyip Erdogan. After a gap of two years during which relations plummeted over Tehran's support for the Assad regime in Syria's civil war while Ankara was backing the rebels, the Turkish prime minister has been to Iran again, declaring that it was his "second home". Rouhani will reciprocate by going to Ankara.
Iranian and Turkish officials predicted trade between the two countries, which stood at $22bn in 2013, would rise to $30bn in 2014. Mr Erdogan met supreme leader Ayatollah Ali Khamenei as well as President Rouhani and signed three trade deals. He declared: "We hope the process [sanctions relief] will be finalised with an agreement that will ensure the removal of all sanctions on Iran. Turkey has so far done its best in that regard and will continue to do so."
Arriving in Ankara the day before Mr Erdogan's Iran visit, Mr Cohen was keen to emphasise that the sanctions relief was "limited, temporary and reversible". He also took up the issue of Turkey's state-run Halkbank, now at the centre of corruption allegations involving the sons of government ministers and over its role in transactions between Turkey and Iran.
There have been accusations that Halkbank was being used to enable Iran to evade sanctions. Suleyman Aslan, the chief executive officer, has been detained. A search of his house led to the discovery of $4.5m stuffed in shoe boxes. According to Turkish police, front companies were set up in China; money was transferred from Iran in the guise of paying for imports from China and was immediately forwarded to companies in Turkey, partly to pay for real purchases and partly for gold which was then sent back to Iran, sometimes via Dubai.
Turkey, it is alleged, opened an account for Iran in Halkbank because, due to sanctions, it could not pay for oil and gas it was buying through natural channels. In three years, it is claimed, $8bn of gold was sent to Tehran.
The US banned gold exports to Iran in July last year, resulting in the accumulation of an estimated $13bn of imported gold in Turkey. Mr Cohen said that Halkbank's handling of payments for importing oil from Iran was expected to continue. "We want to have good lines of communications with the Turkish government about this and we think we have that," said Cohen.
But a scheduled visit by US defence secretary, Chuck Hagel, was postponed, which was portrayed in the local media as a show of displeasure over Turkish inter-action with Iran and also Prime Minister Erdogan's reaction to the corruption allegation, the sacking and transfer of hundreds of police officers and prosecutors.
American legal action over Iran sanctions is likely to be aimed at Turkish companies rather than the government. But in London an Iranian bank is planning to claim $750m from the British government this month. Bank Mellat's action follows a ruling by the Supreme Court that UK authorities were wrong to impose sanctions on it in relation to Iran's nuclear programme. By making British taxpayers potentially liable, the case may help persuade European states to ease measures against Iranian firms.
Register for free to continue reading
Registration is a free and easy way to support our truly independent journalism
By registering, you will also enjoy limited access to Premium articles, exclusive newsletters, commenting, and virtual events with our leading journalists
Already have an account? sign in
Join our new commenting forum
Join thought-provoking conversations, follow other Independent readers and see their replies