Israelis compare Tel Aviv shooting to Paris attacks
Authorities are still uncertain of the motivation behind the shooting and have held back from calling the shooting a 'terrorist attack'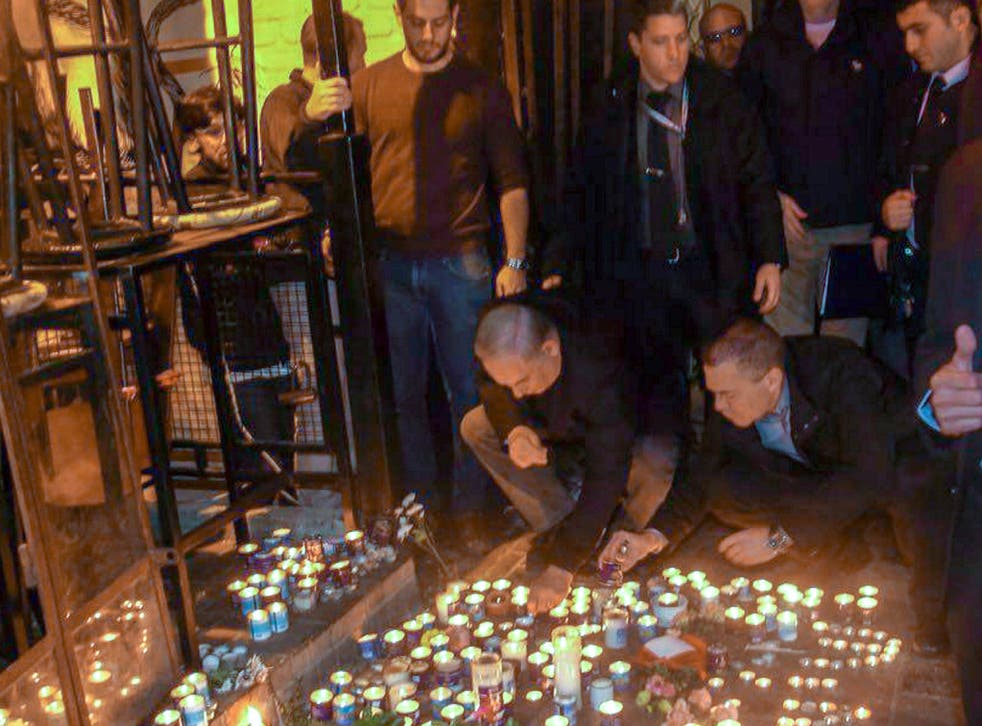 On the sidewalk in front of the Simta Pub, pinned down by remembrance candles and not yet washed out by the rain, a handwritten note in English reads:
"Israel was with Paris for the Bataclan. Today Paris is with Israel on Dizengoff Street."
"Bataclan" refers to the terror attack last November on a Paris theatre. There some 130 people who had gathered for a rock concert were gunned down by Islamic State-linked extremists.
"Dizengoff Street" refers to the bustling Tel Aviv thoroughfare where the Simta Pub is located. It was here on Friday afternoon that a gunman shot dead two young men who were celebrating a birthday party and wounded seven more.
It's been two days since the deadly attack and authorities are still uncertain of the motivation behind the shooting. Police have identified the attacker as Nashat Milhem, a 31-year-old Arab Israeli citizen from the village of Arara in northern Israel.
They have yet to catch him.
Tel Aviv shooting on CCTV
The authorities have held back from calling the shooting a "terrorist attack" but against the backdrop of more than three months of almost daily stabbing, shooting and vehicular attacks by Palestinians against Israelis, most are convinced that Milhem was driven by nationalistic motives.
Based on that view, some Israelis are drawing comparisons between what happened in Paris on November 13 and what happened here on the first day of 2016.
"It reminds me a lot of what happened in Paris, people had come here to have fun but were killed enjoying themselves," said Dalit Yacobovitch, who lives on a nearby street.
"It's so scary, so close to home," she said.
On Sunday, the bar remained closed but a steady stream of people arrived from far and wide to pay their respects, laying flowers and lighting candles for 26-year-old Alon Bakal and Shimon Ruimi, 30, who were killed.
"This is very painful for us, people go out and want to have a good time, then this happens, it's not right," said Victor Dahan, who travelled to the place of the shooting from the city of Rehovot. "I definitely think it was a terrorist attack."
Remembering the Israel-Gaza conflict

Show all 12
Israeli police identified Milhem as the assailant after his father, Mohammed, recognized him from CCTV footage broadcast on Israeli television and went to the police. The family and other members of his village have strongly condemned Milhem's actions and maintain that he is mentally unstable.
Israeli police have been unable to locate him and a massive manhunt continued on the streets of Tel Aviv Sunday. His family said that if he shows up in the village they will immediately turn him into police.
"It is really important that they find my son and arrest him, he is still armed and just as he murdered two people, he can murder again," the elder Milhem told Israeli media on Saturday.
His second son, Jaudat Milhem, was taken in for questioning by the police. They believe he might have been aware of his brother's plans and assisted him in some way.
However, Israeli Prime Minister Benjamin Netanyahu, who visited the site of the shooting on Dizengoff Street on Saturday night, held back from labelling it a "terrorist attack."
"Yesterday there was a heinous and unbelievably vicious murder here," he said. "Young people, whose entire lives were ahead of them, the ages of my own children, were innocently sitting celebrating a birthday and were murdered in cold blood."
The uncertainty of Milhem's motivation – nationalistic, criminal or mental instability – and the fact that he is still at large have left residents of Tel Aviv on edge.
The education ministry gave parents permission to keep their children at home until the killer has been caught. Israeli media reported that only about 50 percent sent their children to school on Sunday, the first day of the Israeli week.
"Actually I think it's better the kids go to school," said Ronit, a mother of twins who gave only her first name. "There is a high level of police and security forces at their school, it might even be safer than being at home."
Ronit said she didn't send her daughters to school, not because of the threat but because they are both sick.
"But I was worried about leaving my house and taking them to the doctor, this guy is still on the loose and we are very scared," she said.
Copywright: Washington Post
Join our new commenting forum
Join thought-provoking conversations, follow other Independent readers and see their replies