Steven Sotloff's mother appeals to Isis leader Abu Bakr al-Baghdadi to free her son in video
'I am Shirley Sotloff. My son Steven is in your hands'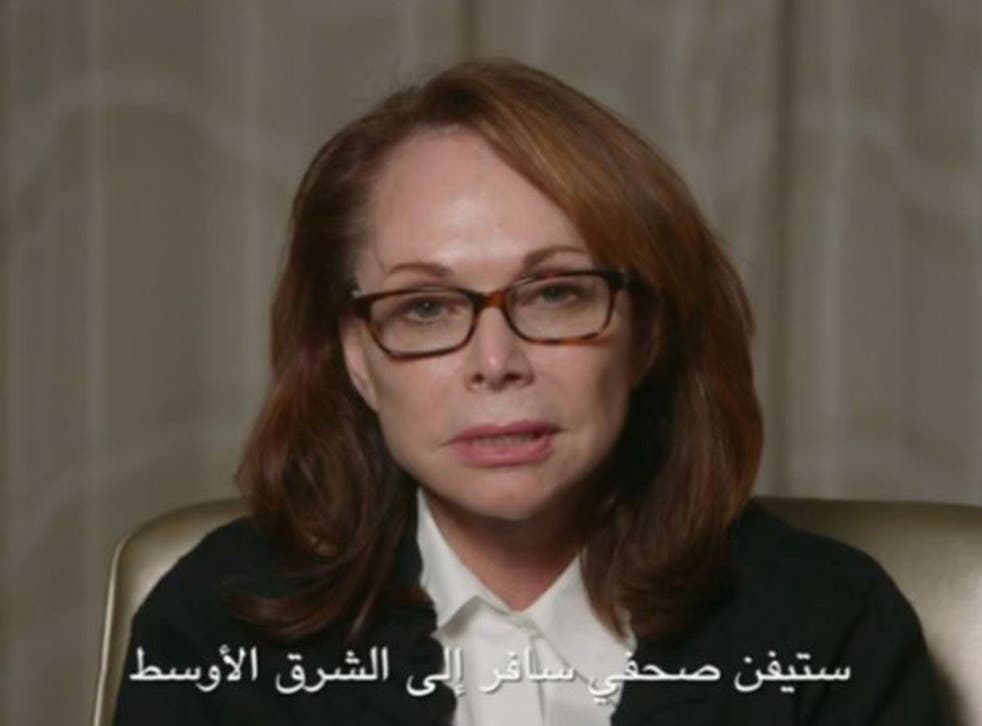 The mother of American journalist Steven Sotloff has released a video pleading with the leader of the Islamic State (Isis) to spare her son's life.
Her emotional appeal comes after an Isis militant, believed to be British, threatened to kill Mr Sotloff after beheading the American photojournalist James Foley.
The fighter warned Mr Sotloff would be next if the US did not stop air strikes on the group in Iraq. He has been held hostage by militants in Syria for over a year.
In the video aired on the Al-Arabiya television network, Shirley Sotloff directly addresses Abu Bakr al-Baghdadi, the leader of Isis, referring to him as 'caliph', his self-proclaimed titile.
"I am sending this message to you, Abu Bakr al-Baghdadi al-Quraishi al-Hussaini, the caliph of the Islamic State. I am Shirley Sotloff. My son Steven is in your hands," she says.
She asks his captors to be merciful by not punishing her son, "an innocent journalist", who always had sympathy for the suffering of Muslims.
"Steven is a journalist who travelled to the Middle East to cover the suffering of Muslims at the hand of tyrants.
"Since Stephen's capture, I've learned a lot about Islam. I've learned that Islam teaches that no individual should be held responsible for the sins of others.
"Stephen has no control over the actions of the US government. He's an innocent journalist.
"I ask you to use your authority to spare his life and to follow the example set by the Prophet Mohamed, who protected people of the book.
"I want what every mother wants - to live to see her children's children. I plead with you to grant me this."
The new video marks the first detailed public comments the family has made since Mr Sotloff went missing. His family did not break a media black-out on Mr Sotloff's disappearance because of threats to his life from Isis.
As a freelance journalist, Mr Sotloff published articles from Syria, Egypt and Libya in a variety of publications, including Time, the World Affairs Journal and Foreign Policy.
His family are calling on people on social media to sign a White House petition asking President Barack Obama to "do everything possible" to free Mr Sotloff. The petition has garnered over 11,000 signatures to date.
White House spokesman Josh Earnest said he does not know if Mr Obama has seen Shirley Sotloff's video, but he said the administration is "deeply engaged" in trying to gain release of all Americans held hostage in the Middle East.

"She obviously, as is evident from the video, feels desperate about the safety and well-being of her son, and understandably so," said Mr Earnest. "That is why our thoughts and prayers are with Mr. Sotloff's family at this very difficult and trying time."
Join our new commenting forum
Join thought-provoking conversations, follow other Independent readers and see their replies