At least 40 people killed in Isis suicide attack on crowded market in Baghdad during Shia festival
More than 30 others were injured when a jihadist detonated a suicide vest inside a crowded tent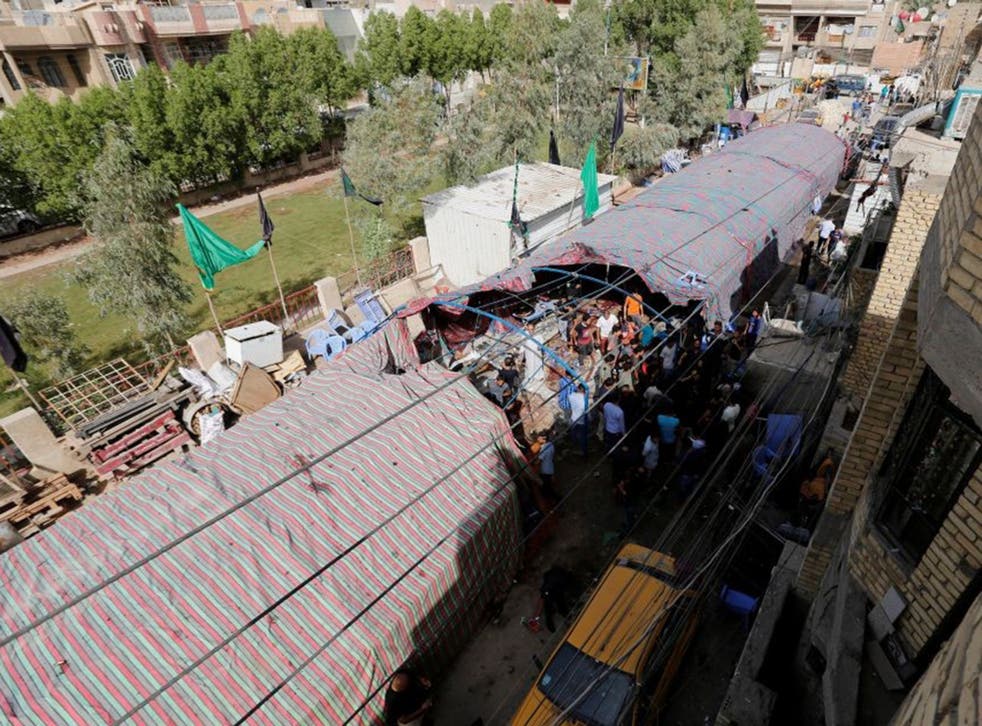 At least 41 people have been killed in a suicide attack believed to have targeted Shia Muslims in the Iraqi capital, Baghdad.
More than 30 others were injured in the attack in a funeral tent in a crowded marketplace in the Shaab neighbourhood in the north of the city.
The militant is believed to have detonated a suicide vest inside the tent with was crowded with mourners.
Officials said the attack happened around lunchtime.
Many Shia pilgrims are in the city, taking part in mourning rituals in the area to commemorate the killing of Prophet Mohamed's grandson and early Shia imam, Hussein, in the 7th century.
Isis has claimed responsibility for the attack via its propaganda arm, Amaq. The claim could not be independently verified.
The group has carried out similar attacks on the capital repeatedly in the past year, attempting to inflame sectarian tensions between Shia and Sunni Muslims.
In pictures: Baghdad hit by 24 hours of Isis bombings

Show all 11
In July, a massive car bomb in central Baghdad's popular shopping district of Karradah killed about 300 people and forced the resignation of the country's interior minister.
It came as the Iraqi armed forces planned to launch an assault to recapture Isis' second city and stronghold in the country, Mosul, from the jihadists.
That would be a major blow for the group as it is where their leader Abu Bakr al-Baghdadi declared their "caliphate" in 2014.
Since the start of January 2015, the terror group has been on the backfoot and retreated from vast swathes of territory it captured in 2013 and 2014.
Iraqi government officials told Reuters the group had executed 58 people suspected in taking part in a plot to switch sides and hand Mosul over to the government.
The plotters were drowned before being buried in a mass grave in a wasteland on the outskirts of the city.
One of them was reportedly a local aide of al-Baghdadi.
Additional reporting by agencies
Register for free to continue reading
Registration is a free and easy way to support our truly independent journalism
By registering, you will also enjoy limited access to Premium articles, exclusive newsletters, commenting, and virtual events with our leading journalists
Already have an account? sign in
Register for free to continue reading
Registration is a free and easy way to support our truly independent journalism
By registering, you will also enjoy limited access to Premium articles, exclusive newsletters, commenting, and virtual events with our leading journalists
Already have an account? sign in
Join our new commenting forum
Join thought-provoking conversations, follow other Independent readers and see their replies