US calls bombing of Syria's Aleppo a 'gift' to Isis
'What [Bashar al-] Assad and Russia are doing in Aleppo is soul-shattering,' claims US Ambassador to the UN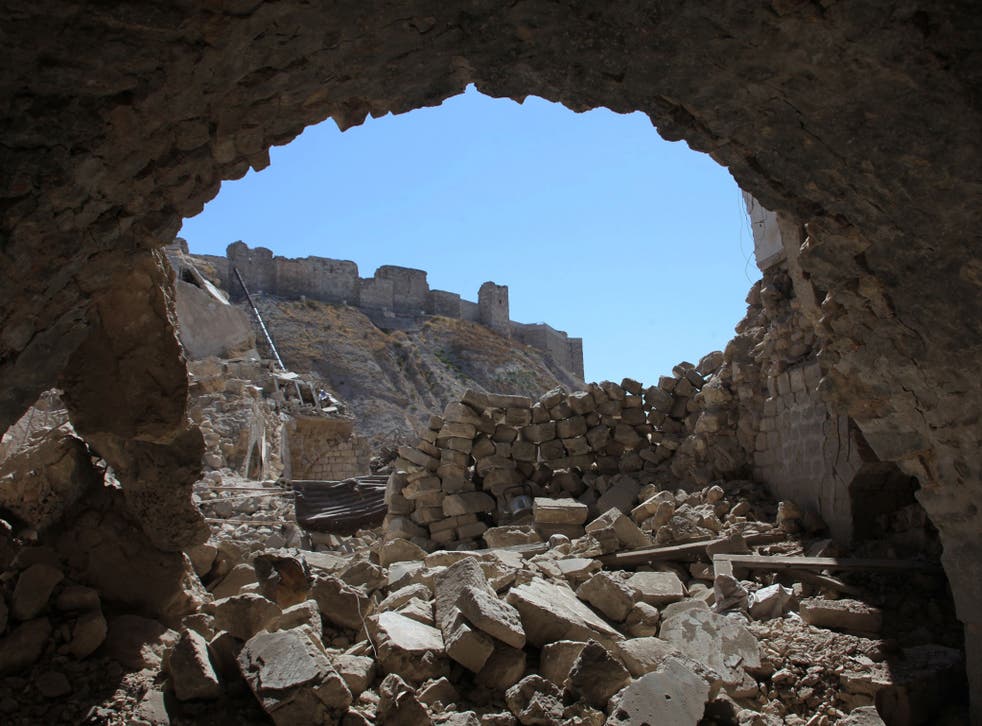 The United States has said that a Syrian and Russian assault on Aleppo was a gift to Isis, while a frustrated UN aid chief lamented that the only deterrent left seemed to be "the court of world opinion and disgust."
Moscow vowed to press on with its offensive in Syria, and accused the United States of "de facto support for terrorism" in the country, while US officials searched for a tougher response to Russia's decision to seek a military victory on behalf of Syrian President Bashar al-Assad.
"The president has asked all of the agencies to put forward options, some familiar, some new, that we are very actively reviewing," Deputy Secretary of State Antony Blinken said on Thursday, without giving details. He said officials would "work through these in the days ahead."
Speaking to the Senate Foreign Relations Committee, Mr Blinken said "all of the outside patrons are going to throw in more and more weaponry against Russia. Russia will be left propping up Assad in an ever smaller piece of Syria."
United Nations aid chief Stephen O'Brien called on the 15-member UN Security Council to stop "tolerating the utter disregard for the most basic provisions of international humanitarian law."
The recent focus of the fighting is a Syrian and Russian bid to recapture rebel-held eastern Aleppo.
"East Aleppo this minute is not at the edge of the precipice, it is well into its terrible descent into the pitiless and merciless abyss of a humanitarian catastrophe unlike any we have witnessed in Syria," Mr O'Brien said.
"The only remaining deterrent it seems is that there will be real accountability in the court of world opinion and disgust - goodness knows, nothing else seems to be working to stop this deliberate, gratuitous carnage of lives lost," he said.
Syria war: What is the importance of Aleppo?
French UN Ambassador Francois Delattre said he had started discussions with some council members on a draft resolution to try and impose a ceasefire in Aleppo. US Ambassador Samantha Power said she had not yet seen a draft text.
"What Assad and Russia are doing in Aleppo is soul-shattering," US Ambassador to the UN Samantha Power said. "What they are doing is sowing not only the doom of this country ... but it is going to generate more refugee flow, more radicalization.
"What they are doing is a gift to ISIL [Isis] and… the groups that they claim that they want to stop," she said.
As Washington threatens to walk away from talks with Russia on Syria unless the fighting stops, Britain's UN Ambassador Matthew Rycroft told reporters it was time "to move to a different form of diplomacy," pointing to the Security Council.
Mr Rycroft also dismissed a Russian proposal for a 48-hour humanitarian pause in fighting in Aleppo. Since July, the U.N. has been calling for a weekly 48-hour truce to allow the delivery of aid to besieged areas.
"The Russian proposal is designed to sound good, but to allow them to carry on their deadly bombing campaign," he said.
Also on Thursday, Syria's UN Ambassador Bashar Ja'afari rejected accusations on Thursday that the Syrian government was killing civilians.
"The Syrian government is not bombing civilians. These people are our own people. We don't bomb civilians, we don't kill civilians. We don't bomb humanitarian convoys. We don't do that. Those who did it are the terrorists," Mr Ja'afari said.
Reuters
Register for free to continue reading
Registration is a free and easy way to support our truly independent journalism
By registering, you will also enjoy limited access to Premium articles, exclusive newsletters, commenting, and virtual events with our leading journalists
Already have an account? sign in
Register for free to continue reading
Registration is a free and easy way to support our truly independent journalism
By registering, you will also enjoy limited access to Premium articles, exclusive newsletters, commenting, and virtual events with our leading journalists
Already have an account? sign in
Join our new commenting forum
Join thought-provoking conversations, follow other Independent readers and see their replies