Syria chemical attack: Pope Francis appeals to 'conscience' of culprits as Russia vows to support Assad
Pope calls for wielders of political power to bring 'tragedies to an end'
Lizzie Dearden
Wednesday 05 April 2017 13:23 Comments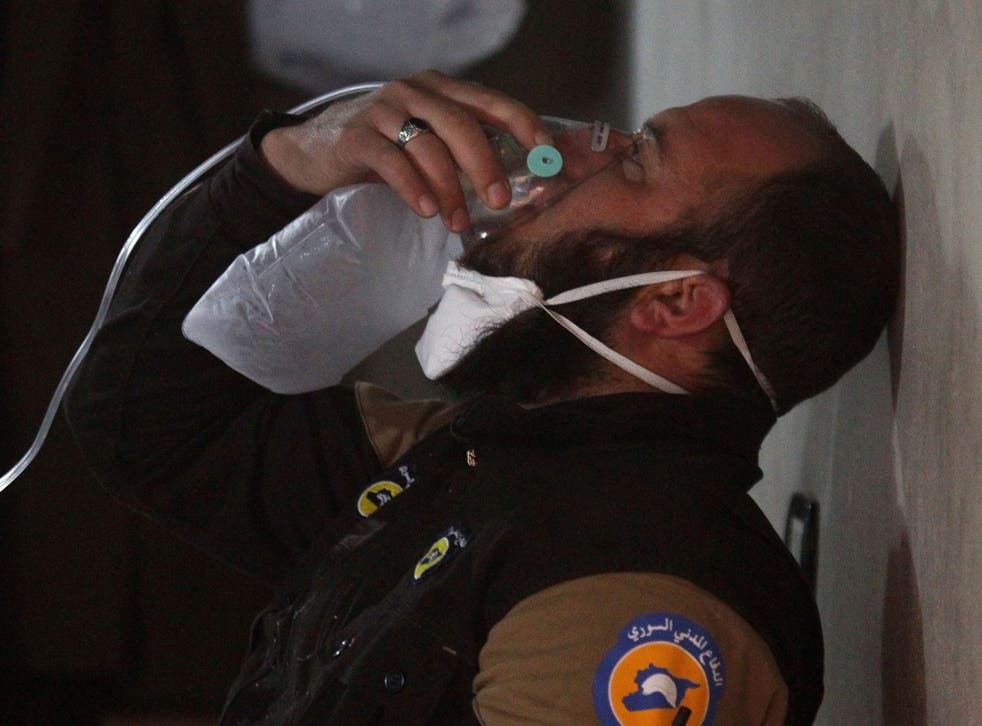 Pope Francis has called on countries supporting atrocities in Syria to examine their consciences as Russia vows to continue its backing for Bashar al-Assad.
The Pope said he was horrified by the suspected chemical weapons attack in the rebel-held town on Khan Sheikhoun, calling it an "unacceptable massacre" of innocent civilians.
"We look on horrified by the recent events in Syria," he told tens of thousands of people in St Peter's Square during his weekly audience.
Boris Johnson: Syrian chemical attack evidence points to Assad
The Catholic leader said he was praying for "the defenceless victims, including many children", before appealing to "the conscience of those who hold political power, both at the local and international levels so that these tragedies end".
Britain, the US and France are among the countries strongly suspecting the Syrian regime was behind the attack, which left more than 70 people dead and is being investigated as a potential war crime by the UN.
Assad's government denied using chemical weapons in the air strikes, saying the country does not possess the munitions after agreeing to have them destroyed following a sarin attack that left hundreds dead in 2013.
Vladimir Putin's spokesman said Russian forces would not stop their support for "the anti-terrorist operation to liberate the country carried out by the Syrian Arab Republic's army".
The Kremlin denied involvement in Tuesday's suspected chemical attack in Idlib province, blaming the release of toxic gas on an alleged rebel weapons facility – an allegation rejected by the opposition.
Doctors said victims started to choke, vomit and faint with foam coming out of their mouths, showing symptoms of possible sarin gas exposure after either Syrian or Russian jets dropped bombs on the area.
It was not the first time Vladimir Putin's forces have been accused of complicity in suspected war crimes, following persistent reports of civilian casualties in intensive bombardment of rebel-held areas.
Both Russia and Syria class any armed opposition groups as "terrorists", with the defence ministry claiming it was "determined to combat terrorism" despite allegations by critics that its operations have focused on rebels rather than Isis and al-Qaeda.
World leaders gathering in Brussels called on Russia not to use its veto at the UN Security Council to block an international investigation or sanctions over the alleged chemical attack.
The UN Secretary General, Antonio Guterres told the conference on Syria that the council must "live up to its responsibilities" to see the perpetrators brought to justice.
Russia and China have repeatedly vetoed sanctions on the Assad regime over chemical weapons, as well as an attempted referral to the International Criminal Court.
Chemical weapons were first reportedly used in Syria in 2012, the World Health Organisation said, and have since occurred with "disturbing frequency" despite a 2013 agreement aiming to reduce the regime's stockpiles.
Boris Johnson said he had seen "absolutely nothing to suggest" that anyone but Assad's forces could have been responsible for the massacre.
"You cannot go on with a regime that's willing to use illegal weapons against its own people, a regime that's killed hundreds of thousands of its own people," he told reporters in Brussels.
"What's needed now is a political process to get rid of that regime and give the people of Syria a chance."
He and his French counterpart, Jean-Marc Ayrault, renewed calls for Assad to step down as part of a lasting political solution in Syria, just days after suggestions from the US Secretary of State and UN Ambassador that his removal was no longer a priority.
Also appearing at the Brussels conference was the Lebanese Prime Minister, Saad Hariri, who echoed anger among the Syrian opposition by accusing the world of failing to prevent atrocities like the Khan Sheikhoun attack.
"The world should not be shocked because it's letting such a regime do what it is doing," he said.
"What should shock us is the increase of children dying and that the whole world is watching."
Mr Hariri told reporters that "everyone is coming to Brussels to make a statement and the regime made its statement in Syria."
Register for free to continue reading
Registration is a free and easy way to support our truly independent journalism
By registering, you will also enjoy limited access to Premium articles, exclusive newsletters, commenting, and virtual events with our leading journalists
Already have an account? sign in
Join our new commenting forum
Join thought-provoking conversations, follow other Independent readers and see their replies