Donald Trump 'considering military action' in Syria following suspected chemical attack by Assad
Moscow says claims its Damascus allies used chemical weapons in Khan Sheikoun tragedy are not based on 'objective data' as Trump administration official warns military option 'not ruled out'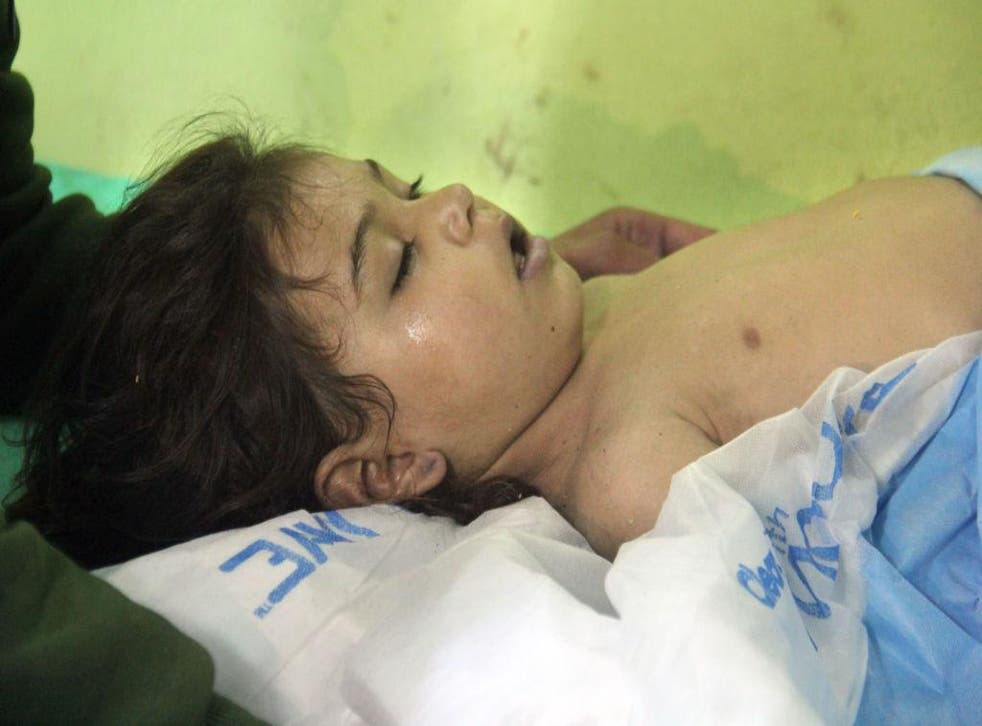 Donald Trump is said to be considering the US' military options in Syria's civil war as the international fallout over an alleged chemical gas attack on a rebel town escalates.
Mr Trump had said that the deaths of more than 70 people in Khan Sheikhoun had changed his opinion of Syrian President Bashar al-Assad, whom US intelligence says is responsible for the attack.
The Syrian government, and its Russian allies, have denied that the regime possesses chemical weapons stocks, which were handed over to the Organisation for the Prevention of Chemical Weapons (OPCW) after a deadly sarin gas incident in rebel-held Ghouta in 2013.
Syria: Man loses 25 family members in suspected chemical attack
The President's comments were made to members of Congress about military action, but CNN reported that Mr Trump was undecided and was being briefed on possible scenarios with Defence Secretary James Mattis. A senior Trump administration official also replied "no" when asked whether military intervention is "off the table".
Mr Trump had hinted that the new attack could affect his policy that the US should focus on defeating Isis in Syria.
The supposed change in rhetoric has alarmed many actors and observers in the Syrian conflict. Just last week, White House Press Secretary Sean Spicer said that Bashar al-Assad's rule in Syria was something that may have to be accepted as a "political reality."
The new US administration had previously appeared content to let Turkey take the lead in peace negotiations with Russia, Iran and the Syrian government.
Despite a recent warming in relations, Turkey, too, has slammed Russia for backing the Syrian regime as "utterly wrong", with President Recep Tayyip Erdogan labelling Mr Assad a "murderer".
The Kremlin came to Damascus' defence on Thursday. President Vladimir Putin said it is unacceptable to make "groundless" accusations that Syria carried out a chemical weapons attack.
Both Damascus and Moscow maintain the casualties in Khan Sheikhoun were not caused by regime chemical weapons but by gases released in an explosion at an extremist ammunition depot nearby, targeted by Syrian war planes.
Even in Russia, there has been a slight distancing from the Syrian government: Mr Putin's spokesperson Dmitry Peskov later said that Russian support for the regime - which it has been militarily assisting since 2015 - is "not unconditional."
In Pictures: The crisis unfolding in Syria

Show all 30
Medical charity Medecins Sans Frontieres (MSF) said in a statement on Wednesday that preliminary evidence gathered by its medical staff on the ground pointed to the presence of both sarin - a nerve agent - and chlorine at the site.
Post mortems carried out by the Turkish Health Ministry on victims taken over the border for treatment who subsequently died found sarin gas in their systems, officials said.
The US, UK and French representatives to the UN have called for a vote on new resolution which would impose sanctions on "those responsible" for the attacks.
Russia used its position as a permanent member of the Security Council to veto similar action in February, and is likely to do so again in the new vote.
Join our new commenting forum
Join thought-provoking conversations, follow other Independent readers and see their replies