Syria civil war: Besieged families in Madaya forced to decide who eats – and who dies
As the first aid trucks arrive, a resident of the Syrian town talks about the horrors of the government's brutal blockade
Hugh Naylor
,
Suzan Haidamous
Wednesday 13 January 2016 19:54 Comments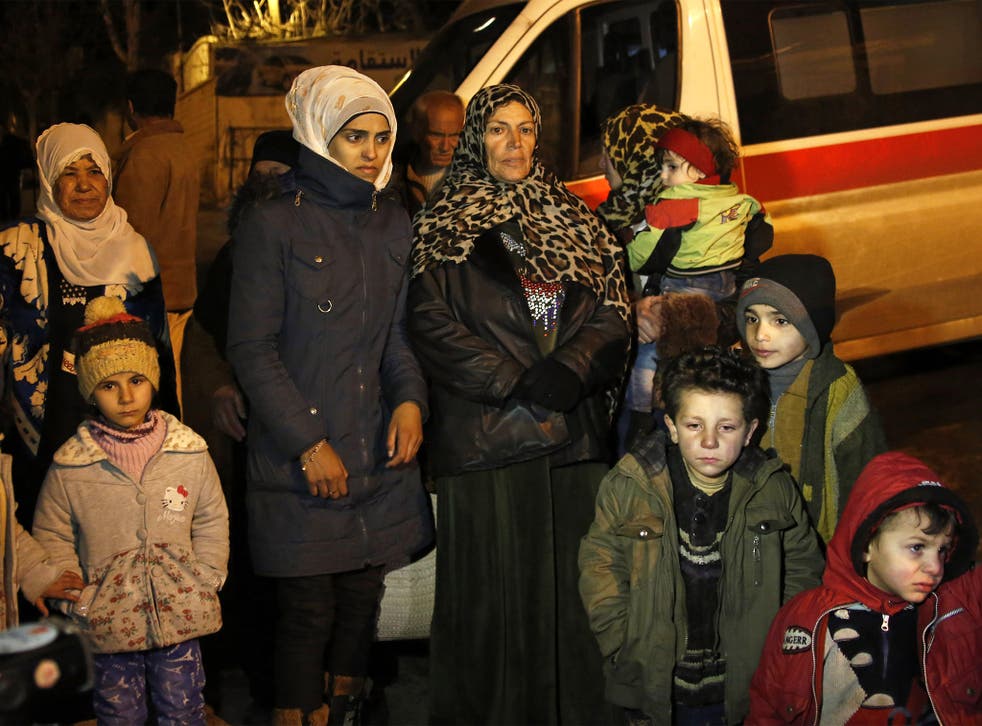 By the time the convoy carrying food arrived, Sereen did not know how much more she and others in the besieged Syrian town of Madaya could endure.
She had skipped meals for months, she said, so her young nieces and nephews could eat the family's diminishing supplies of rice. She watched as friends turned into walking skeletons. Then, in recent weeks, people began dying.
First a neighbour died of starvation, followed by his nine-year-old son. On Monday, the day that a UN-backed agreement temporarily lifted the Syrian government's brutal blockade of the mountain hamlet, she learned that a 60‑year-old friend had died.
The woman's family "said she stopped eating altogether so that her grandchildren could eat", Sereen, speaking from Madaya, said. "Her grandchildren survived, thanks be to God."
A deal between President Bashar al-Assad's government and the United Nations (UN) permitted aid groups to send trucks to the town, near the Lebanese border and about 15 miles north-west of Syria's capital, Damascus. The operation is expected to last several days and will also deliver food to two pro-government villages, Fua and Kefraya.
Pro-government forces have besieged Madaya, an opposition stronghold, since the summer, cutting off the flow of food and goods into the town. Fua and Kefraya, two villages in the northern province of Idlib, have been surrounded by rebels and face regular bombardment.
Aid reaches starving Madaya
Syria's ambassador to the United Nations, Bashar Jaafari, has denied the government is using a policy of starvation and accused Arabic-language media of "fabricating" lies.
But as they began filling their empty stomachs with rations of beans and rice on Tuesday morning, some of the 20,000 people in the town revealed further details of their harrowing ordeal.
Sereen, 40, recalls almost nothing but the effects of starvation all around her. She remembered an argument with a butcher who refused a customer's request to have his cat prepared as food. She also described how her 10-year-old niece would forgo meals to feed her younger sister.
"Even the children had to become adults," said Sereen, who shares an apartment with her grandparents, her mother and her brother's family.
This summer, Sereen fled her home in the neighbouring town of Zabadani with her mother during an attack by Syrian troops and Hezbollah fighters. The assaults on Madaya and Zabadani are part of a military campaign by the government to clear out rebels from key territory.
Before the Syrian uprising began in 2011, Sereen's husband, Mohammed, owned a grocery store. Like many from the area, they joined peaceful demonstrations against the Assad government and then backed an armed rebellion that eventually turned into a civil war that has killed more than 250,000 people.
Their three grown-up children have since fled the country but Mohammed was killed fighting for the Islamist Ahrar al-Sham rebel group in Zabadani last summer. She has had little time to mourn, she said, and instead has been focused on survival.
"First, you'd see yourself losing weight. Then the hallucinations start. You'd have conversations with people and then completely forget what you said," she said.
She described how the family would pool together precious belongings to pay the war profiteers who could smuggle basic foods through the checkpoints that Syrian troops and Hezbollah fighters erected around Madaya; 2lb of smuggled rice could cost £75 or more.
World news in pictures

Show all 50
In November, she attempted to brave the sniper-manned checkpoints and flee for medical care. Having received treatment for cancer last year, she was due a check up. But as she attempted to leave in the middle of the night, the smugglers she paid to help her out tripped one of the many land mines apparently planted on the outskirts of the town. One of them was killed.
Now she hopes the aid delivery will translate into an end to the siege. "We can't go back to another blockade," she said.
© The Washington Post
In the face of the Syrian crisis, the United Nations has launched its largest humanitarian appeal in history, calling on members including Britain, to make donations of $8bn (£5.3bn) across the region this year.
Funds will be distributed among an anticipated 4.7 million refugees in neighbouring countries and 13.5 million people displaced inside Syria.
International donors will be asked to come forward with pledges at a conference on Syria's humanitarian crisis in London on 4 February.
"After nearly six years of brutal conflict, the Syrian people need our help more than ever," the UN aid chief Stephen O'Brien told AFP.
Jennifer Aldrich
Register for free to continue reading
Registration is a free and easy way to support our truly independent journalism
By registering, you will also enjoy limited access to Premium articles, exclusive newsletters, commenting, and virtual events with our leading journalists
Already have an account? sign in
Join our new commenting forum
Join thought-provoking conversations, follow other Independent readers and see their replies