Syrian civil war: Unprecedented 270,000 people face desperate desert conditions after fleeing regime offensive
Both Jordan and Israel have reiterated that their borders will remain closed to refugees fleeing supposed de-escalation zone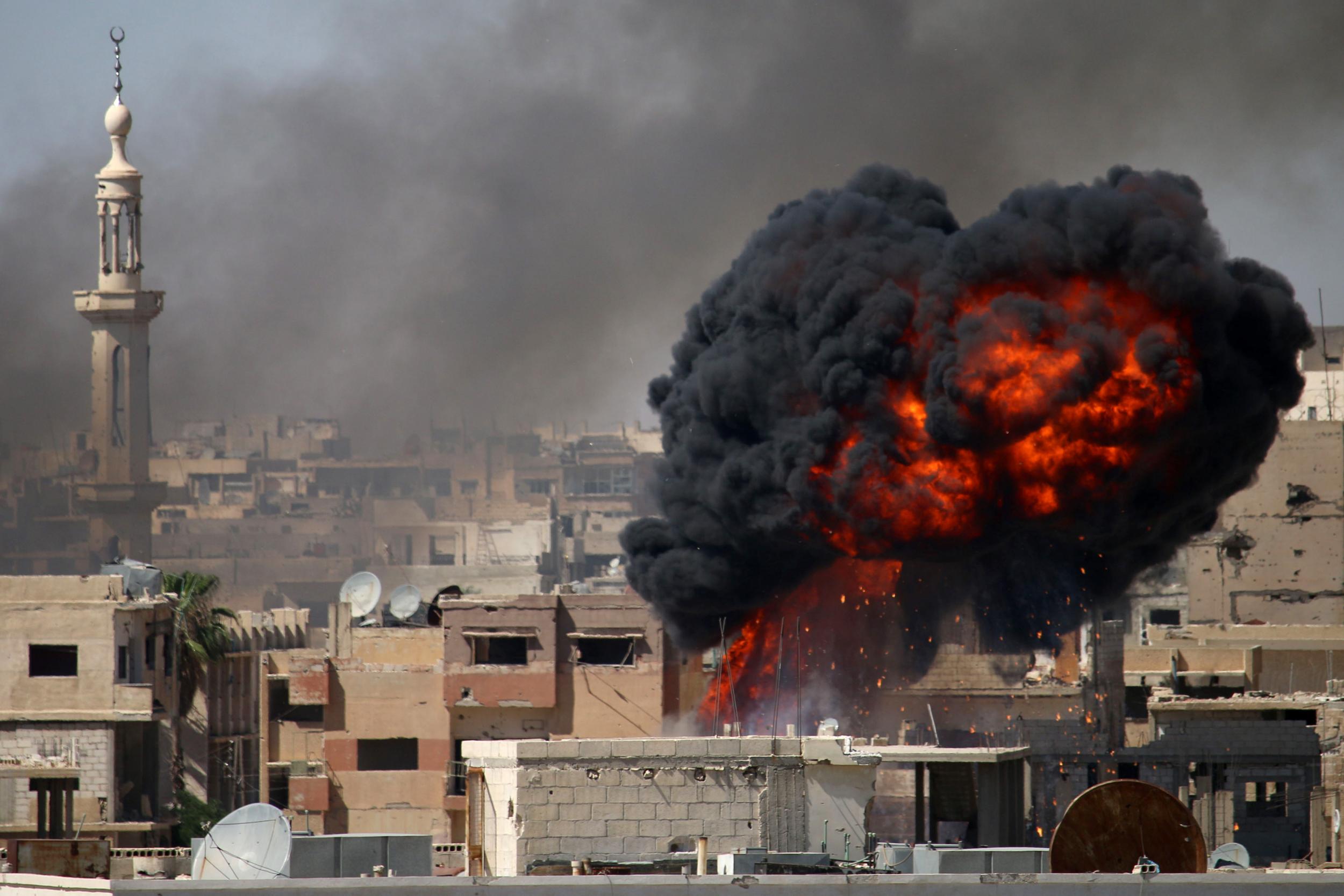 An exodus of 271,800 people who have fled their homes in southern Syria are are camped out in miserable desert conditions on the borders with Jordan and Israel, the UN has said.
Thousands of civilians in Deraa province – supposedly covered by a 2017 de-escalation agreement – have run from rebel-held towns and villages as pro-government troops, helped by Russian airpower, have quickly swept through the area over the last two weeks.
"It is chaos, people are desperate," local activist Islam al Balki said on Tuesday. "People have left with the clothes on their backs, risking the airstrikes, no time to bury the dead. Nowhere is safe."
Refugee loneliness: The deaf Syrian father learning British Sign Language to combat isolation
According to monitor the Syrian Observatory for Human Rights, at least 100 civilians have been killed since the offensive began on 19 June, and huge numbers of people are now sleeping under trees and in cars in fields and wasteland near the southern border.
Most are lacking adequate shelter and water to cope with the 45C (113F) heat. Local sources told UN partners that at least 12 children, two women, and one elderly man have died near the Jordanian border due to dehydration, contaminated water and scorpion bites.
Around 164,000 displaced people are now located in Quneitra, which border the contested Golan Heights, and 60,000 are camped out near the Nasib-Jaber border crossing with Jordan.
Syrian families waiting in the shadows of Lebanon's refugee camps
Show all 20
Both Jordan and Israel have reiterated that their borders will remain closed to refugees despite pleas from the UN's refugee agency for Amman to "honour its international commitment to people in need of protection".
Jordan, which already hosts more than 630,000 Syrians, has insisted the situation is the fault of the fighting forces.
Israel does not have diplomatic relations with Syria or any asylum policy for refugees from the conflict, but does provide medical assistance and aid for both fighters and civilians near its border.
The huge offensive on Deraa mirrors similar operations in recent months which have driven out the last of the Syrian opposition from the Homs countryside and East Ghouta – both also designated de-escalation zones in a deal brokered by the US, Russia and neighbouring Jordan.
President Bashar al Assad says the operation only targets terrorist factions and is therefore exempt from the agreement.
Despite official calls for Damascus to desist, the US has reportedly told rebel factions it initially supported it will not intervene on their behalf.
On Tuesday Syrian rebel commanders said they entered a new round of talks with Russian negotiators to broker a surrender, but several residents on the ground told The Independent the fighting continued.
Deraa – the birth of the 2011 popular uprising against Mr Assad – is one of the last rebel strongholds left in the country.
The seven-year-old conflict has triggered the largest refugee crisis in modern history. More than half of the pre-war population of 22 million people have been displaced from their homes, including six million who have fled abroad.
Join our commenting forum
Join thought-provoking conversations, follow other Independent readers and see their replies