A year after the fall of Aleppo, Syria's Ghouta faces same fate
'Assad sees this as the final attack on east Ghouta and does not intend to stop until the entire besieged enclave is a smoking pile of rubble and dead bodies'
Saturday 25 November 2017 18:18 GMT
Comments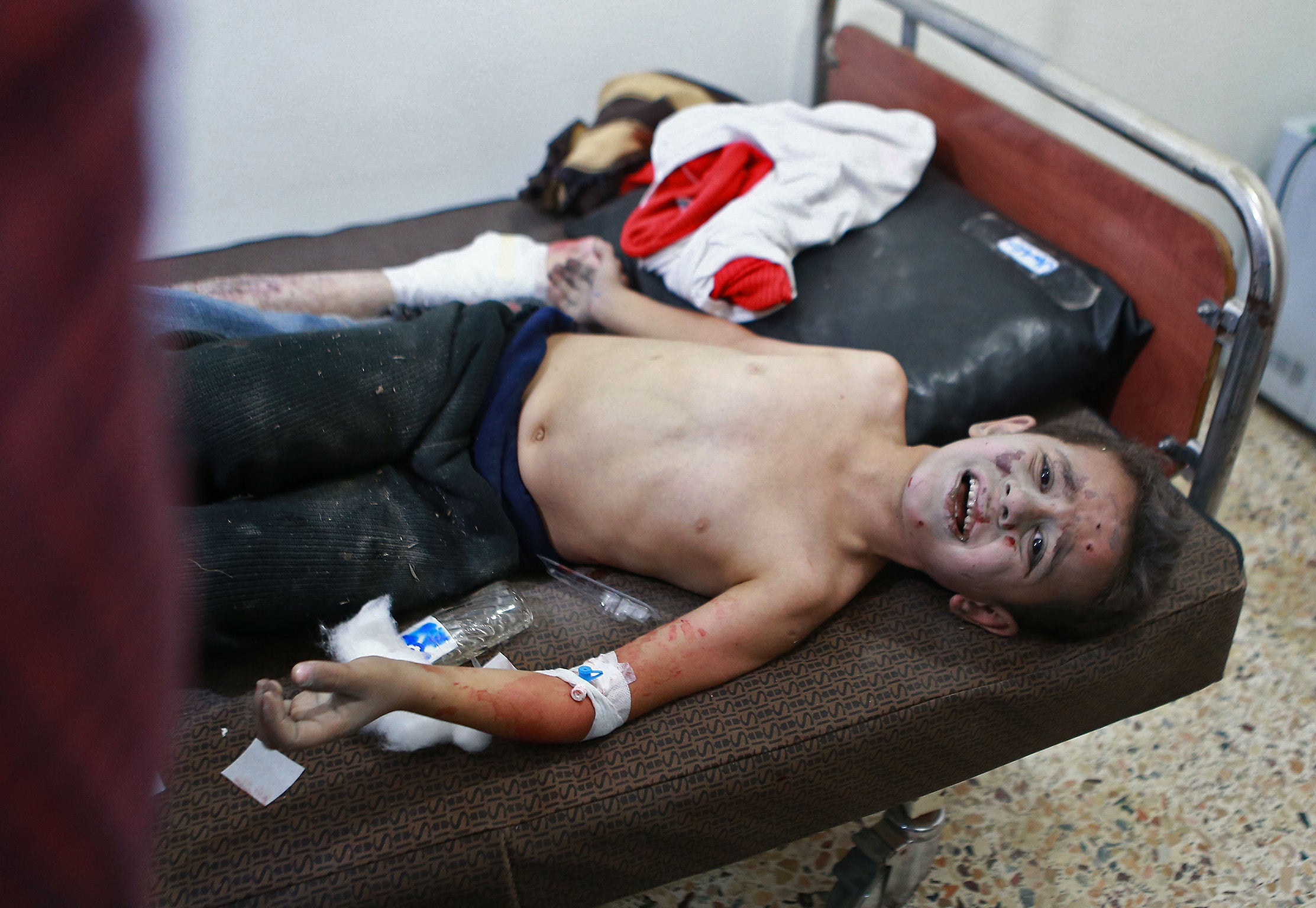 This time last year, the world looked on as Syrian President Bashar al-Assad launched the final assault on opposition-held east Aleppo.
Operation Dawn of Victory dropped banned munitions such as cluster bombs, "bunker busters" and chlorine on neighbourhoods which were already starving and broken thanks to a months-long siege. More than 600 civilians died in the five-week-long offensive.
After four years of struggle against the government, the last rebel-held urban centre in Syria surrendered.
Vladimir Putin meets Syrian president Bashar Assad
Now, east Ghouta, a rebel enclave of some 400,000 people in the suburbs of Damascus, faces the same fate.
The area is supposedly covered by a de-escalation zone deal brokered by Turkey, Iran and Russia earlier this year – but monitors and rebels say fighting has continued on many fronts.
In east Ghouta over the last two weeks there have been almost non-stop air strikes and shelling by government forces.
By some estimates there have been 181 separate attacks; including one unverified chlorine incident. Casualty figures are hard to verify, but accounts from local activists tally in the dozens.
Haunting pictures of 35-day-old baby Samar Dofdaa, who died from malnutrition last month, briefly sparked international outrage. But louder cries for the bombardment to stop and the unhindered flow of aid have already subsided.
In the interim, residents suffer in silence – and the situation is getting worse.
"Imagine yourself starving for many months. Imagine your diet was just grass or trash," said Dr Kassem Eid, who managed to escape east Ghouta for the US in 2015.
"The whole world should be screaming about this, saying we cannot use starvation as a weapon of war."
Ghouta has witnessed some of the worst brutality in Syria's six-year civil war, including the 2013 sarin gas attack, which is one of the worst chemical incidents in modern history.
Syrians make fuel from plastic waste
Show all 8
Even smugglers' supply lines have been cut off following a government offensive in April, leading to strangled access to food, fuel and medicine and huge price increases. With the renewed military offensive and cold conditions setting in, the rebel enclave is bracing for what could be its harshest winter yet.
"The lack of media attention on such a serious escalation has been bizarre," said Valerie Szybala, executive director of thinktank The Syria Institute and driving force behind Siege Watch, a project which monitors conditions in Syria's many besieged or hard-to-reach areas.
"Starve or surrender" sieges have been an effective tactic of the Syrian government in the war to date, used to inflame tensions between different rebel groups, and turn hungry civilians against opposition fighters.
A report from Amnesty International earlier this month accused the Assad regime of crimes against humanity over the issue.
But the fall of Aleppo last year turned the tide of the war militarily in the government's favour. With Russia's backing, the imminent end of Isis and a vacuum in US leadership under the Trump administration, Mr Assad can now rule what is left of his country with confidence again.
In Russian President Vladimir Putin's winter residence in Sochi this week, Syrian, Iranian and Turkish representatives gathered to discuss what "post-conflict" Syria will look like moving forward.
Parallel talks in the Saudi capital of Riyadh designed to unite more than 30 fractured opposition groups have not gone as smoothly, as many factions stick to the rebels' original demand that Mr Assad play no role in Syria's future.
The eighth round of UN-sponsored peace talks in Geneva begins on 29 November. Few observers hold out any hope of a breakthrough in the structurally defunct peace process – and any agreement may come too late to save many from starvation and shelling in east Ghouta.
"I believe that Assad sees this as the final attack on [east] Ghouta, Ms Szybala said. "[He] does not intend to stop until the entire besieged enclave is a smoking pile of rubble and dead bodies."
Join our commenting forum
Join thought-provoking conversations, follow other Independent readers and see their replies