Syrian civil war: More than five million refugees flee conflict as global support for resettlement wanes
United Nations says only half the places pledged by world leaders are available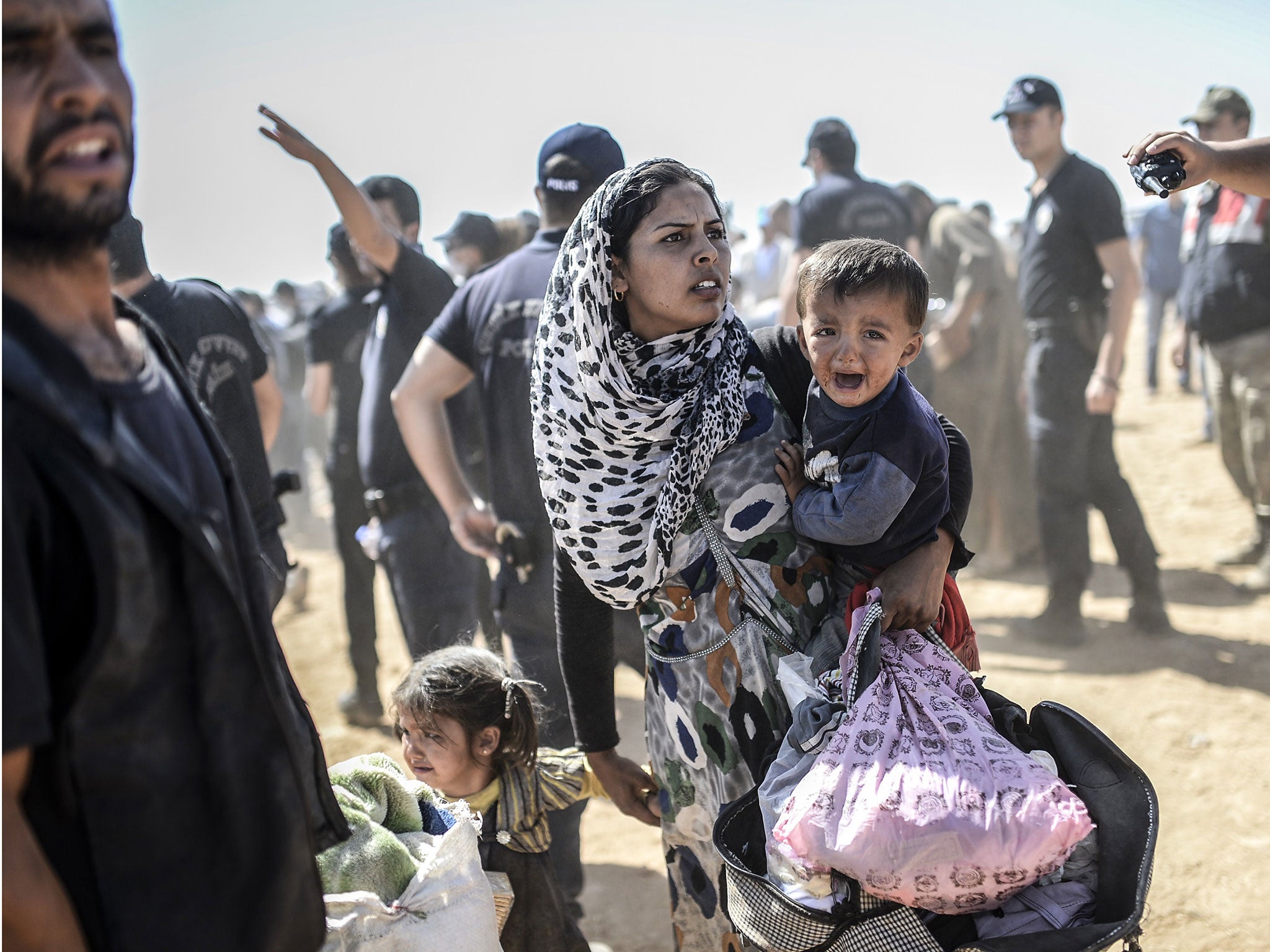 More than five million men, women and children have now fled the Syrian civil war but the world's will to give refugees a safe home is waning, the United Nations has warned.
World leaders pledged to resettle 10 per cent of all Syrian refugees by 2018 at a meeting Geneva in March last year, but only half of the needed places have been made available.
Donald Trump has attempted to suspend what was the world's largest resettlement programme and border closures and restrictions are growing in Europe as more asylum seekers die attempting to reach the continent than ever before.
A record of more than 5,000 migrants drowned, suffocated or froze to death in the Mediterranean in 2016 and almost 1,000 have already died this year.
Filippo Grandi, the UN High Commissioner for Refugees, said the international community must do more to help those fleeing six years of brutal conflict in Syria.
"We still have a long road to travel in expanding resettlement and the number and range of complementary pathways available for refugees," he said.
"To meet this challenge, we not only need additional places, but also need to accelerate the implementation of existing pledges."
Mr Grandi said 250,000 out of half a million places pledged exactly a year ago were available, warning that efforts needed to be dramatically "accelerated".
He added that only the most vulnerable refugees were referred for resettlement by the UN, with the measure "giving refugees the opportunity to re-build their lives, but also enriching the communities that welcome them".
UN member states committed to increasing efforts to find homes for refugees as part of the New York Declaration for Refugees and Migrants in September, but few new programmes have emerged.
Meanwhile, people continue to flee Syria, Afghanistan, Iraq, Yemen, Libya and other war-torn countries where conflicts look unlikely to end any time soon.
Save the Children said the international community had "utterly failed" to end the crisis.
Misty Buswell, the charity's director of advocacy for Syria, said: "More than a thousand children a day have fled their country every day for the past six years, and an entire generation is now growing up as refugees, forced from their homes and facing an uncertain future.
Former child refugee Lord Dubs says he cannot understand the Government shutting down child refugee program
"These are the children who will have to rebuild Syria once the war ends, and they urgently need our support."
She warned that many refugee families were unable to work and living without access to healthcare and education, with 750,000 Syrian refugee children are out of school.
"Even after six years this crisis is still getting bigger every day, and these children need our help now more than ever before," Ms Buswell said.
"Yet countries around the world are increasingly shutting their borders to children seeking refuge."
The UN Refugee Agency (UNHCR) estimates that almost 1.2 million people will need resettlement in 2017, among whom 40 per cent are Syrians amid the biggest global crisis since the Second World War.
The agency said no specific incident caused the number of Syrian refugees to pass the 5 million mark, compared to 4.8 million a year ago, as another 6.3 million people remain internally displaced inside the country.
David Cameron pledged that the UK would resettle up to 20,000 Syrian refugees by 2020 but only 4,400 people had been granted protection by September.
Refugee crisis - in pictures
Show all 27
The Government also committed to homing up to vulnerable children who had already reached Europe under the "Dubs amendment" but dropped the scheme after capping numbers at 350 in February.
It blamed local councils for failing to provide resettlement places, while defending the UK's record providing £2.3bn for refugees in Syria and surrounding countries.
Babar Baloch, a spokesperson for the UNHCR, said the US has pledged to make 64,000 places available for Syrians and that efforts would continue amid court battles over Mr Trump's attempts to reduce the programme.
Turkey now hosts 2.97 million Syrians and the number is growing as enforcement of an agreement struck with the EU to reduce boat crossings continues.
The deal, which came into effect a year ago, has slowed crossings over the Aegean Sea but resulted in 62,000 asylum seekers being trapped in Greece, where a Syrian man was found hung this week.
Crossings over the central Mediterranean Sea have continued to rise as smugglers take advantage of lawlessness and conflict in Libya to detain migrants and launch them packed into flimsy dinghies.
The vast majority of asylum seekers now arriving in Europe are taken to Italy by rescue ships, but they have also crossed by land and sea to Spain, and a fishing boat carrying 91 Syrian refugees, including 42 children, landed in Cyprus on Wednesday.
More than 28,000 asylum seekers have reached Europe by sea this year – more than 23,000 to Italy and 4,000 to Greece.
Only 22 per cent of those currently arriving are Syrian, with 11 per cent from Afghanistan, 10 per cent from Nigeria and others from Iraq, Eritrea, Pakistan and sub-Saharan African nations.
Join our commenting forum
Join thought-provoking conversations, follow other Independent readers and see their replies