Syria civil war: Footage shows dungeon where Yazidi women were locked up by Isis
Pictures reveal cramped, claustrophobic conditions of underground cell, in northern territory recaptured by Kurds
Tom Brooks-Pollock
Tuesday 15 December 2015 17:47 Comments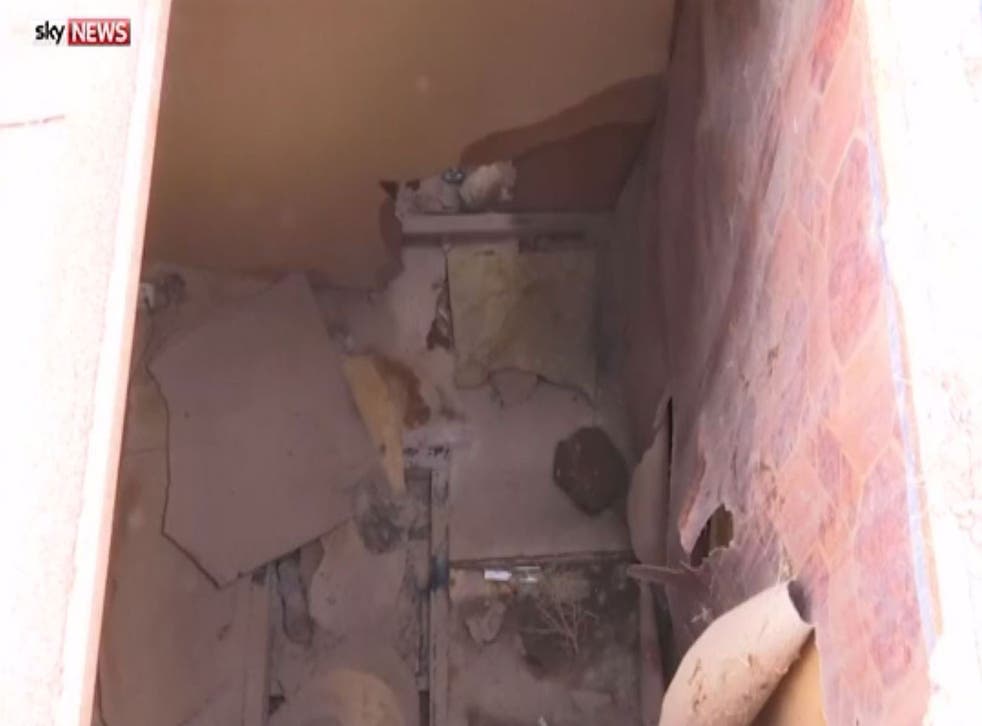 Footage has emerged of an underground dungeon used by Isis to keep Yazidi women captive.
The pictures, filmed in a part of northern Syria recaptured from fanatics by Kurdish fighters, show a cramped, claustrophobic cell covered by panels and accessed by manholes.
A Sky TV crew was shown the makeshift prison as it toured desert plains with YPG militiamen, who told them it was used to incarcerate women from the religious minority.
Drawings made on the wall, apparently made by the captive women are a possible attempt to catalogue their horrific experience or hark back to a previous, better life.
It is now known what happened to the women said to have been held there.
Iraqi Yazidis, whose montheistic religion incorporates elements of Zoroastrianism, Christianity and Islam, have been singled out for persecution by Isis, who look on them as heretics.
Yazidi women have been abducted en masse by Isis, and reportedly sold as slaves and gang raped.
Up to 5,000 Yazidis are thought to have been massacred in Sinjar, in Northern Iraq, by the extremist group, in what the UN has described as a possible genocide.
The persecution began when Isis overran Sinjar, where many Yazidis lived, in August 2014.
Tens of thousands of civilans were trapped on Mount Sinjar as Isis laid siege to it.
The majority were eventually able to free after Kurdish militias, backed up by American airtstrikes, launched a offensive against Isis.
The town was eventually recaptured in November of this year, in the Sinjar Offensive by Kurdish Peshmerga, PKK and People's Protection Units.
Register for free to continue reading
Registration is a free and easy way to support our truly independent journalism
By registering, you will also enjoy limited access to Premium articles, exclusive newsletters, commenting, and virtual events with our leading journalists
Already have an account? sign in
Join our new commenting forum
Join thought-provoking conversations, follow other Independent readers and see their replies