Syria conflict: Hospitals fill up with wounded soldiers as civil war drags on
Fighting in the country is now thought to have claimed 130,000 lives. But what about those who lived, yet suffered life-changing injuries? Patrick Cockburn meets some of those survivors in Damascus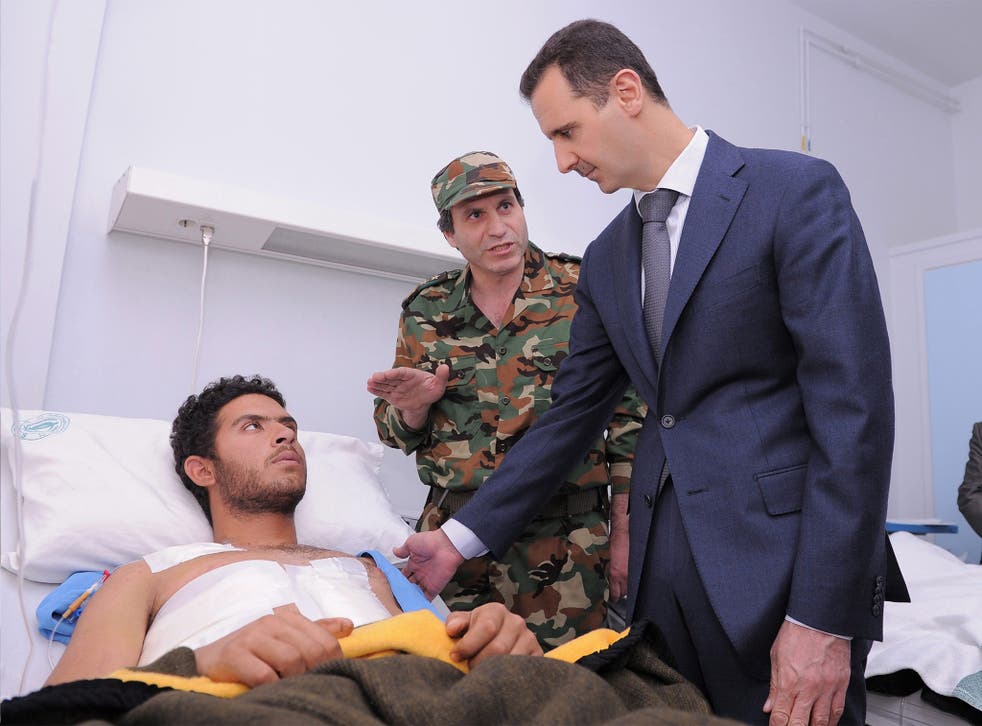 "I was shot by a sniper in Aleppo last year," says 21-year-old Mohammed Diab, a soldier in the Syrian Army, as he lies in bed in Mezze Military Hospital in Damascus with his shattered left lower leg held in an external metal splint.
He described how five months earlier he was taken in an armoured vehicle to a hospital in Aleppo and had later gone to recover in his home village of al-Rahiya in Idlib province.
It is what happened then that illustrates the extent to which Syria is today saturated with violence and for those wounded in battle, the danger is not over. After three years of civil war, hatred and fear permeates Syrian life and destroys the element of trust necessary for compromise or reconciliation.
"For Syrians it is World War III," says General Ghassan Haddad, the director of the Mezze hospital, who recalls that he spent four years training in Charing Cross Hospital in the 1980s.
In returning to his home in Rahiya, Mohammed Diab must have known he was taking a risk since Idlib province is largely dominated by the rebels. He recalls that "somebody in the village told them there was a wounded soldier there and they took me prisoner and held me for five months."
They also took the metal splint holding the broken bone in his leg and gave him a piece of wood to replace it. "I think they thought they could sell the metal," he says.
At first he was with two other soldiers also held prisoner, but then was kept alone. Eventually, his family paid 150,000 Syrian pounds (about $1,000) to the men holding him and he was freed, but by now the bone in his leg had become infected so he was readmitted to hospital with a new metal splint.
General Haddad says that during the heaviest fighting last year he remembers "one single day when we admitted 300 wounded soldiers to Mezze hospital, though most of them were only slightly injured."
He says the number of casualties has gone down in the last two or three months as the severity of the fighting has eased. But, as we entered his office, he pointed to two men who were just leaving, saying "they have just come to pick up the body of their brother."
Patients in the hospital are in one of the safest parts of Damascus and probably receive better treatment than anybody else injured in the Syrian war. General Haddad says there is no shortage of medicines or doctors. Even so, there is something deeply depressing in visiting the beds of young men whose bones have been shattered by bomb blasts and bullets. The recently wounded look as if they are still in shock from their gaunt faces and slightly fixed eyes.
Ali Ibrahim, aged 20, whose left leg had been badly shattered by a bomb blast, described how he and seven other soldiers had been fighting for control of a building in one Damascus suburb. He said: "When we reached the roof there was a bomb and we tried to defuse it, but it blew up and one of us was killed and all the others wounded."
The hospital receives the wounded from Damascus and everywhere to the south of the capital. Many of the injured had been hit by snipers or wounded in house-to-house fighting. I did not ask what religion they belonged to but from their names, it was clear there were a mixture of Sunni, Allawi and one Druze.
It is the figures for the dead in the civil war – currently put at 130,000 – that attract the most publicity. But it is the wounded whose injuries and disabilities shape their lives over many decades who may do more to determine people's attitudes to the conflict.
I asked to see an officer since all the others I had interviewed were private soldiers and I was taken to the room of Colonel Mohsin, a burly middle-aged moustachioed man who at first appeared to have only a leg injury.
He told me how he had been shot, three years after he retired, on 1 March 2012. He was walking to his car when he was surrounded by rebels who shot him seven times – four in the legs, twice in the back and once in the hand. I asked him if he had been carrying a gun: "I never did because I was running a small shop and we had some land so I did not think I was in any danger," he said. His wife, who was standing by his bed, said: "He is only alive because they left him for dead."
Leaving the hospital there was a sick-looking man with a metal crutch standing with the guards by the gate. They asked us if we would give him a lift back into the centre of the city. He said he had been shot in Adra, a much fought over city just north of Damascus. He said an operation to repair his leg had not gone well and added bitterly: "Now I am afraid I will be like this for the rest of my life."
Peace talks setback: Regime hits out at US aid
Talks between negotiators have broken off earlier than planned amid mutual accusations and the government's anger over the resumption of US aid to the opposition.
The fifth day of talks focused on the transfer of power and helping besieged parts of Homs city. But there has been little progress toward resolving a key issue of whether President Bashar al-Assad should step aside and transfer power to a transitional government.
UN-Arab League mediator Lakhdar Brahimi broke off the morning session after the opposition rejected a paper presented by the official Syrian delegation denouncing the resumption of US aid.
"We believe this is not the best present to the Geneva conference," said Faisal al-Mikdad, Syria's Deputy Foreign Minister, calling the US decision "another manifestation of US support for "terrorist groups".
"This proves again that the United States is not interested in the success of this process, and we believe the US has to desist and stop its claims that it is interested in the success of this conference," he told reporters.
AP
Register for free to continue reading
Registration is a free and easy way to support our truly independent journalism
By registering, you will also enjoy limited access to Premium articles, exclusive newsletters, commenting, and virtual events with our leading journalists
Already have an account? sign in
Register for free to continue reading
Registration is a free and easy way to support our truly independent journalism
By registering, you will also enjoy limited access to Premium articles, exclusive newsletters, commenting, and virtual events with our leading journalists
Already have an account? sign in
Join our new commenting forum
Join thought-provoking conversations, follow other Independent readers and see their replies