Syria crisis: Flow of refugees escaping civil war passes two million
Refugee agency special envoy Angelina Jolie says neighbouring country's 'could be brought to the point of collapse' if situation continues
Heather Saul
Tuesday 03 September 2013 06:48 Comments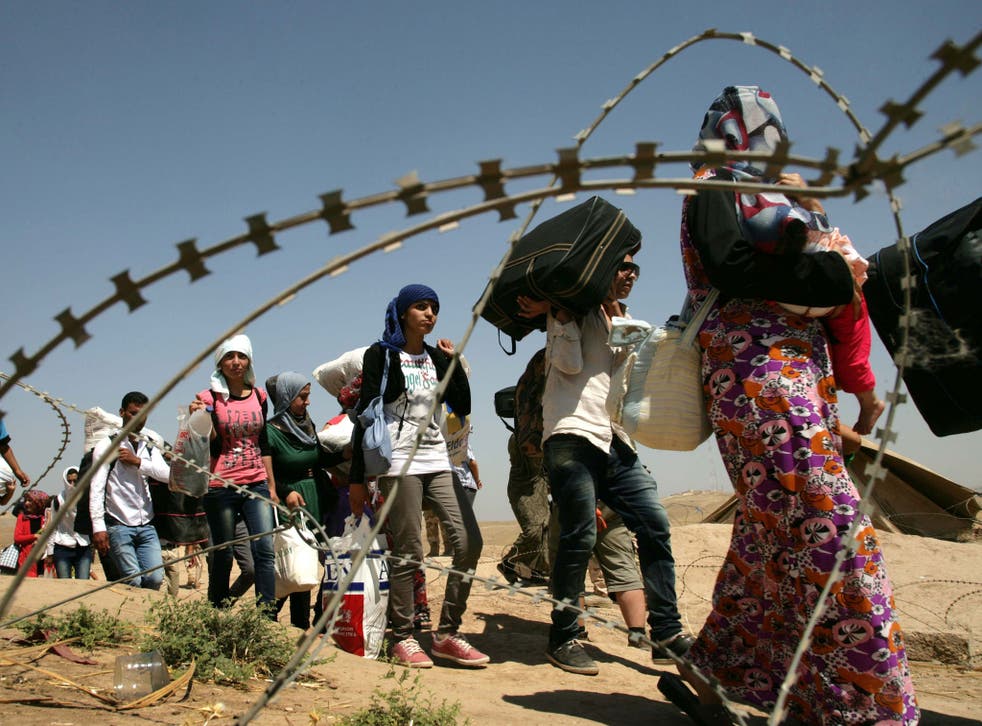 The UN refugee agency has said the number of refugees fleeing violence in Syria has now surpassed two million, marking a civil war that shows no sign of relenting.
Antonio Guterres, the head of the Office for the UN High Commissioner for Refugees, says Syria is hemorrhaging an average of almost 5,000 citizens a day across its borders, many of them crossing with little more than the clothes they are wearing.
The announcement comes as UN weapons inspectors continue to examine evidence and samples taken from the Syrian capital of Damascus following a suspected chemical attack. The US put the death toll following the attack as 1,429 dead, 426 of which are children.
As of the end of August, the UN agency recorded 716,000 refugees displaced in Lebanon, 515,000 in Jordan, 460,000 in Turkey, 168,000 in Iraq and 110,000 in Egypt. Over half of them were children, it said.
In a statement released today, Guterres said that nearly 1.8 million of the refugees have fled the area in the past 12 months alone.
He said Syria had developed into "a disgraceful humanitarian calamity with suffering and displacement unparalleled in recent history," adding that "the only solace is the humanity shown by the neighbouring countries in welcoming and saving the lives of so many refugees."
The agency said that countries surrounding the region were hosting 97 per cent of Syria's refugees, placing huge strain on their economies and infrastructures.
Another 4.25 million people have been displaced within Syria, according to the UN Office for the Coordination of Humanitarian Affairs.
Angelina Jolie, special envoy for the agency stressed that "some neighboring countries could be brought to the point of collapse" if the situation keeps deteriorating at its current pace.
She said "the world risks being dangerously complacent about the Syrian humanitarian disaster", according to the UN.
"The tide of human suffering unleashed by the conflict has catastrophic implications", she warned.
Guterres said the speed at which the number of refugees has surged is particularly alarming, with 1.8 million people becoming displaced in just 12 months — up from almost 231,000 a year ago.
"Syria has become the great tragedy of this century," Guterres said of the civil war. "The only solace is the humanity shown by the neighboring countries in welcoming and saving the lives of so many refugees."
The Syrian conflict began in response to Assad's regime March 2011.
Additional reporting by agencies
Register for free to continue reading
Registration is a free and easy way to support our truly independent journalism
By registering, you will also enjoy limited access to Premium articles, exclusive newsletters, commenting, and virtual events with our leading journalists
Already have an account? sign in
Register for free to continue reading
Registration is a free and easy way to support our truly independent journalism
By registering, you will also enjoy limited access to Premium articles, exclusive newsletters, commenting, and virtual events with our leading journalists
Already have an account? sign in
Join our new commenting forum
Join thought-provoking conversations, follow other Independent readers and see their replies