Syria crisis: The picture that shows the true extent of the humanitarian crisis inside Palestinian refugee camp Yarmouk
Pictures show "apocalyptic scenes" inside camp left devastated by eight-month siege as thousands queue for aid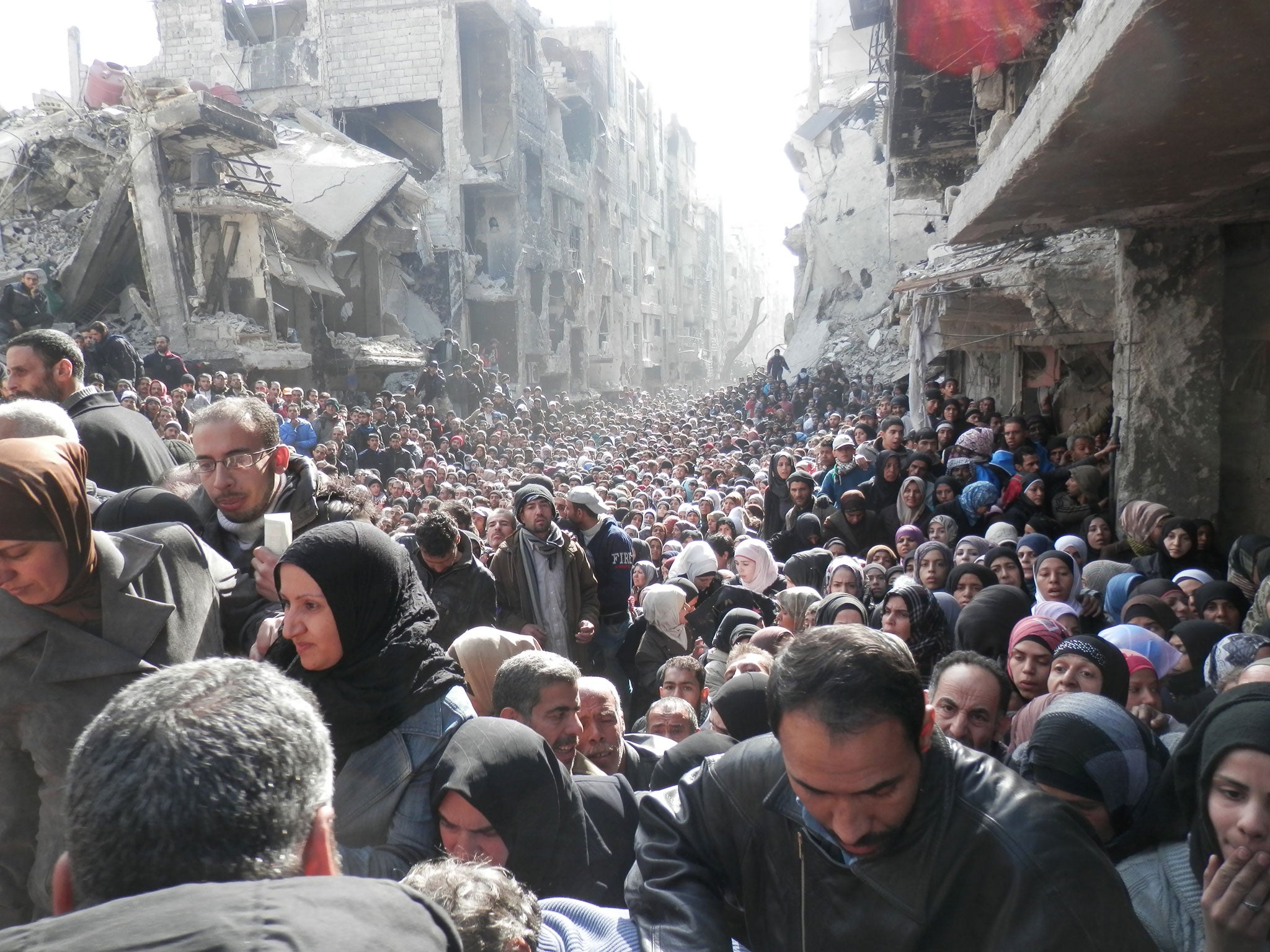 A picture showing thousands of refugees queueing for aid has emerged exposing the shocking conditions endured by 20,000 people trapped inside a devastated Palestinian camp in Syria.
Scenes from inside Yarmouk camp, which is situated south of the capital Damacus, were today described as "apocalyptic" by the UN's Relief and Works Agency (UNRWA) with images showing thousands of refugees surrounded by the shells of blackened buildings and mounds of rubble.
The UNRWA's Commissioner General, Filippo Grandi, said he was left "shaken and deeply disturbed" by the conditions he witnessed when humanitarian aid distribution began again on Monday morning. UNRWA distribution of food parcels and medical supplies had been suspended following clashes in northern Yarmouk on 7 February.
"The Palestine refugees with whom I spoke were traumatised by what they have lived through, and many were in evident need of immediate support, particularly food and medical treatment", Mr Grandi said.
In pictures: Syria's escalating refugee crisis
Show all 20
An agreement between Syrian rebel groups and government forces working with Palestinian factions has allowed the UNRWA to distribute some supplies of food and medicine since January, but the UN has to fight daily to deliver aid, meaning deliveries are sporadic.
Mr Grandi's visit came just days after the UN Security Council passed a landmark resolution demanding an end to restrictions on humanitarian operations in Syria.
Yarmouk has been under siege for almost a year. Most of its 160,000 strong population fled following violent clashes in December 2012, but at least 20,000 have remained and are forced to subsist on a diet of animal food, water with salt and leaves.
Months of encirclement by the Syrian army has left Yarmouk cut off from supplies and medical aid, resulting in a cute and widespread deprivation, including severe malnutrition, while civilian residents are constantly exposed to the threat of death, injuries and trauma of the armed conflict.
An Independent report found women were being shot at by snipers as they try to gather plants to feed their children, and at least 50 people have died from hunger-related causes since October.
Christopher Gunness, a spokesperson for the UNRWA, said it is impossible not to be touched by the "apocalyptic scenes" emerging from inside Yarmouk. "The images are at once epic and personal," he said.
"Row upon row of gaunt faces, serried ranks of grimy, raged figures; the delicate, hunger-ravaged features of children waiting in line for an UNRWA food parcel; the face of a mother creased in grief for a deceased child; tears of joy as a father is reunited with a long-lost daughter; these are the vignettes of inhumanity that have become the regular fare of nightly news bulletins. They are UNRWA's daily reality."
Join our commenting forum
Join thought-provoking conversations, follow other Independent readers and see their replies