Syria gas attack: Victims' bodies show evidence 'two chemical weapons used'
Doctors Without Borders says nerve agent sarin gas was used in deadly Khan Sheikhoun incident as UN urges Russian representative not to veto sanctions on those responsible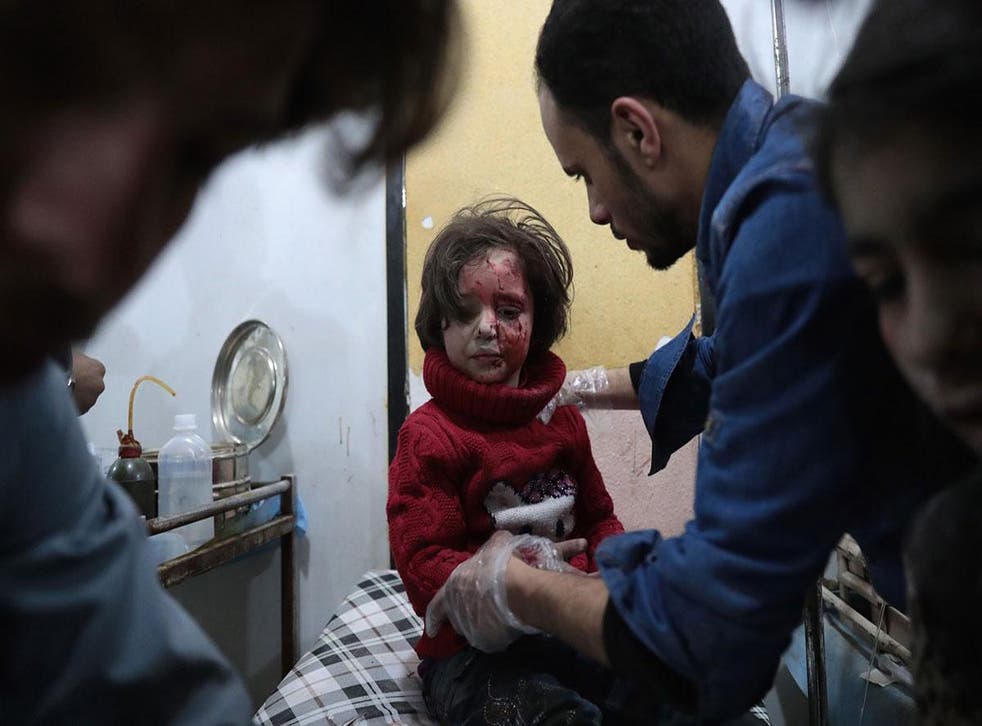 Medical charity Doctors Without Borders (Medecins sans Frontieres) has said that the Syrian victims of an alleged chemical attack in rebel-held Khan Sheikhoun may have been exposed to nerve agents as well as suspected chlorine gas, as calls for the perpetrators of what is thought to be one of the worst uses of chemical weapons in the Syrian civil war to date to be brought to justice grow.
At least 52 adults and 20 children were killed in the attack in Idlib province on Tuesday morning in what United Nations Secretary General Antonio Guterres said showed "war crimes are going on in Syria (and that) international humanitarian law is being violated frequently."
There were so many victims local hospitals were overwhelmed, witnesses on the ground said. One nearby hospital was also hit by an air strike as it struggled to deal with the flow of patients, as video footage captured by a local activist showed.
Guterres on Syria chemical attack: 'International humanitarian law remains being violated'
Some of the dead, including children, showed no visible injuries, indicating the gas had killed them in their beds, said Mouin Abed al-Menem, a doctor who treated several victims.
A White Helmets civil rescue service volunteer who did not want to be named told The Independent he was woken up by the early morning attacks and arrived at the scene to find colleagues suffering from the effects of the gas.
"There were people shivering all around, suffocating, they had froth from the mouth," he said, adding that he and his colleagues worked until they could no longer see or breathe to remove people from the affected areas.
Some of the dead in Khan Sheikhoun had symptoms of exposure to sarin gas, the charity said in a statement on Thursday.
Sarin is a colour and odourless nerve agent which causes convulsions, suffocation, vomiting, dilated pupils, coughing blood and foaming at the mouth if inhaled, and is deadly in highly concentrated enough volumes or after prolonged exposure.
MSF said its medical teams reported the smell of bleach at a couple of hospitals, suggesting they were exposed to chlorine gas.
The organisation said the reports "strongly suggest that victims... were exposed to at least two different chemical agents."
Syria's rebel groups and the international community have been quick to condemn the Syrian government for the attack, which both Damascus and its allies in Moscow have denied carrying out.
President Bashar al-Assad's government gave up 1,300 tonnes of chemical weapons stocks to the Organisation for the Prohibition of Chemical Weapons (OPCW) after sarin gas attacks in 2013 which killed hundreds in Ghouta, a rebel-held Damascus suburb.
Several UN investigations did not explicitly name perpetrators, but concluded that the weapons used matched those in the Syrian government's arsenal. French intelligence reports found that the Ghouta attack "could not have been ordered and carried out by anyone but the Syrian government."
In Pictures: The crisis unfolding in Syria

Show all 30
While former US President Barack Obama memorably called chemical weapons use in Syria a 'red line', rebel officials have long accused Mr Assad of holding back some chemical stocks from the OPCW removal and destruction of its arsenal.
Dozens of chemical attacks have occurred across Syria since then, the UK-based Syrian Observatory for Human Rights reports, While most are thought to have been carried out by the regime, Isis has also created and used basic chemical weapons on civilians.
The UN Security Council met on Wednesday for emergency talks on the situation in Syria, where US ambassador Nikki Haley accused Russia of closing its eyes to the "barbarity" of previous attacks by vetoing a resolution in late February that would have imposed sanctions on those responsible.
Russia's deputy UN ambassador, Vladimir Safronkov, opposed Wednesday's draft resolution, saying it was based on information from "discredited" groups.
Join our new commenting forum
Join thought-provoking conversations, follow other Independent readers and see their replies