Syria blames France for nerve gas attack in Gouta that almost took Britain to war
The atrocity killed hundreds of civilians in Ghouta, sparking a vote on military intervention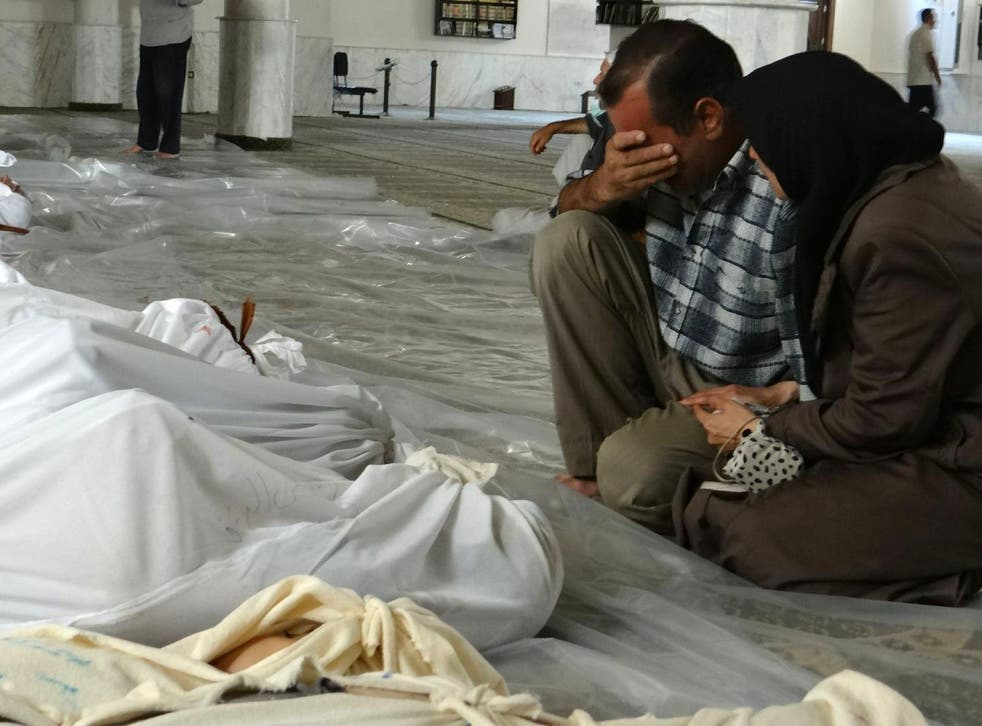 The Syrian regime has claimed that a chemical attack that killed hundreds of civilians and almost took Britain to war was orchestrated by French intelligence agencies, as Bashar al-Assad's government continues to deny allegations of war crimes.
Appearing during a heated session of the UN Security Council on the Syrian civil war, Dr Bashar al-Jaafari hit out at several members of the US-led coalition.
Discussing the sarin gas attack that killed hundreds of people in the Damascus suburb of Ghouta on 21 August 2013, he inferred the atrocity was part of a plot to divert UN weapons inspectors from another incident blamed on rebels.
Warning: This video contains graphic and disturbing footage
"The use of chemical weapons in the Damascus area was meant to prevent from Dr Åke Sellström from going to Aleppo because [France] knew who had used chemical weapons in Aleppo," Mr al-Jaafari, Syria' permanent representative to the United Nations, said.
"They wanted to prevent Dr Sellström from reaching Aleppo by any means and therefore they used chemical weapons in Damascus with the involvement of French intelligence."
The attack intensified global calls for action against the Assad regime, with the House of Commons narrowly voting against military intervention in Syria little over a week later.
France's representative to the Security Council, François Delattre, described the allegations as "absurd".
"I'm not going to revisit all the derisory and grotesque things voiced by the representative of Syria," he said, repeating calls for ceasefires to allow humanitarian access.
A UN inspection found that rockets loaded with the deadly nerve agent sarin were fired on rebel-held areas of Ghouta on the morning of 21 August in the "most significant confirmed use of chemical weapons against civilians since Saddam Hussein used them" in Halabja in 1988.
Harrowing footage showed men, women and children vomiting and frothing at the mouth, with graphic images showing scores of bodies laid out on the floors of clinics and mosques.
There was no confirmed death toll from the attack, with the Doctors Without Borders charity (MSF) saying at least 355 people died out of 3,600 with neurotoxic symptoms, while the Syrian Observatory for Human Rights put the toll at 500 and opposition estimates ranged up to 1,300.
The atrocity provoked global outrage as violence in the Syrian civil war continued to intensify, with suspicion quickly turning to the Assad regime as UN footage showed rockets identified as Soviet-era munitions used by government forces.
Countries including the US, Canada and France vowed a "firm response", while Britain was quickly on the verge of launching military intervention against the Assad regime.
David Cameron narrowly lost a vote in the House of Commons to take unspecified military action to "deter further use of Syrian chemical weapons" eight days after the massacre.
The Syrian government has persistently denied responsibility for a number of chemical attacks, including the repeated use of chlorine gas, while seeking to blame opposition groups and Isis.
Mr al-Jaafari responded to concern over civilian deaths and the humanitarian situation in besieged areas by hitting out at other parties in the conflict at the Security Council meeting.
After accusing the US-led coalition of killing hundreds of people in its air campaign, he said a "terrorist war" had been "imposed" on Syria making no mention of Arab Spring protests and subsequent crackdown.
"No one in the world will care more for the lives of those civilians or feel their pain more than us," Mr al-Jaafari told the meeting on Monday.
The diplomat also denied that Syrian forces were responsible for an air strike in Aleppo that injured Omran Daqneesh and killed his brother alongside five other children.
Footage of Omran sitting dazed in the back of an ambulance, covered in dust and blood after being pulled from the rubble of his family home, reignited demands for an immediate ceasefire.
Matthew Rycroft, Britain's permanent representative to the United Nations, said the little boy had "become the human face of the Syrian conflict for millions around the world".
In pictures: Syria surrenders a third of chemical weapons

Show all 15
Calling for 48 hour ceasefires and an end to indiscriminate attacks by all parties in the conflict, he condemned the "abhorrent" use of chemical weapons by the Syrian regime, Isis and rebels.
"Over half a year after the destruction of Syria's declared chemical weapons stockpile, reports now suggest that there is a resurgence of chlorine gas attacks in Idlib and in Aleppo," he added.
"Is there a more sickening way to mark the third anniversary of the gas attack in Ghouta?"
Stephen O'Brien, the UN's Under-Secretary-General for Humanitarian Affairs, told delegates he was "very angry" at the current situation, with hundreds of thousands of people dead and millions trapped or displaced.
"This callous carnage that is Syria has long since moved from the cynical, to the sinful," he said.
"So please: now is the moment, this instant, to put differences aside, come together as one, and stop this humanitarian shame upon us all, once and for all."
Join our new commenting forum
Join thought-provoking conversations, follow other Independent readers and see their replies