Syria: Rebel shelling 'kills 28 civilians' in Aleppo
Six children and eight women were among those killed in two of the capital's government-controlled neighbourhoods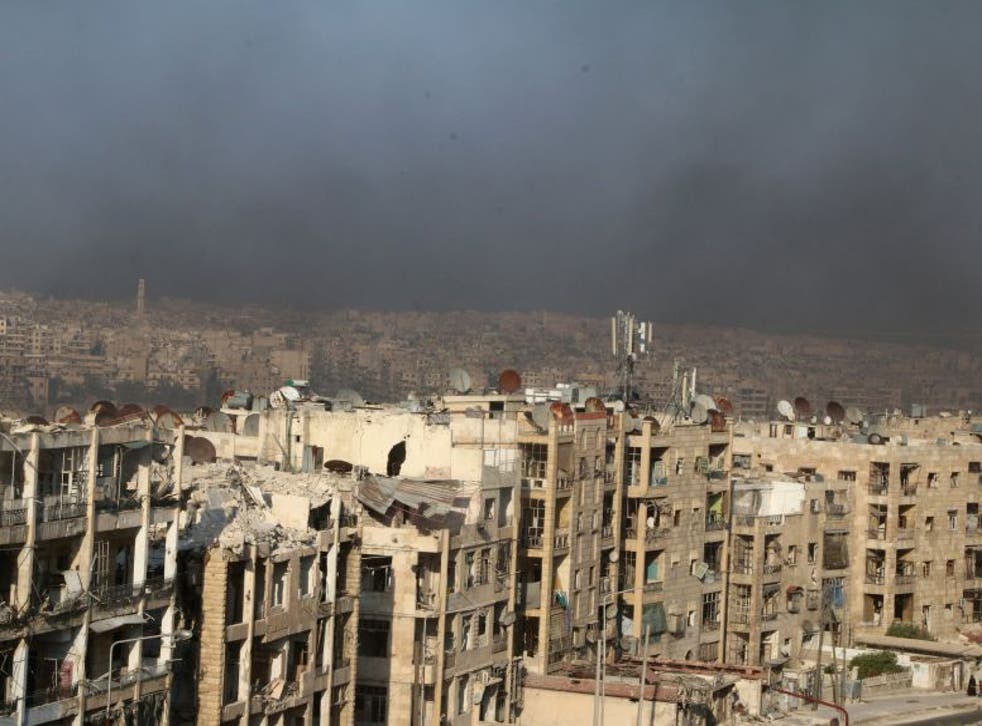 At least 28 civilians have been killed in shelling fired by Syrian rebels over the last 24 hours in south-western districts of the country's besieged capital Aleppo, a monitor has said.
Rami Abdel Rahman, head of the Syrian Observatory for Human Rights, said six children and eight women were among those killed in two of the capital's government-controlled neighbourhoods.
Dozens of people were also wounded, Mr Rahman told AFP.
Syrian state news agency, SANA, said 20 civilians had been killed and dozens wounded since Sunday in shelling, rocket fire and sniper attacks in government-held neighbourhoods.
It said nine people, including three children, were killed on Monday and 11 people died in attacks on Sunday.
Earlier on Monday, a Syrian military official claimed that government forces repelled an attack by insurgents that was an attempt to break the siege imposed on rebel-held parts of the northern city of Aleppo.
The development came a day after Syrian rebels launched the offensive to break up the government's siege of the eastern, rebel-held part of the city.
Syrian children hold Pokemon Go pictures in the hope people will find them and save them

Show all 13
Opposition activists said intense fighting was still on-going in Aleppo on Monday.
Aleppo city has been divided between government control in the west and rebel control in the east since 2012.
In recent weeks, government forces have encircled the east, sparking concerns of a humanitarian crisis for the people under siege there.
The UN estimates some 300,000 people are still trapped in the rebel section of Aleppo, with dwindling food and medical supplies.
The UN's special envoy to Syria, Staffan de Mistura, warned on Friday that basic supplies in eastern Aleppo could run out in three weeks.
On Monday, a Russian helicopter with five people on board was shot down in Syria while carrying humanitarian supplies to Aleppo.
Three crew and two officers were returning to Khmeimim base in Idlib province when the helicopter was brought down by ground fire.
It is the deadliest single incident for the Russian military since its entrance into Syria's civil war. It is currently unknown which group brought the aircraft down.
Last week, Moscow announced the opening of "humanitarian corridors" from the east into government territory for civilians and surrendering rebels.
Join our new commenting forum
Join thought-provoking conversations, follow other Independent readers and see their replies