Syrian rebels facing 'death or surrender' in Aleppo after heavy bombing
Rebel group warns conflict will end 'in a tragic way' without foreign intervention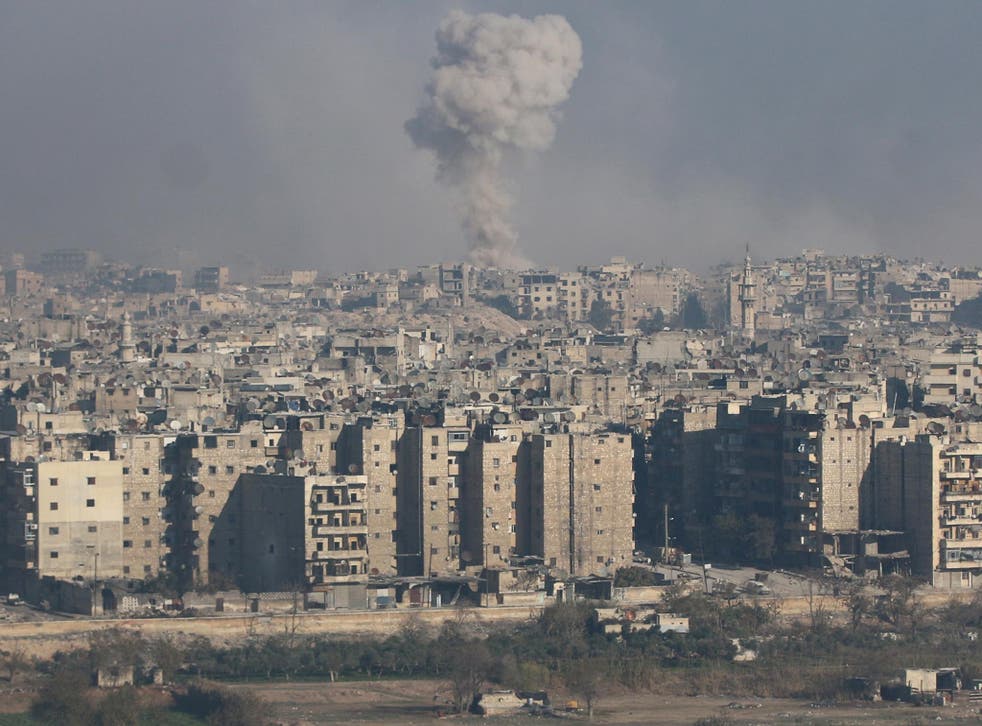 Syrian rebels in Aleppo have been forced back and restricted to a small area of the city after a series of heavy strikes from pro-government forces, according to a rebel group.
The conflict in the war-torn city in northern Syria will end "in a tragic way" without intervention from foreign nations, and rebels imminently face a "death or surrender" situation, an official from the Jabha Shamiya group said.
He claimed rebels in Aleppo had not received any news about meetings between the US and Russia to resolve the crisis, which has left the city almost "completely destroyed". He said rebel areas remained full of civilians, many of them unable to escape the conflict.
Syrian government forces have reclaimed large rebel-held areas of the city and have reportedly used chemical weapons to clear out fighters, forcing tens of thousands of people to flee.
Last week, the Syrian army successfully reclaimed the entirety of Aleppo's historic city centre, after months of fighting.
Rebel leaders continue to say they will not give up the city, although they have relinquished almost two-thirds of their territory since the government's assault intensified a fortnight ago.
Officials from the US, UK, Germany and other nations met with the Syrian opposition in Paris on Sunday for fresh talks aimed at ending the conflict.
Foreign minister Boris Johnson accused Bashar Assad's regime of a "flagrant disregard for human life" in its treatment of Aleppo.
In pictures: Aleppo bombing

Show all 14
"The situation in Aleppo remains dire with desperate images of destruction and a flagrant disregard for human life being splashed across the media on a daily basis," Mr Johnson said.
"We agreed our first priority must be the protection of civilians and ensuring access for humanitarian aid. It's essential that the regime and its backers provide the United Nations that access with immediate effect."
Last week, Aleppo council president Brita Haji Hassan said an estimated 800 people have been killed in eastern Aleppo in the past month.
Additional reporting by Reuters
Register for free to continue reading
Registration is a free and easy way to support our truly independent journalism
By registering, you will also enjoy limited access to Premium articles, exclusive newsletters, commenting, and virtual events with our leading journalists
Already have an account? sign in
Register for free to continue reading
Registration is a free and easy way to support our truly independent journalism
By registering, you will also enjoy limited access to Premium articles, exclusive newsletters, commenting, and virtual events with our leading journalists
Already have an account? sign in
Join our new commenting forum
Join thought-provoking conversations, follow other Independent readers and see their replies