Syria refugee crisis: 'How can you build a life on a foundation like this?'
The married couple; the patriarch; the mother; the worker;the child. Kevin Sullivan meets those who have fled the conflict in Syria and hears their stories that tell of a growing refugee crisis
Monday 16 December 2013 21:33 Comments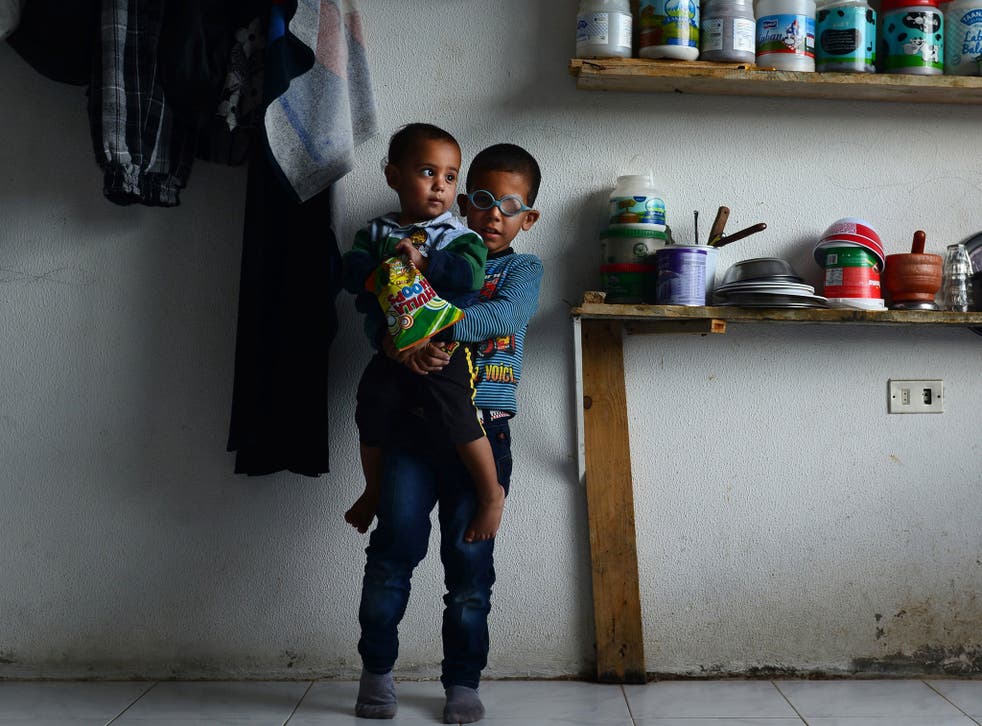 Youssef Ahmed Mohammad and Samah al-Saud
Youssef Ahmed Mohammad saw her in the market, a rare breath of beauty amid the misery of refugee life. Someone said she was from his village back in Syria, which he had fled four months earlier. But he had never seen her before, so he asked his mother to investigate.
Now, two months later, here he is, a groom, a skinny 23-year-old dressed in a black suit and purple tie. He is knocking on the rusty metal door of his bride's home, which used to be a public latrine and where the beauty from the market is now primping herself for her wedding.
Shortly after 2.30pm, Samah al-Saud, 24, emerges in a white satin dress. Friends and neighbours crowd in as she and her groom get into the old, blue Opel taxi, the only car amid the refugee tents and trailers.
It's tradition to have a small convoy of cars accompany the bride and groom to their wedding. But here in Zaatari, the old taxi is the only car available. The car reaches the camp's main drag, known as the Champs-Élysées, where the necessities and luxuries of camp life are for sale: propane stoves, vegetables and television sets.
Music is blasting as they step out of the taxi. Young men dance in the dirt next to open pits filled with rubbish. No religious or civil authority formalises their union, one of many in which the two families simply get an elder to agree that the ceremony is proper. That saves money, time and paperwork, but ensures the wedding is not official. None of that matters to Mohammad.
"I am happy to be married," he says. "This is my temporary home, and it is fine. But I will only be happy in my village."
He says he and his bride will hold off on children, at least for now. "I don't want to bring children into this life," he says. "It's better to die without children in Syria than it is to bring children into the world as refugees.
Abdul Rahman Ahmed
He was born into the Ottoman Empire. By his count, Ahmed has had six wives, nine children, more than 100 grandchildren and at least 150 great-grandchildren.
"After that I'm not sure – I don't keep in touch with them all," he says, laughing.
Ahmed lived for most of his life in the Syrian village of Elmah, where he was a farmhand tending wheat, lentils, chickpeas and watermelons. Then the war came, and his house was destroyed by bombs. Now he lives in a 20ft trailer among 120,000 other Syrians crammed into the sprawling chaos of the Zaatari refugee camp in northern Jordan. Most elderly refugees worry about doctors and healthcare and spend a lot of time at the camp's medical clinics. Not Ahmed. He feels great. He says he has never been to a doctor in his life. "God will take care of me," he says.
Ahmed's white beard is stained yellow from the cigarettes he is constantly puffing. He says he smokes three packs a day; Manchester Lights sitting in front of him on the pad on the floor where he spends his days and nights, wrapped up in grey blankets.
"When you leave your country it's hard," he says. "It's OK here, but I lived in Syria for 104 years. My whole life in the same village. If I have to die in Jordan, I will die in Jordan... [but] right now I'd like to pick up a gun and join the Free Syrian Army."
Fathiya Ahmed
It's a big rat that must weigh a couple of pounds. It darts between the rocks next to where Fathiya Ahmed's grandchildren are playing. The kids squeal with delight and use sticks to prod it into the open. To them he's not exactly a pet, but certainly a bit of entertainment.
Rats, heat, cold, rain, mud, hunger. It's what Ahmed's new life looks like in Gaziantep, an industrial Turkish city near the Syrian border.
"We feel sad that we have to live like this," says Ahmed, 45, who sleeps, cooks and bathes in a 12ft-by-12ft room with four daughters and two sons. "We left our house behind. We left our life. Whatever it was, it was better than here."
Back in Aleppo, before the war, life was clean and safe. Ahmed's husband was a taxi driver, and he earned enough to buy a decent apartment. Then in January a bomb exploded near their house. Ahmed's husband was killed by the shrapnel.
The family buried him in Aleppo, then decided to join the exodus to Turkey. They left in a huge group – Ahmed and all six of her children, who range in age from seven to 30, plus two grandchildren. They hitched a ride in the back of a truck, then walked the final hour to the border.
Their place has four rooms, set around a courtyard of dirt and gravel. Clothes hang from lines. They have no chairs; everyone sits on the ground or on a rock. "We need to go back to our home country. But we have to be sure it is really safe," says Ahmed. "If we go there now, we will go to our death."
Mohammad and Ahmed al-Khalid
Ahmed al-Khalid lost his left eye to cancer before his first birthday. He's now nearly two, and his mother is terrified that he is going to lose the other one. They fled Homs a year and a half ago. Now they live in northern Lebanon, along with 1,000 other refugees who have sought shelter in shops that were built for selling clothes and shoes.
Ahmed was three months old when a Syrian doctor diagnosed cancer, removed his left eye and replaced it with a prosthetic. Around the same time, the family was forced to flee to Lebanon, where doctors said the boy needed chemotherapy. The cancer was in both eyes.
His mother says Lebanese doctors told her the chemotherapy would cost about $11,000 – an impossible sum. So she decided to risk the journey and take Ahmed to Damascus, where his treatment would be covered. Ironically, the same government that bombed their home still provides free healthcare – although many doctors have fled, 40 per cent of hospitals have been destroyed and drugs are scarce.
Abeer says the trips were dangerous, but she didn't see any other option. Without treatment, the cancer would have killed Ahmed. "I would do anything for my children," she says.
Doctors in Lebanon say Ahmed has been stable for several months, but he is still getting regular laser treatments in Beirut for his right eye. Abeer says those treatments cost $66 each, which is being paid by a Lebanese charity. But she says just getting to the hospital, more than an hour's drive away, is an expense she can barely afford. Ahmed's father has a job helping to clean the abandoned shopping mall where they live. He is supposed to be paid about $260 a month, but even when he is paid, rent for their room is $225 . And now Ahmed's older brother, Mohammad, who is almost four, has eye cancer, too.
Mouneer Kalthoum
He sits at a sewing machine in a basement workshop, stitching together pieces of green fabric. Eleven hours a day, he and 20 other Syrian refugees push acres of cloth through the clattering machines. Until the government bombs destroyed his house in Aleppo, Kalthoum built schools and hospitals. He employed 80 people and brought home about $60,000 a year.
Now Kalthoum earns $350 a month – and pays $300 of that in rent for the three-room apartment he and his wife and four children share with his sister's family, 11 people in total.
He is 34, but his sideburns and his hair are tinged with grey. "After two years of this, I look older," he says, pulling on a cigarette.
Kalthoum arrived in January. His wife was eight months pregnant, so she and their three children went to stay with other relatives in Latakia. Kalthoum went ahead to Turkey to try to build the family a new life. He hitched a ride to the border in a car with rebel fighters, then made the 15-hour bus ride to Istanbul.
He had about $2,000 in cash in his pocket, but the rest of his money is in a bank account that he cannot reach. "It's true I lost everything, but I can compensate by hard work," he says. "We want to show the Turks that we are here not just to take their money."
Many of the Syrian men who work here have university degrees. Kalthoum studied electrical engineering in school. "My life doesn't exist any more," he says. "My future is lost, but I am worried about my children's future. I feel like I can do nothing for them."
(c) Washington Post
Pictures by Linda Davidson/Washington Post
Register for free to continue reading
Registration is a free and easy way to support our truly independent journalism
By registering, you will also enjoy limited access to Premium articles, exclusive newsletters, commenting, and virtual events with our leading journalists
Already have an account? sign in
Join our new commenting forum
Join thought-provoking conversations, follow other Independent readers and see their replies