Syrian regime accused of escalating use of chemical weapons on rebels
Human Rights Watch says Assad government is increasing its use of banned chemical agents such as sarin and chlorine on opposition strongholds throughout the country 
Tuesday 02 May 2017 15:34 Comments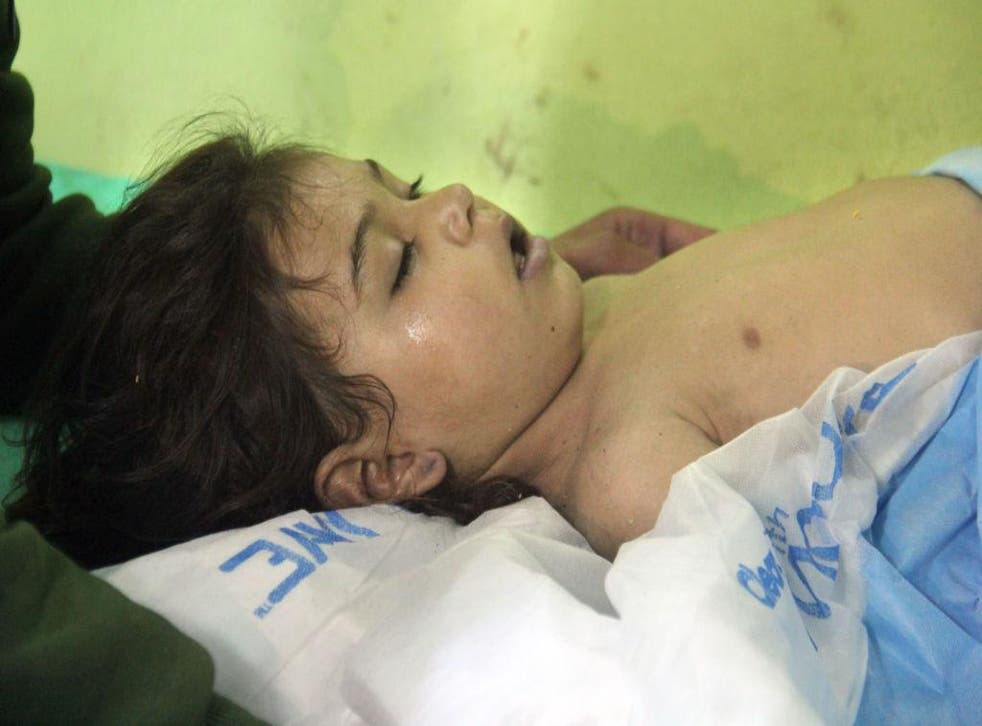 Syrian President Bashar al-Assad has used nerve agents and chlorine gas on rebel targets at least four times in the last six months, a new report from Human Rights Watch says.
Pictures and video of children choking on what is believed to be deadly sarin gas - a toxin that attacks the nervous system - in the village of Khan Sheikhoun last month caused outrage around the world. More than 80 people were killed in the incident, which several international agencies believe was a deliberate attack carried out by the Syrian regime.
Damascus and its allies in Moscow maintain that the 4 April casualties were caused when a conventional air strike on an al-Qaeda weapons depot nearby caused an explosion, releasing the deadly gases. The claim has been debunked by war monitors.
UK 'could bypass Commons vote' to join US military action in Syria
"The [Syrian] government's recent use of nerve agents is a deadly escalation – and part of a clear pattern," Kenneth Roth, Human Rights Watch's executive director, said in a news conference.
A 48-page-report from the rights watchdog released on Tuesday also blames the Assad government for deaths in several more incidents in rebel territory since October 2016.
The government has dropped nerve agents on another three occasions since 12 December, and chlorine bombs dropped by helicopters or launched by ground munitions are now "widespread and systematic."
"In at least some of the attacks, the intention appears to have been to inflict severe suffering on the civilian population, which would amount to crimes against humanity," the report reads.
The Syrian government surrendered its chemical arsenal to an international watchdog after the deaths of hundreds due to a sarin attack in a rebel-held suburb of Damascus in 2013, although the opposition has long accused the regime of holding back some of its supply and manufacturing new agents on a small scale.
In Pictures: The crisis unfolding in Syria

Show all 30
The Organisation for the Prohibition of Chemical Weapons (OPCW) has said it believes Mr Assad's government is responsible for at least two chemical weapons attacks that have occurred in Syria since then - claims the president also denies.
Last month Russia's representative to the United Nations vetoed a Security Council resolution which would have recommended an immediate international investigation into the Khan Sheikhoun attack.
In his only interview since the chemical incident, Mr Assad said any investigation would have to be impartial, adding: "When we make sure that unbiased countries will participate in this delegation in order to make sure that they won't use it for politicised purposes.
Register for free to continue reading
Registration is a free and easy way to support our truly independent journalism
By registering, you will also enjoy limited access to Premium articles, exclusive newsletters, commenting, and virtual events with our leading journalists
Already have an account? sign in
Join our new commenting forum
Join thought-provoking conversations, follow other Independent readers and see their replies