'Like a coffin': Syrian sailor stuck on ship alone for years finally granted freedom
Mohammad Aisha prevented from leaving vessel without power and covered in insects and rodents since 2017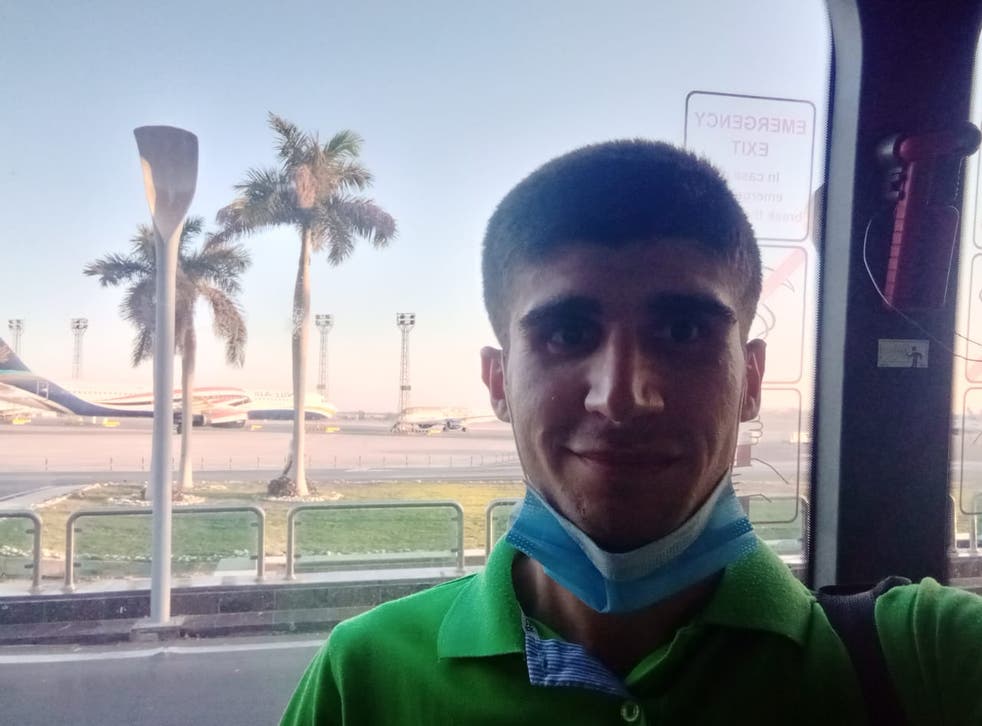 Leer en Español
A Syrian man who was stuck on an abandoned ship in the Suez Canal for four years – two of those on his own – has been allowed to leave the "floating prison" and return home.
Mohammad Aisha's ordeal started in 2017 when the Bharani-flagged MV Aman ship he had served on as chief officer for just two months was detained by Egyptian authorities due to expired safety equipment certificates.
After the owner got into financial difficulties and with the captain already onshore, an Egyptian court designated Mr Aisha the vessel's "legal guardian", preventing him from leaving until the ship was sold or a replacement guardian was found.
The remaining crew left in 2019, making Mr Aisha the sole occupant – bar the occasional visiting guard – onboard a vessel that had no power and was said to be infested with insects and rodents. He learnt of his mother's death while stuck onboard and was forced to live there indefinitely while the vessel waited to be sold.
Last year the Aman was blown off its anchorage in a storm and ran aground close to the shoreline, allowing him to swim across to buy supplies and charge his phone.
"No-one is providing me with fresh water, provisions or diesel oil. I have had to swim to shore every few days to get food and water and to charge my phone," Mr Aisha said at the time. "These days, getting to shore is endangering my life because of the cold and my bad health (I almost drowned several times)."
The breakthrough came this month when the International Transport Workers' Federation (ITF), the global union federation for seafarers, offered to the Egyptian court to have one of its representatives in the country take Mr Aisha's place and become the legal guardian of the vessel.
The ITF described his case as a "one-man humanitarian crisis trapped by circumstance in a prison-like situation" and said the "silence from Egyptian officials" for several years suggested they were "content to leave Aisha rotting on the MV Aman indefinitely".
Mr Aisha has now obtained the travel paperwork, undertook a Covid test and was able to return to his family in Syria last week.
"Finally!!! After 4 years, At home and with the Family again," he tweeted alongside a photo showing the welcome party at his home in the Mediteranean city of Tartous.
Speaking to the BBC and Canada's CBC about his experience, he said: "You can't see anything. You can't hear anything. It's like you're in a coffin.
"I seriously considered ending my life.
"That time alone on board the ship had caused me permanent ... psychological and mental damage that I don't think it will ever be repaired. We are not meant to be alone … That's how you drive people crazy.
"If you, let's say, tripped and fell, if you had some incident, no one would know. You will die all alone, and maybe it will take them months to realise that you're dead or injured there.
"It's not only loneliness, it's mandatory loneliness combined with desperation ... It will make you suicidal. So I don't wish that on anyone."
Mohamed Arrachedi, ITF's Arab World coordinator, said: "So much has changed in the last four years. Mohammad's home in Syria could be unrecognisable.
"Some of his family died years ago. The delays mean he will never see his mother again, and that is terribly sad. Mohammad has lost four years of his life."
Mr Aisha's case is similar to that of Turkish captain Vehbi Kara, who was trapped onboard the MV Mete in the Suez Canal port of Adabiya for eight months.
The Panamanian-flagged MV Kenan Mete has been held since June 2020. All but one of the ship's 25 crew were released by January, but Mr Kara remained on board.
In emails sent in February after the emergency generator on board failed, plunging the ship into darkness, Mr Kara said: "This may be the last message, I write ... There is no electricity, water or food on board."
Egyptian authorities said the captain had to stay until the ship's agent assigned another master via the courts. Later that month, he was permitted to disembark the ship but had to remain in a nearby hotel.
"The current situation condemns Captain Kara to remain in Egypt, with no income, unpaid and awaiting until the sale of this ship," said ITF's Mr Arrachedi.
"It is not fair and breaches his basic and elemental seafarer rights. We hope that resolving this is dealt with as a matter of priority."
Join our new commenting forum
Join thought-provoking conversations, follow other Independent readers and see their replies