Syria: Turkey accuses Russia of acting like 'terrorist organisation' with hospital bombings as ceasefire hopes fade
Bashar al-Assad said a planned 'cessation of hostilities' would not be carried out by regime forces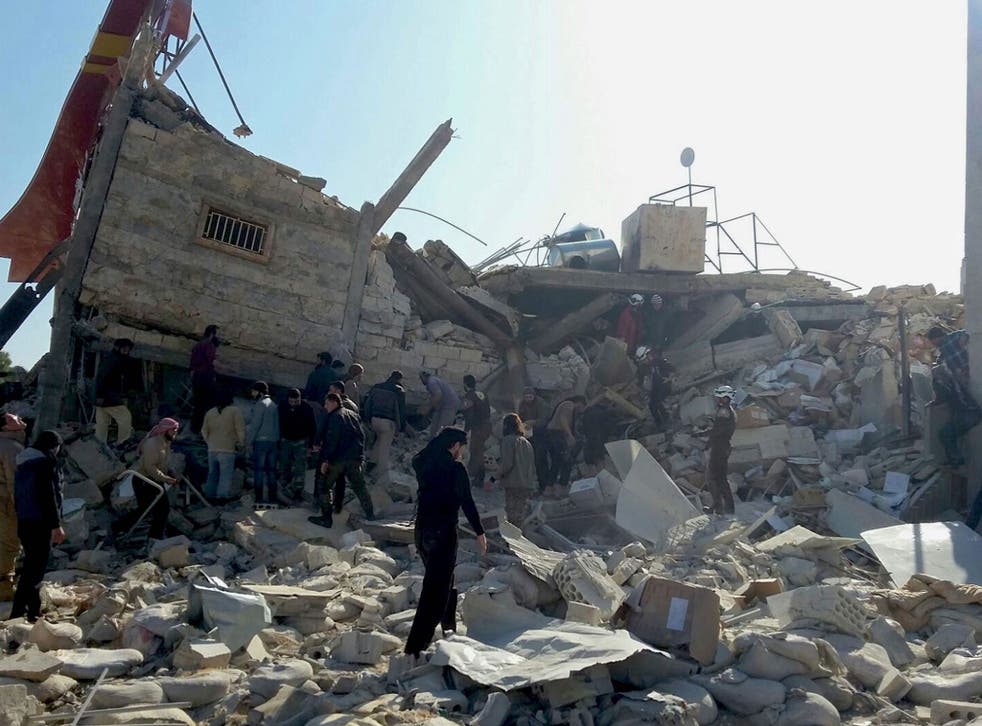 Turkey has accused Russia of acting "like a terrorist organisation" and perpetrating war crimes in its support of Bashar al-Assad as hopes for a ceasefire fade.
After vowing to take the whole of Syria back by force, the President spoke on state television to say the "cessation of hostilities" agreed in Munich would not stop the regime's offensive against rebels.
"Regarding a ceasefire, a halt to operations, if it happened, it doesn't mean that each party will stop using weapons," Assad said in comments televised on Monday.
Alleged bombing of Syrian hospital
"A ceasefire means in the first place halting the terrorists from strengthening their positions.
"Movement of weapons, equipment or terrorists, or fortification of positions, will not be allowed."
Reinforcing the government's definition of a "terrorist" as anyone fighting against it, regardless of ideology, the Syrian President said there could be no ceasefire "without a goal" and the requisite conditions could not be met within the set timeframe of a week.
His comments were reflected by the Russian Prime Minister, who defended his country's actions in an interview with Time magazine by saying rebel groups were "all terrorists" and "can't even tell each other apart".
"Can you actually tell an Isis or Daesh member from Jaysh al-Islam or Jabhat al-Nusra members?" he said.
"They are all bandits and terrorists…it is very difficult for us to tell the difference between the very moderate ones and the not-so-moderate ones, the good from the bad."
That defence did not satisfy the Turkish government, which opposes Assad's rule and has invited Saudi Arabian planes and troops to one of its bases in preparation for a possible ground operation.
The Prime Minister, Ahmet Davutoglu, accused Russia of acting as a "terrorist organisation" in Syria and called its alleged bombing of four hospitals and two schools "an obvious war crime".
"If Russia continues behaving like a terrorist organization and forcing civilians to flee, we will deliver an extremely decisive response," Mr Davutoglu said during a visit to Kiev.
"Unfortunately, barbaric attacks on civilians are continuing in Syria and these attacks are being waged by both Russia and terrorist groups.
"Russia and other terrorist organisations - first and foremost, the Islamic State in Syria - are responsible for numerous crimes against humanity."
Almost 50 civilians were killed when missiles hit at least five medical facilities and two schools in rebel-held areas of Syria on Monday, according to the United Nations, which called the attacks a blatant violation of international law.
At least 14 were killed in the northern town of Azaz, the last rebel stronghold before the border with Turkey, where missiles hit a children's hospital and a school sheltering refugees, while 15 were feared dead at a Doctors Without Borders (MSF) hospital in Ma'arat Al Numan, Idlib province.
The humanitarian organisation said the building was hit by four missiles in what appeared to be a "deliberate attack" on heath facilities.
Russian Health Minister Veronika Skvortsova said air strikes were targeting Isis infrastructure and she had no reason to believe that Russian planes had bombed civilian sites.
The Syrian National Coalition, which represents a broad base of rebel groups fighting the Assad regime, urged the international community to act.
In pictures: Russian air strikes in Syria

Show all 19
Its representative to the EU, Mouaffaq Nyrabia, urged the UN to investigate the attacks as a breach of international law and consider Russia's membership of the Security Council.
"Following agreement on a cessation of hostilities in Munich, this attack clearly demonstrates Russia's lack of commitment to ending this conflict," he said.
"Since the start of Russia's military intervention in Syria, it has repeatedly targeted civilian areas and health structures across Syria.
If the EU and wider international community are serious about a political solution, they must do more to deter both Russia and the Assad regime from escalating the conflict, killing civilians, and undermining diplomatic efforts towards peace."
Meanwhile, Turkey has been shelling Kurdish groups considered to be one of the most effective fighting forces against Isis after they seized territory near the Turkish border from other rebels.
Ankara is defines the Kurds as terrorists and is attempting to stop their two stretches of territory along the Turkish border joining up in the city of Azaz.
Additional reporting by agencies
Register for free to continue reading
Registration is a free and easy way to support our truly independent journalism
By registering, you will also enjoy limited access to Premium articles, exclusive newsletters, commenting, and virtual events with our leading journalists
Already have an account? sign in
Register for free to continue reading
Registration is a free and easy way to support our truly independent journalism
By registering, you will also enjoy limited access to Premium articles, exclusive newsletters, commenting, and virtual events with our leading journalists
Already have an account? sign in
Join our new commenting forum
Join thought-provoking conversations, follow other Independent readers and see their replies