US deploys troops to stop fighting in Syria - between two of its allies
Kurdish leaders appeal for no-fly zone over autonomous Rojava region as Turkish air strikes and artillery shells leave over 20 dead
Matt Broomfield
Saturday 29 April 2017 21:08 Comments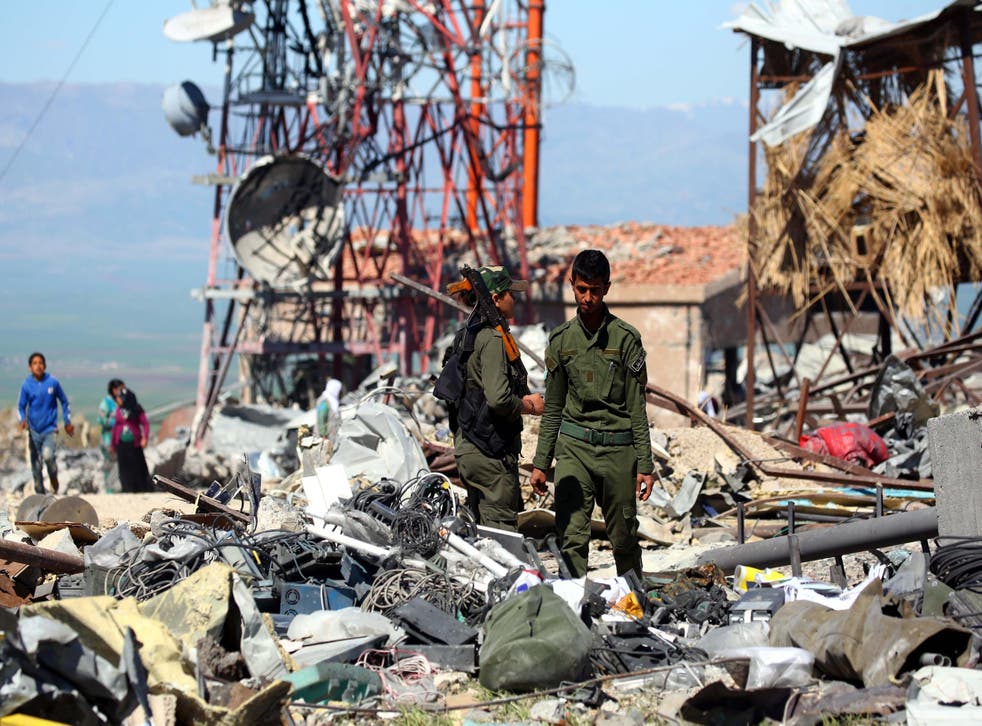 The US has reportedly sent troops to the border between Turkey and the autonomous Kurdish region of northern Syria, in an apparent response to a spate of Turkish assaults on Kurdish targets.
The Turkish military launched air strikes against targets in the three self-governing cantons of Rojava this week, and have followed up with artillery and tank assaults.
Houses and schools have reportedly been damaged in subsequent attacks, and a media centre was also destroyed.
Around 30 Kurdish soldiers involved in the battle against Isis were killed, according to the Syrian Observatory for Human Rights, including six members of the Kurdish Pesmerga in a separate strike on Iraqi Kurdistan.
This means American forces have been forced to intervene between two of their own allies, with Turkey being a member of Nato.
On Friday, a commander of the Kurdish People's Protection Units (YPG) told Reuters he expected American troops to arrive on the border of the autonomous region to protect its inhabitants from shelling, and video footage circulating online shows armoured vehicles with American flags ranged along the Turkish border.
In pictures: Turkey launches operation in Syria

Show all 9
Both the Peshmerga and the YPG are a crucial part of the US-backed attempt to liberate Raqqa, the largest Isis-held city on Syrian soil. Members of the all-female YPJ force were also among the dead.
Turkey launched a military operation codenamed Operation Eurphrates Shield last year to push back both Isis and Kurds from its border, but ended the mission last month.
That operation saw a series of clashes between Free Syrian Army rebels backed by Turkey and Kurdish forces, who vowed to fight to the death to defend their territory.
Turkey apologised for killing the Iraqi soldiers, but claimed it was targeting the PKK, a banned Kurdish terror group.
President Recep Tayyip Erdoğan has banned Kurdish political parties, imprisoned thousands of activists, and said he will "never allow" the creation of a Kurdish state like Rojava on his borders.
Turkey releases video of air strikes on more than 100 Isis targets in Syria after Istanbul nightclub attack
The US classes the PKK as a terrorist organisation, but is supporting the Syrian Democratic Forces - which encompassed the YPG, on the ground.
Political leaders in Rojava, and Kurdish rights activists across the globe, have been calling for a full no-fly zone to protect the region, which houses millions of people including Syrians displaced by the war and international volunteers.
Sihanouk Dibo, a spokesperson for the YPG-linked political organisation PYD, said: "we fight alongside against one enemy, which is Isis. So this requires [the United States] to announce a no-fly zone over Rojava and northern Syria."
Other activists have suggested the YPG will have to withdraw from the campaign to retake Raqqa to protect the citizens of Rojava.
Sporadic Turkish bombardments over the past four years have killed civilians as well as YPG fighters, but this week's attacks mark a significant increase in aggression.
They came in the wake of a controversial referendum which secured significant new powers for Mr Erdoğan.
Register for free to continue reading
Registration is a free and easy way to support our truly independent journalism
By registering, you will also enjoy limited access to Premium articles, exclusive newsletters, commenting, and virtual events with our leading journalists
Already have an account? sign in
Join our new commenting forum
Join thought-provoking conversations, follow other Independent readers and see their replies