Syria's other Aleppos: The cities also under siege that the world has ignored
Aid which has not been allowed to reach Aleppo was a key part of the Russian and US brokered ceasefire agreement. But millions of people are living under siege conditions across Syria - and help isn't reaching them either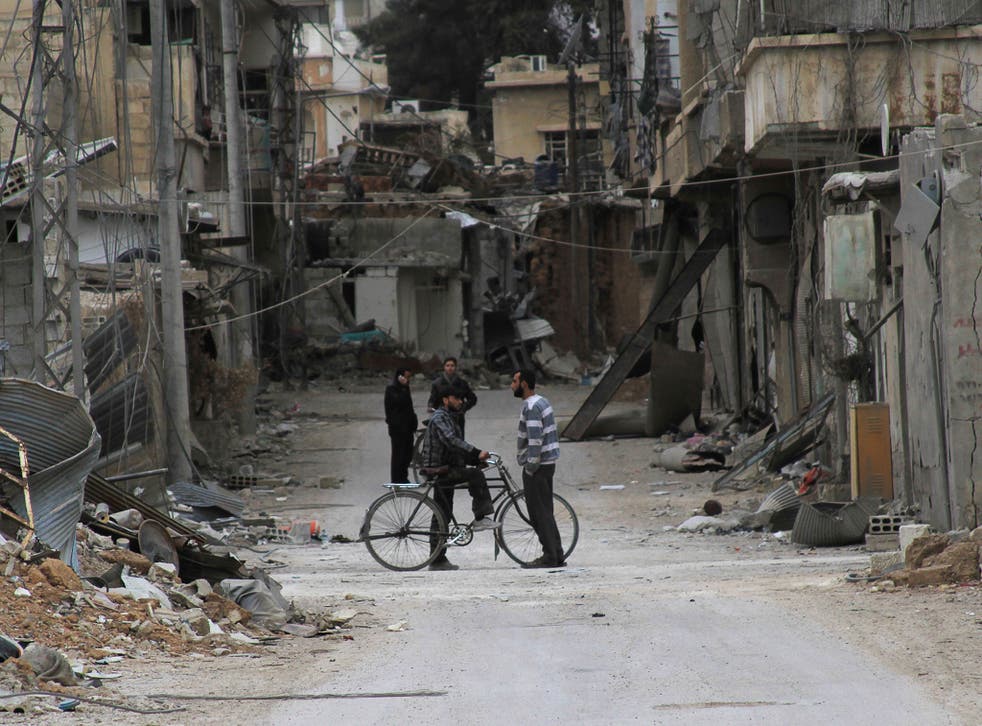 Rebel leaders in besieged east Aleppo have declared the Syrian civil war ceasefire a "failure," as missiles hit rebel neighbourhoods over the weekend and yet another day expired without the aid delivery guaranteed in the truce.
The seven-day cessation of hostilities technically ended at midnight on Monday, but is supposed to be renewed every 48 hours as long as peace is largely maintained.
Its future is now unclear thanks to anger over a US airstrike on Saturday that hit a Syrian army base near Isis territory and President Bashar al-Assad's refusal to grant permission for a UN aid convoy to deliver food, medicine and children's clothes to rebel-held east Aleppo.
Approximately 275,000 people remain trapped in east Aleppo, which has seen some of the worst fighting in Syria's five-year-long civil war. Thousands of civilians have died in airstrikes on both government and rebel-held areas.
When the terms of the ceasefire were announced, the deal was immediately criticised by NGOs and rebel groups for ignoring the millions of Syrians elsewhere also living under siege conditions.
While Aleppo is the scene of much bloodshed, elsewhere in the country, people are dying far more slowly.
Deliberate starvation of citizens is a war crime under the Fourth Geneva Convention, but it has been an effective tactic of the Syrian government, used to inflame tensions between different rebel groups, and turn hungry civilans against opposition fighters.
War in Syria: Intense bombing in Idlib and Daraya
According to the UN, 5.4 million people in Syria live in besieged or hard-to-reach areas, the majority in east Aleppo, Madaya and al-Waer, a suburb of Homs.
Overall there are 18 areas designated as besieged or hard-to-reach, most surrounded by the Syrian army, and some by rebel forces and Isis. In August, UN humanitarian efforts were only able to reach around nine per cent of people in these zones.
SiegeWatch, a project created in 2015 by the Syria Institute and PAX which claims UN data is often incomplete, estimates as of July this year that one million Syrians remain trapped in at least 40 areas, and another 1.4 million live in areas which are currently 'siege-like' and at risk of deteriorating.
As seen in Aleppo in the past week, sometimes rebels inside besiged towns and cities also prevent citizens from leaving, or block aid deliveries.
Aid reaches starving Madaya
Madaya, a town just 40km from Damascus, made headlines earlier this year after it emerged that more than 60 people had died from hunger and malnutrition, and some residents were resorting to eating insects and plants to stay alive.
Under pressure from the international community, the Syrian government allowed aid into the town – but since April, the regime's grip has tightened again. No food or medicine has reached Madaya's residents in four months, sparking fears that the desperate conditions of last winter may be returning.
It's not just food that Syria's besieged communities need. Many hospitals and doctors have reported running out of basic medicines, or being forced to ration drugs. Save the Children said last week that living under siege conditions was also taking its toll on psychological health, with six teenagers and seven more young adults in Madaya attempting suicide in the past few months.
A teacher in Madaya sent Whatsapp messages to a Save the Children worker on Sunday which said a meningitis outbreak has left her tired and weak, and families are keeping their children away from school for fear of contracting the disease. "We were told that after 10 days meningitis vaccines would be sent in but we don't know if they will be let in or not", she added.
Syria's President Assad celebrates Eid al-Adha at mosque in Daraya, site of one of his most brutal sieges
Sadly, there is evidence that the Syrian government's siege tactics are beginning to pay off. Daraya and Moadamiyeh, suburbs of Damascus under siege by Syrian army forces for years, have surrendered in the last few weeks.
Rebels said they were forced into agreeing to evacuations because of deteriorating humanitarian conditions: only one aid delivery was allowed to enter Daraya in four years, and in Moadamiyeh, vital infrastructure such as the local hospital was destroyed by shelling.
Opposition representatives in al-Waer are also in talks with the government which involve an amnesty for between 250-300 injured fighters who need evacuation for medical treatment. Sixty thousand people live in the city, which SiegeWatch warns is on the brink of serious humanitarian disaster.
Emptying out previously rebel-held areas is beneficial for Assad, freeing up soldiers to combat the last opposition strongholds in central Syria, leaving the rebellious heartlands in north-west Idlib province and a few pockets in the south.
"The regime's strategy is clear," Ibrahim Abbas, an opposition activist who was exiled to Idlib as a condition for receiving medical treatment, told the AP when Daraya fell. "A suffocating siege to foment hatred [among residents] toward activists and fighters, then an offer to evacuate."
The plans for evacuations from al-Waer in Homs puts even more pressure on the fracturing ceasefire: a rebel statement signed by groups fighting under the Free Syrian Army banner as well as Islamist faction Ahrar al-Sham said evacuations amounted to breaking the ceasefire.
"If any person is evacuated from al-Waer or any other besieged district in Syria ... the regime will have clearly ended its commitment to any proposed truce, and all the revolutionary factions will continue in their legitimate right to fight it," the statement said.
Register for free to continue reading
Registration is a free and easy way to support our truly independent journalism
By registering, you will also enjoy limited access to Premium articles, exclusive newsletters, commenting, and virtual events with our leading journalists
Already have an account? sign in
Register for free to continue reading
Registration is a free and easy way to support our truly independent journalism
By registering, you will also enjoy limited access to Premium articles, exclusive newsletters, commenting, and virtual events with our leading journalists
Already have an account? sign in
Join our new commenting forum
Join thought-provoking conversations, follow other Independent readers and see their replies