Israel is 'determined to stop Iran establishing itself militarily' in Syria, Benjamin Netanyahu claims
Rare comments on Syrian war also highlight Israel's increasing military cooperation with Russia 
Friday 11 November 2016 17:27 Comments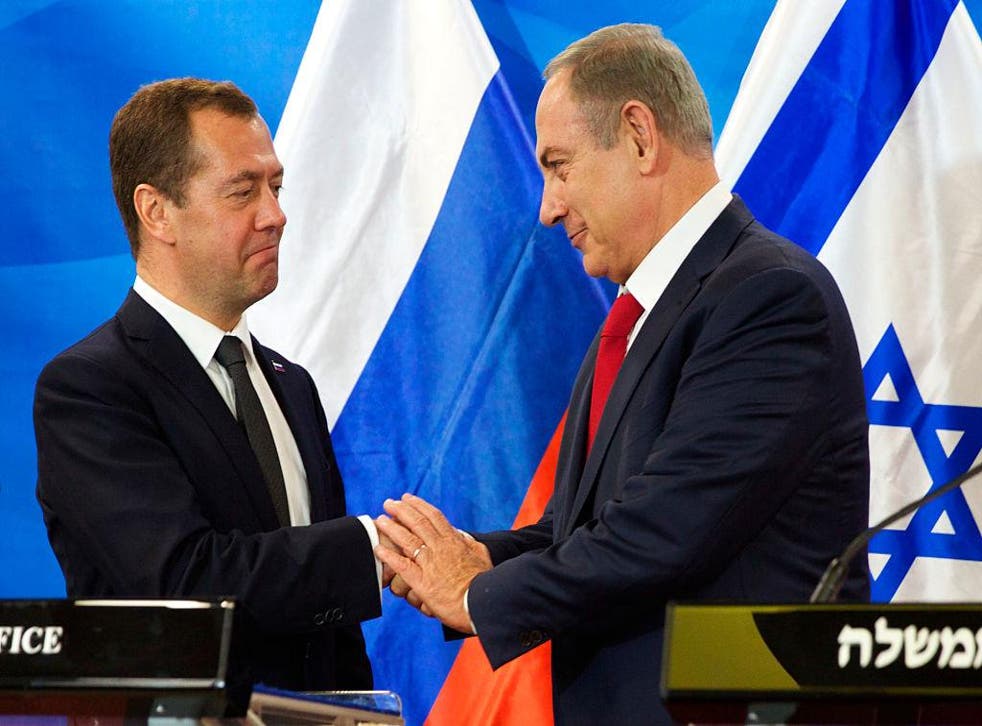 Israeli prime minister Benjamin Netanyahu has said he is "determined" to prevent Iran from becoming a military actor in the complex Syrian civil war.
"We are determined to... prevent Iran... from establishing itself militarily in Syria, on the ground, in the air or at sea," Mr Netanyahu told reporters after talks with his Russian counterpart Dmitry Medvedev in Jerusalem on Thursday.
"We are also determined to prevent [Iran] from bringing about the establishment of Shia militias, which it is organising, and of course, the arming of [Lebanon's] Hezbollah with dangerous weapons aimed at us."
The Syrian government has been greatly aided in its fight against rebel factions by allies in Moscow and Tehran since the 2011 popular uprising deteriorated into civil war.
Thousands of troops belonging to foreign Shiite militias from Iran, Iraq and Lebanon are currently fighting alongside President Bashar al-Assad's troops in the multi-sided conflict. Russia has lent the Syrian government air support since September 2015, which has markedly turned the war in the regime's favour.
Though formally neutral on Syria's civil war, Israel has frequently pledged to prevent shipments of advanced weaponry to Hezbollah, which – like Iran – does not recognise the Jewish state.
In April Mr Netanyahu acknowledged that Israel had conducted air strikes in Syrian territory to stem the flow of weapons from the Golan Heights, but did not give details on when or where Israeli bombings had taken place.
In pictures: Russian air strikes in Syria

Show all 19
Mr Netanyahu and Russian President Vladimir Putin set up a "hotline" between their defence ministries last year to avoid any accidental airspace clashes, which "highlights the dramatic change in our bilateral relations," the prime minister said.
Jerusalem has increasingly welcomed relations with Russia in recent years in the light of strained relations with the US and the European Union caused by disagreements over the US-Iran nuclear deal and EU pressure on the Israeli government to stop settlement building in the West Bank.
"Israel, Russia, the United States and many other countries share the objective of defeating the Islamic State," Netanyahu said during a joint media conference.
"At the same time, we are also concerned by the second actor promoting radical Islam – Iran – which champions the destruction of Israel and also supports 360-degree terror on five continents."
Israeli Prime Minister Netanyahu Calls UN 'Joke' and 'Moral Farce'
Mr Medvedev hailed the "special values" that Russians and Israelis have in common and agreed that the two countries have "common challenges".
"Every time I visit Israel I feel at home," he said. "Our countries have common challenges, primarily terrorism. Terror threatens the entire world but in this region it is felt particularly strongly."
He did not comment on the Israeli prime minister's view of Moscow's allies in Tehran.
Mr Medvedev began his trip to Israel and the Palestinian territories on Wednesday and is due to meet Palestinian Authority President Mahmoud Abbas in Jericho on Friday.
In September both Mr Abbas and Mr Netanyahu agreed in principle to peace talks in Moscow, although no date has been set for such a meeting.
Register for free to continue reading
Registration is a free and easy way to support our truly independent journalism
By registering, you will also enjoy limited access to Premium articles, exclusive newsletters, commenting, and virtual events with our leading journalists
Already have an account? sign in
Join our new commenting forum
Join thought-provoking conversations, follow other Independent readers and see their replies